Markey's Xu awarded $2 million to study role of platelets in cancer growth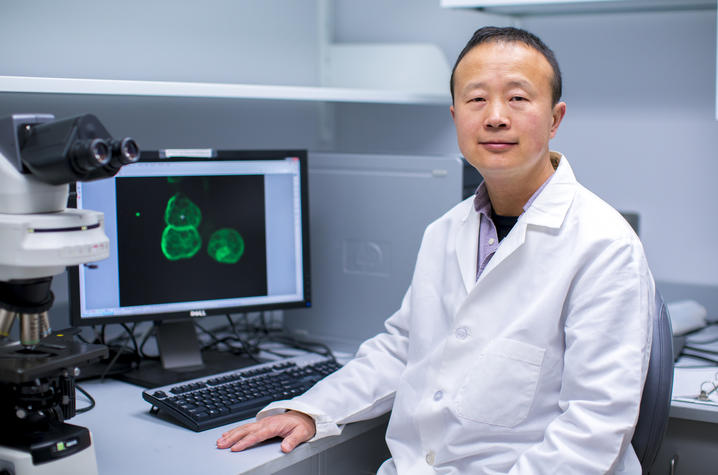 LEXINGTON, Ky. (Aug. 2, 2023) — University of Kentucky Markey Cancer Center researcher Ren Xu, Ph.D., was recently awarded a major National Cancer Institute (NCI) grant to support his research on the interplay between cancer cells and platelets. A total of $2 million will support Xu's research over the next five years.
Platelets are tiny cells in our blood that bind to the sites of damaged vessels to stop bleeding. In cancer patients, activated platelets can adhere to circulating cancer cells and promote metastasis – their spread to surrounding tissues and distant organs in the body.
Scientists do not completely understand the platelet-cancer cell interactions that promote metastasis. Xu's research suggests mRNA transfer from platelets plays a critical role. The NCI grant will support Xu's further investigations into the molecular mechanisms of platelet-mRNA transfer.
"Understanding this process will fill a critical gap in knowledge about the intercellular communication during cancer progression and could lead to the development of new strategies to stop cancer from spreading and improve treatment outcomes," said Xu, a professor in the UK College of Medicine's Department of Pharmacology and Nutritional Sciences. 
Xu recently found that a protein called CD9 mediated the platelet-cancer cell interaction. His lab also discovered that a platelet molecule called PF4 was shown to make cancer cells more able to spread and grow. Xu's research supported by this grant will seek to understand how CD9 and PF4 work to transfer the mRNA and promote metastasis.
The new knowledge may help to identify a potential therapeutic target to suppress the platelet- induced cancer progression and metastasis.
Xu will be collaborating on the project with scientists including Xia Liu, Ph.D., in the UK College of Medicine's Department of Toxicology and Cancer Biology and Zhenyu Li, Ph.D., at Texas A&M University.
Research reported in this publication was supported by the National Cancer Institute of the National Institutes of Health under Award Number R01CA277946. The content is solely the responsibility of the authors and does not necessarily represent the official views of the National Institutes of Health.
UK HealthCare is the hospitals and clinics of the University of Kentucky. But it is so much more. It is more than 10,000 dedicated health care professionals committed to providing advanced subspecialty care for the most critically injured and ill patients from the Commonwealth and beyond. It also is the home of the state's only National Cancer Institute (NCI)-designated cancer center, a Level IV Neonatal Intensive Care Unit that cares for the tiniest and sickest newborns, the region's only Level 1 trauma center and Kentucky's top hospital ranked by U.S. News & World Report.  
As an academic research institution, we are continuously pursuing the next generation of cures, treatments, protocols and policies. Our discoveries have the potential to change what's medically possible within our lifetimes. Our educators and thought leaders are transforming the health care landscape as our six health professions colleges teach the next generation of doctors, nurses, pharmacists and other health care professionals, spreading the highest standards of care. UK HealthCare is the power of advanced medicine committed to creating a healthier Kentucky, now and for generations to come.