Registration, Calls for Poster Abstracts Now Open for Annual CERH Appalachian Research Day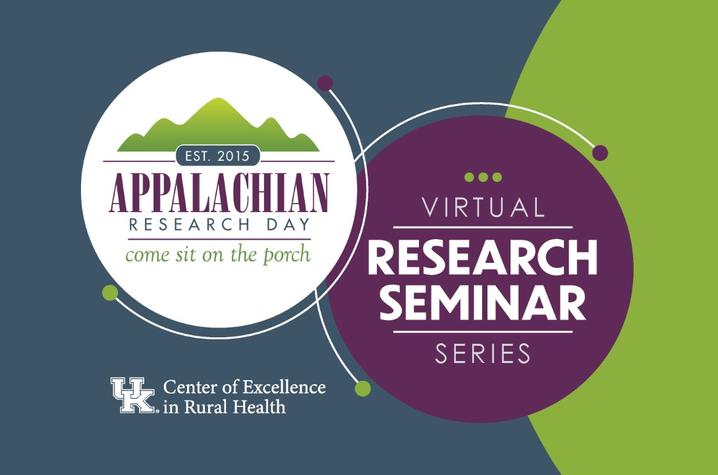 HAZARD, Ky. (Aug. 27, 2020) — The 6th Annual Appalachian Research Day (ARD): Come Sit on the Porch will be held as a virtual seminar series, beginning Sept. 16, 2020. ARD is an annual event hosted by the University of Kentucky Center of Excellence in Rural Health (CEHR) to share results of health research conducted with communities in Appalachia."Disseminating health disparities research findings at the local level is something our Center is strongly committed to," said Dr. Fran Feltner, director of the UK CERH. "We value our community members and organizations who are willing to partner with us to conduct and participate in community-based research to address rural health concerns. Appalachian Research Day provides an opportunity for us to keep conversations open and continue efforts to move in a positive direction.
The agenda for the virtual research series will include:
Reducing Environmental Exposures in Appalachia through Community-Academic Partnerships, by Ellen J. Hahn, Ph.D., University of Kentucky Center for Appalachian Research in Environmental Sciences, 2  to 3:15 p.m., Sept. 16, 2020.
Substance Use Disorder Recovery Task Force Panel, by Jennifer Sandlin, Kentucky State Police; JoAnn Vanzant, Operation Unite; and others to be announced, 2 to 3:15 p.m., Sept. 30, 2020,
Project Presentations by Graduates of the 2020 Community Leadership Institute of Kentucky (CLIK), by the 2020 CLIK graduates: Cathryn Forester, Ricki Draper, Sandra Jones, Sarah Olinger, Brandy Slone and Sherry Spragens. Moderated by Kathryn Cardarelli, Ph.D., director of the Community Leadership Institute of Kentucky, 2 to 3:15 pm., Oct. 14, 2020.
Virtual Poster Session, posters will be judged and the winners will have the opportunity to present their research during this shared session.  All selected posters will be published in an online gallery, 2 to 3:15 p.m., Oct. 28, 2020.
Register for Appalachian Research Day here. 
Submit poster abstracts here.
Visit us at kyruralhealth.org, follow us on Facebook, click here to join our mailing list to receive announcements and updates about ARD and other UK CERH events and happenings, or contact beth.bowling@uky.edu for more information.