Student Dentists Find Enrichment in Research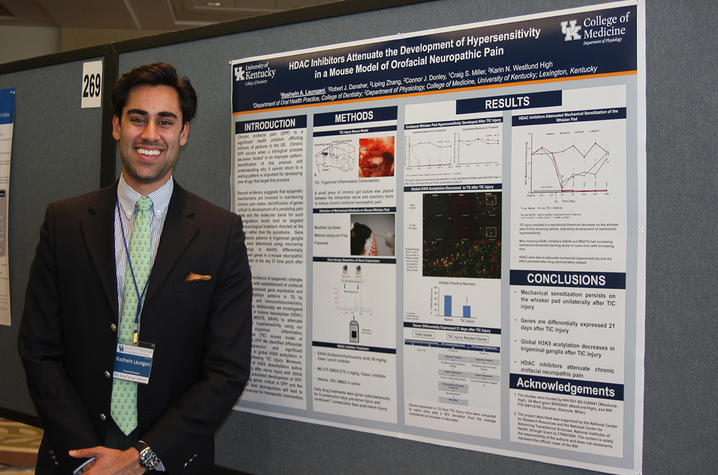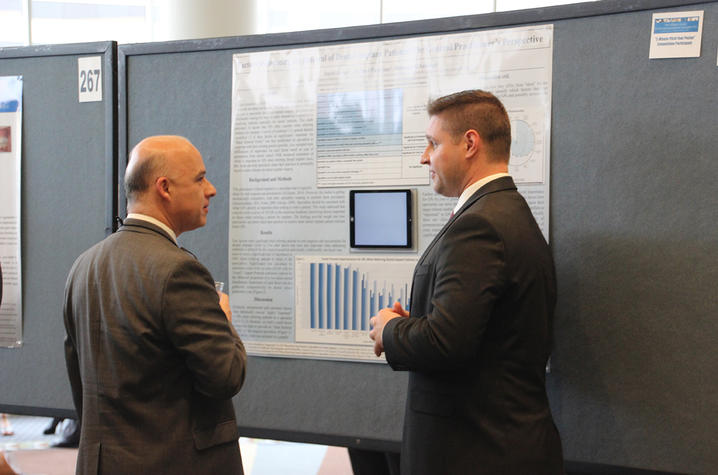 LEXINGTON, Ky. (Aug. 31, 2017) — Research is the fuel of productive science. This sentiment, shared by students and faculty alike, applies to any discipline. The University of Kentucky has long embraced the value of discovery through research — a commitment that has earned UK an R1 Carnegie Classification, the highest ranking among research institutions. For students in the UK College of Dentistry, engaging in research often proves to be of critical importance to their experience.
Research in dentistry and oral health sciences spans the gamut from laboratory-based studies, to clinical and translational applications, to inquiries in public health. Incoming dental students interested in taking part in an intensive research experience now have the unique opportunity to apply for the UK College of Dentistry Research Track program of study. In addition to completing required courses for the DMD degree, students selected for participation in the Research Track will focus their efforts on chronic oral diseases, cancer, health services research and/or orofacial pain. For each year that they fully meet the requirements of the program, students will receive scholarship funds to help offset the cost of tuition.
Incoming dental student Amita Patel has previous research experience with UK's Department of Chemistry and an internship with Brookhaven National Lab, but looks forward to her first experience research in the field of dentistry.
"I have dabbled in many disciplines when it comes to research. I chose to apply to the DMD Research Track because of my interest in different types of materials and how they interact in different environments," she said. "Secondly, I have a natural curiosity and passion for dentistry, and the DMD Research Tack is a perfect way to combine the two."
David Jensen, a third-year student in UK College of Dentistry, says participating in research alongside dedicated faculty mentors has increased his scope of understanding of the field.
"With the ever-increasing support of research at UKCD, I feel that we can better understand the profession that we will go on to practice, and hopefully, add to it in a significant way," he said.
For many Research Track participants, including third-year student Nash Laungani, participating in research has lead to real-world discoveries that continue to improve various aspects of the patient experience. These advancements open the door for students to compete for national research awards, or to become co-authors on publications on the results.
"I'm grateful for all the support and mentorship that we continue to get from the Dean and faculty," Laungani said. "There is no doubt that we're in the midst of an exciting, progressive time with dental research shaping our understanding and approach to treating dental diseases."
Laungani and Jensen received first and third place awards, respectively, after presenting at this year's College Research Day, an annual event held in conjunction with the UK Center for Clinical and Translational Science Spring Conference. Jensen was also featured in the Von Allmen Center for Entrepreneurship two-minute poster pitch competition in April.
Aside from opportunities to present and publish work, engaging in research creates opportunities for students to discover new interests and, in some cases, inspires a change in career path. Rather than going straight into practice upon graduating, student researchers sometimes go on to pursue teaching and research as a career.