UK Center for Health Services Research Awarded $4.5 Million from CMS for Accountable Health Communities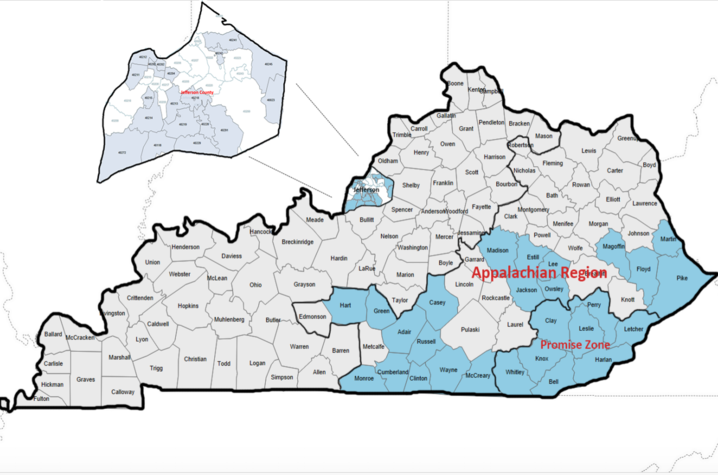 LEXINGTON, Ky. (July 10, 2017) – With a $4.5 million award from the Centers for Medicare and Medicaid Services, researchers in the University of Kentucky Center for Health Services Research (CHSR)  have established the Kentucky Consortium for Accountable Health Communities (KC-AHC) to address the health-related social needs of vulnerable patients across the Commonwealth.
Over the next five years, principal investigator and director of the CHSR, Dr. Mark V. Williams, along with co-principal investigator Dr. Jing Li, are partnering with the Kentucky Primary Care Association (KPCA), Appalachian Regional Health, Norton Health Care and Kentucky HomePlace. This collaboration will work across 27 counties in Appalachia and the Louisville Metro area to collect information from Medicare and Medicaid patients on unmet social needs that impact their health. The partnership between KPCA and UK CHSR came from "a shared understanding of what is involved in maintaining the health of the patients we serve, which are beyond medical, dental and mental health services," said Joseph Smith, chief executive officer of KPCA.
The KC-AHC will implement broad-based patient screening for health-related social needs in various health care delivery sites, provide community service referrals and offer patient navigation for identified needs. A key aspect of this Track 3 award is to examine whether clinical and community service alignment at the systems level impacts health care costs, care utilization, and patient outcomes. The goal of this research is to reduce the use of healthcare services for issues that can be addressed by existing social programs. "We are committed to providing for the health of our patients, and influencing the social determinants of health should augment the services our members provide," said Smith.
Changing the approach to care in this way would more easily enable patients in Appalachia and Jefferson County to access the information and assistance they need in their own communities. This is vitally important and a long-time goal of the University of Kentucky. "At UK HealthCare, we believe Kentuckians should be able to receive the best in care without ever leaving the state," said Dr. Michael Karpf, UK executive vice president for Health Affairs. "With this award from the Centers for Medicare and Medicaid Services, our researchers will have the opportunity to identify where gaps exist in the care that residents of Appalachia may be experiencing."
There are many factors that contribute to adverse health outcomes, but many are best addressed utilizing existing community-based services. These social determinants include housing instability, food insecurity, interpersonal violence and lack of transportation, which are focus areas for the KC-AHC and CMS. Unfortunately, patients experience many barriers in accessing existing programs to address these hardships, including lack of awareness and resources to locate appropriate services, low health literacy, and even geographic and distance barriers in the Appalachian region of Kentucky.
"This award – and the research being done with it – will allow physicians to better address the health and social needs of the patients they serve. Addressing those needs on the front lines of care will be critical for reducing the burden of health disparities, especially confronted by patients in Eastern Kentucky and Appalachia," said Mark D. Birdwhistell, vice president for administration and external affairs for UK HealthCare.
One important aspect of the project is ensuring these communities can continue to identify social needs and link patients to appropriate services after the funding has ended. Williams and Li will engage communities to identify leaders who can help link local social resources to patients identified as high utilizers of health care; e.g., patients who seek treatment in the emergency room two or more times per year. Williams said, "This isn't money being spent solely on a research project. We want to integrate these efforts into the health care of the community and ensure sustainability."
Dr. Gil Liu, medical director for the Kentucky Department of Medicaid Services, echoed that sentiment saying, "it is vitally important that the Kentucky Department for Medicaid Services forge collaborative partnerships with healthcare organizations and the research community to identify and implement evidence-based health care provision strategies. It is this philosophy that reinforces our collaboration with the Kentucky Consortium for Accountable Health Communities, which will involve robust organizational and community-level participation by a range of diverse stakeholders."
CHSR has been approved as a track three participant, the highest level of participation in the Accountable Health Communities model developed by CMS. This track emphasizes community participation, including assistance from community members in identifying social services available in the region and training navigators who can assist patients in accessing services.
This award will not only help meet the research goals of UK CHSR, but the goals of the Kentucky Department for Public Health. "A major goal of the Department for Public Health is better cooperation among medical and health professionals and their organizations," said Dr. Hiram Polk, commissioner of the department. "This seems like a step in the correct direction."
To learn more about the Accountable Health Communities Project, click here.