UK Geography 'Maps' its Way to a Better Lexington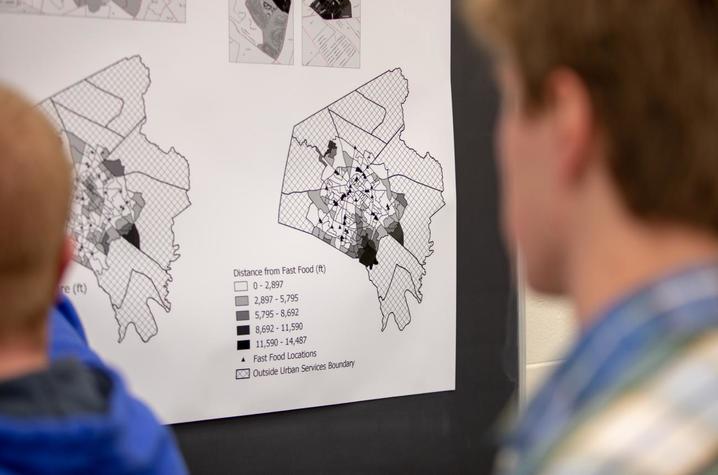 LEXINGTON, Ky. (May 10, 2019) — There are many different ideas that come to mind when you think of the University of Kentucky's "service learning" approach, but Mapshop takes this concept to another level. Branching from the New Mappings Collaboratory in the Department of Geography, the initiative uses expertise in geospatial software and technical resources to assist the City of Lexington in raising critical mapping capacities.
"We started in 2015 with this kind of borrowed idea from other universities that have a very active community-based research role," Matthew Wilson, director of Mapshop, said. "We basically wanted to explore how we can unbundle community-based work outside of the classroom."
For Mapshop, branching outside the classroom means providing access to those who need it most. "We want to ensure that community partners or individuals could contact a group outside of the classroom to have analyses run, create visualizations or even just advise on basic questions," Wilson explained. "This could be about affordable housing, food insecurity or access to greenspace and public transport."
So far, the program has supported many paid assistantships for students, providing them with experience to apply skills with geospatial software. Combining this with social and economic issues in the city, students receive practical experience and contribute to solving hard-hitting issues — inside and outside of the classroom. "Mapshop operates more as a consultancy. In this sense, we're not limited by the classroom," Wilson said. "I think classrooms can be a very limiting space, so we're trying to take some of those beneficial classroom experiences and pull them into community-based research."
Even if students have no technical skills with digital data or other tools, anyone with a dedication to community and community issues can contribute. "It's much more difficult, from my perspective as an educator, to teach students how to care about something than it is to teach students how to use a tool," Wilson said. "As long as students are really interested in issues that impact Lexington, I'm more than happy to work with them."
Mainly, students will have the opportunity to utilize geographic information systems (GIS) and web-based mapping tools. The evolution of smartphones also allows students to use their GPS when tracking data.
"Currently we're working pretty heavily on the question of affordable housing and the opioid crisis," Wilson said. "We're working directly with the Taskforce on Neighborhoods in Transition in Lexington to analyze demographic and economic transitions in Lexington. We're providing a lot of the analytics and a bit of the visualization to help move that conversation forward."
In an effort to combat the ongoing opioid epidemic, the group is working with the Lexington Mayoral Office. "We're trying to imagine what it would mean if data collected from the coroner's office around morbidity rates were linked up with the Narcan Dispatch team at the police department, and where in the city it would make sense to have more education or health resources to better confront the crisis," Wilson said.
In the future, Mapshop hopes to expand their faculty base and bring more expertise to the group. Wilson is passionate about shifting the conversation from a traditional sense of "service learning" to collaboration and partnerships. "We have some of the best minds in Kentucky, and I feel we're worth more — and can contribute more — than conventional service learning," he continued. "Why not use what they're learning in the classroom to benefit the communities that surround campus? The more faculty that can be supported to do this kind of work, the more we can change the way we view community engagement on campus."
For any students with a passion for community betterment, Mapshop is a venue where you can gain practical experience and skills while leveraging a desire to solve real-world problems.
To learn more about the program, please contact Wilson.