UK Researcher Robin Shoemaker Featured on LabTV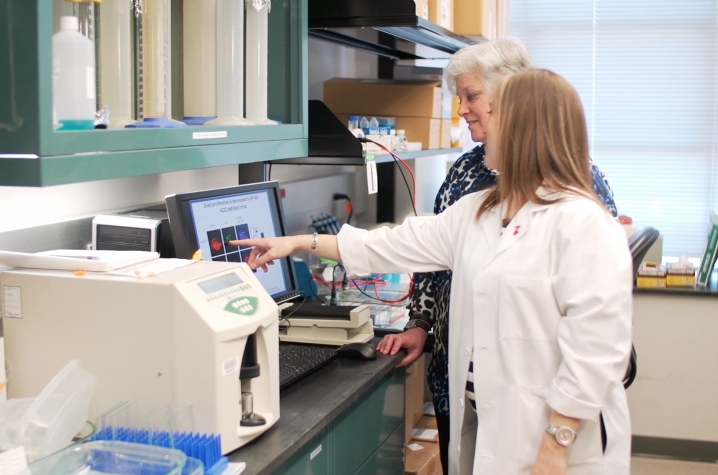 Video by UK REVEAL Research Media.
LEXINGTON, Ky. (Sept. 24, 2015) — Robin Shoemaker, a postdoctoral scholar, is the first biomedical researcher from the University of Kentucky to be featured on the national website LabTV.
This website features videos with medical researchers who tell where they came from, how they chose their career, what they do each day in the lab, and why they love it. LabTV's founder, Jay Walker of TEDMED, said he started the site because if high school students can personally identify with a young medical researcher, they are far more likely to consider becoming one.
Shoemaker, who has spent five years in the laboratory of Lisa Cassis, vice president for research and professor of pharmacology and nutritional sciences, was eager to share her story with LabTV. She said her path to diabetes research wasn't clear cut. She started in analytical chemistry, but didn't feel a strong connection to the research.
"I came to the University of Kentucky and I met Lisa Cassis, my mentor. She was doing research in obesity and related diseases like hypertension and diabetes, and so she suggested that I could focus my interest in nutrition on some of those problems, since they're really epidemics in our society," Shoemaker said.
"The most exciting aspect of my work is the ability to implicate molecules or proteins in some disease process that no one else has really looked at before, and the chance to target that therapeutically and make a difference in treating people who have diseases like Type 2 diabetes. It's really a compelling reason to go forward every day."
LabTV's network features more than 1,000 researchers working at dozens of leading universities, corporations, and the National Institutes of Health. For more, visit www.labtv.com.
Shoemaker's video was produced by Reveal, part of UK Research Communications, in cooperation with LabTV. For more Reveal videos, visit reveal.uky.edu.