UK's Substance Use Research Day Highlights Work of UK Faculty and Students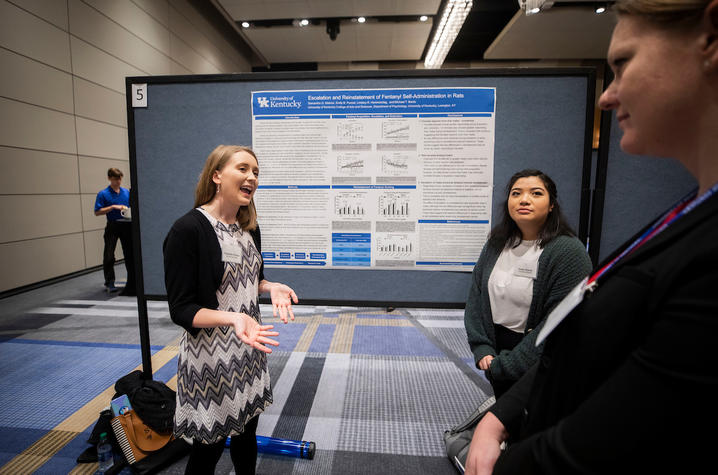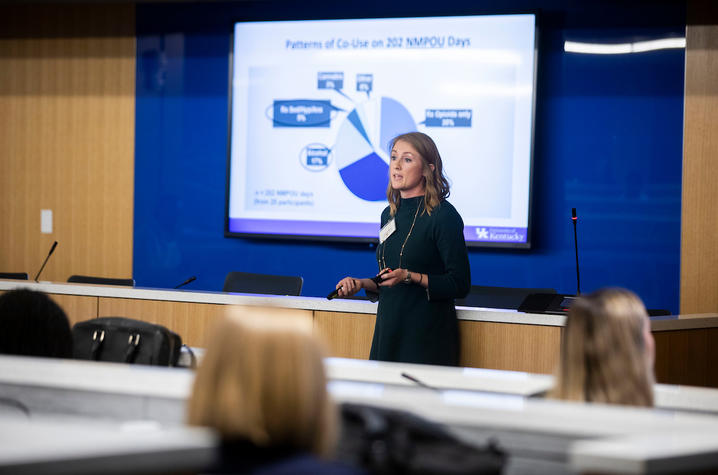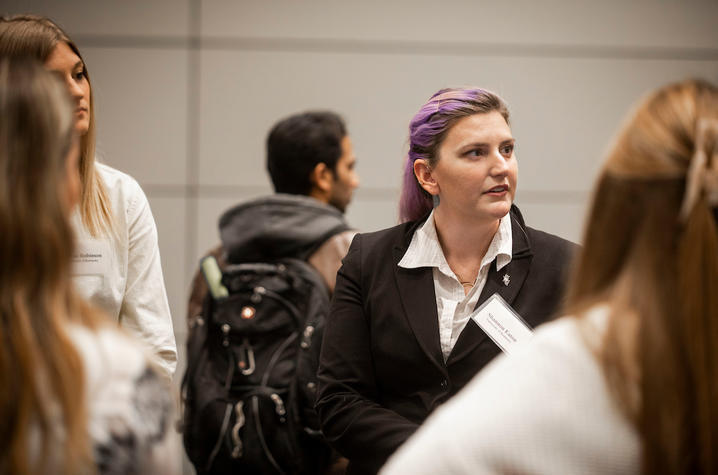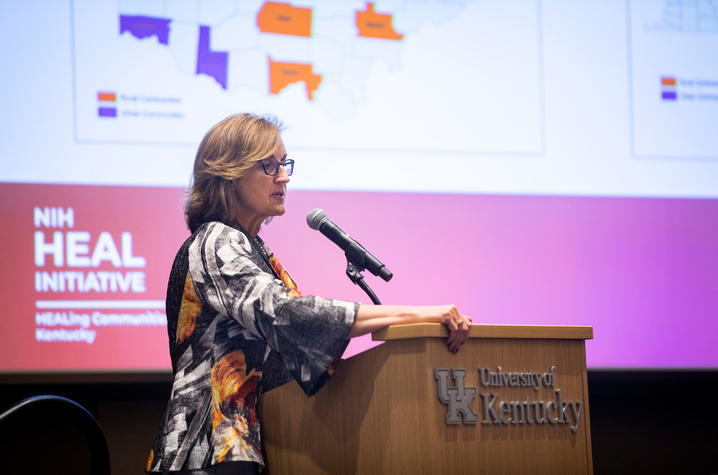 LEXINGTON, Ky. (March 5, 2020) – Growing up in an area heavily impacted by the opioid epidemic, University of Kentucky grad student Samantha Malone knew she wanted to pursue a career that involved research on substance use.
"I'm from East Tennessee, and substance use is huge there," said Malone, a second-year Ph.D. student in the UK Department of Psychology's Cognitive Neuroscience program. "So I really wanted to go into neuroscience research involving substance use disorder just because of where I'm from, and I know how big of an impact research like this has on our community."
Malone was one of the dozens of researchers from UK and beyond presenting a poster at the second annual Substance Use Research Day (SURD) on Tuesday. SURD provides an opportunity for researchers in a variety of fields across UK's campus to come together to present their work and foster new collaborations.
Emily Punzal, a pre-pharmacy undergraduate in the UK College of Arts & Sciences, works with Malone in Professor Michael Bardo's lab and attended research day with Malone to present their work on fentanyl in animal models. 
"I like presenting at conferences and talking to people about our research," Punzal said. "It's a learning experience for both people because they get to find out what I'm doing, and I get to hear what they think about it. It helps spark ideas."
This year's SURD had more than 170 attendees. In addition to the poster session, the event featured several oral presentations. This year's plenary speakers were Dr. Alexander Walley, associate professor of medicine at Boston University School of Medicine and general internist and addiction medicine specialist at Boston Medical Center, and Dr. Elise Weerts, professor of psychiatry and behavioral sciences, Johns Hopkins University School of Medicine.
Additionally, UK faculty gave updates on various projects and ongoing research, including Drs. Sharon Walsh, April Young, Carrie Oser, Laura Fanucchi, Craig Rush, Pavel Ortinski and Jill Turner. Another session featured a "data blitz" with trainees from UK's two NIDA-funded T32 training grants.
Walsh, director of UK's Center on Drug and Alcohol Research and principal investigator on UK's $87 million HEALing Communities study, says that giving updates on projects like HEAL shows younger investigators the future potential of their work.
"I think people are curious about what's happening with the HEAL grant, so [Research Day] is a great opportunity to share," Walsh said. "Especially for our young trainees to see what the scale of a study can be – how you take work from the laboratory and the clinic and move it into the community where it makes the most difference."
UK doctoral student Shannon Eaton works in the psychopharmacology lab of Professor Chana Akins and studies the sex differences of abused drugs. Now presenting work at SURD for the second year, she says that UK's Research Day is an ideal avenue for young investigators to begin presenting their work to people outside their own lab.
"I really enjoy the smaller, more intimate settings like this one, as opposed to the big national conferences," Eaton said. "And it's a great opportunity – because each year, I've brought undergrads with me. And for them to not have to travel to DC or somewhere to present their work is a great opportunity that helps them build their research career."
Though this is only the second year for SURD, UK has a long history of excellence in substance use research. UK College of Medicine Professor William Stoops, who served as organizing committee chair for the event, says he expects future Research Days to continue growing in scale and scope.
"We had a greater number of attendees this year than last, so I expect we will continue to see the event grow as the word gets about UK Substance Use Research Day," Stoops said. "I think the event is a wonderful showcase of the breadth and depth of substance use research that is going on at UK. My hope is that in coming years, we'll be able to attract more attendees from outside the institution, including faculty and trainees from other universities and community partners."