Archaeology Grad Students Win Ethics Bowl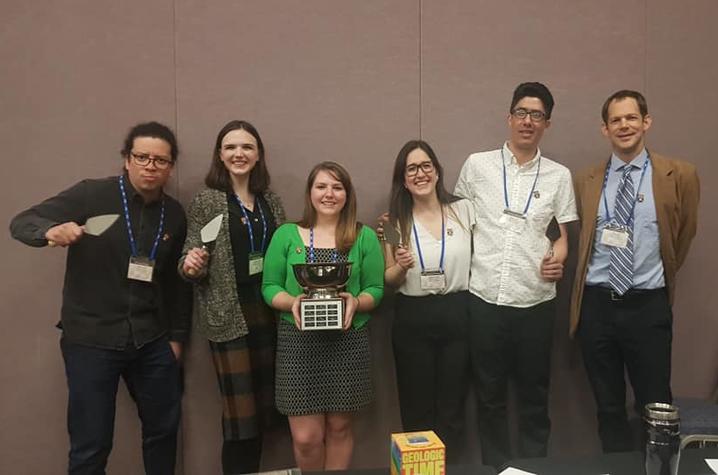 LEXINGTON, Ky. (May 14, 2019) — Five graduate students at the University of Kentucky have been named champions of the Ethics Bowl Competition. Last month, the team claimed the first place prize at the Society for American Archaeology's (SAA) annual conference in Albuquerque, New Mexico. UK was making its first appearance in the competition, which has been held for 15 years.
In recent years, archaeologists have been confronted with a range of ethical issues. How the next generation of scholars chooses to address these challenges will define the field. In 2004, the SAA inaugurated the Ethics Bowl at its annual meeting in Montreal, Canada, to help students gain a sense of moral responsibility.
The Ethics Bowl pits teams of undergraduate and graduate students from different universities in debates about ethical dilemmas archaeologists often face in today's society. Competitors are given hypothetical cases and must use their academic knowledge of various ethical guidelines, as well as their research and fieldwork experiences, to formulate and defend their solutions. Teams are graded on their responses and their handling of "curveball" questions from a panel of judges.
"By far, the most exciting part of this process was the way that students and faculty from different parts of the university joined us in lengthy conversations about ethics and gave us their wholehearted support going into the competition," Elizabeth Straub, a team member, said.
In addition to Straub, the UK team also consisted of Alberto Ortiz Brito, Daniel Vallejo-Cáliz, Gertrude Kilgore and Gabriela Montero Mejía — all of which are doctoral students in the Department of Anthropology. Scott Hutson served as faculty mentor.
To secure the win, the team debated the ethics surrounding the treatment of looted artifacts within the international archaeology community.
Ultimately, the Ethics Bowl helped each student sharpen their ethical decision-making skills. "We, as archaeologists, need to work closely with the local, host communities where we do our fieldwork. We need to focus on things like transparency, explaining to people what our work entails and what the outcomes could be," Vallejo-Cáliz said.
As part of its prize, the team received a year's membership in the Archaeological Institute of America, as well as a cash prize from the Register of Professional Archaeologists. The team will also bring home the Ethics Bowl itself, which will be displayed in Lafferty Hall for the next year.