Chellgren Fellows Attend Clinton Global Initiative University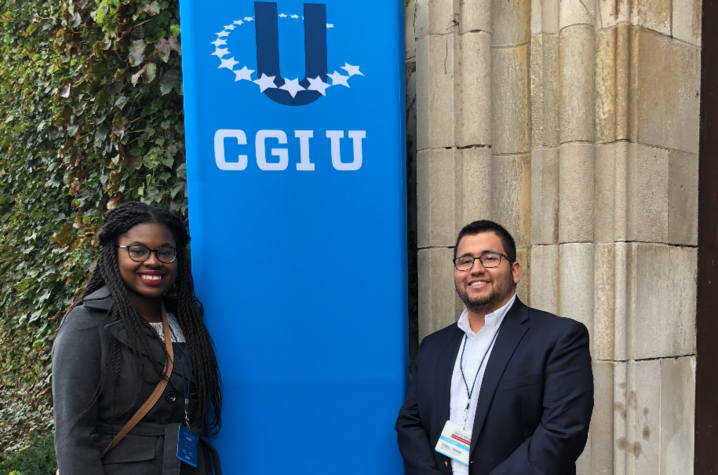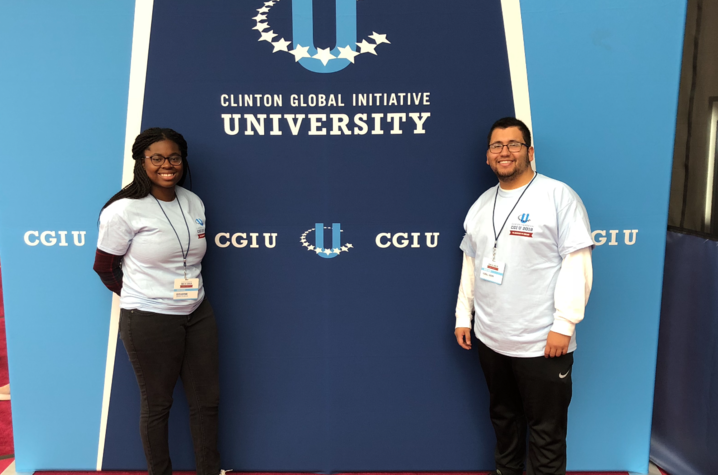 LEXINGTON, Ky. (Nov. 13, 2018) — The University of Kentucky Chellgren Center sponsored two UK students and Chellgren Fellows, Kendall Brown and Edith Koutone, to attend the Clinton Global Initiative University (CGI U) this past October. 
CGI U brought together more than 1,000 student leaders to create innovative solutions to CGI U's five focus areas: education, environment and climate change, peace and human rights, poverty alleviation, and public health. 
Students from around the world submit applications to attend CGI U, but only a select few are chosen to attend. Included in the application are well-defined "Commitments to Action." Commitments can address challenges on their college campus, in their local community, or in a region of the world in which that student has great familiarity. 
"I'm going to be honest, getting accepted felt really good," said UK junior Kendall Brown. "However, I remind myself about the real reason for being chosen. It's about those lives that can be changed through our project."
Attendees had opportunities to attend workshops, plenary sessions and other events allowing them to identify potential partners, build skills and network. Joining the students were topic experts, university representatives and celebrities to discuss effective resolutions to some of the world's most pressing challenges. 
"I was so honored to be able to attend an event where people like me, all over the world, have a passion to help others, whether it be encouraging minority students to strive for STEM careers or providing menstruation products to girls in Sudan," said Edith Koutone, a UK junior. 
Koutone's project is focused around her hometown of Louisville, Kentucky. She wants to provide people who don't have insurance in the Louisville community with free annual checkups and educate them on how they can take better care of their health. She believes the opportunity to attend CGI U and her involvement with the Chellgren Center have helped her focus on implementing her project and see that her dream of providing aid to the people of Louisville is possible. 
While Koutone's project hit home, Brown's project intends to help people outside of the United States. 
"My project is called 'Hope for Literacy, a venture of Hope for Tomorrow Children's Home.' We plan to equip nearly 80 preschool teachers around Guatemala City with the capacity to both teach and utilize best practices of literacy instruction," Brown said. "We plan to support our teachers through means of incremental instruction (monthly) and physical resources (books), of which they are lacking. We know that if we are able to equip our teachers with the necessary resources, we can potentially affect countless lives for years to come." 
CGI U is a prominent platform for students to come together with like-minded individuals and let their voices be heard. Throughout the years, CGI U has become more than just an event, but something that has grown into a community of future leaders who go on to change the world for the better. It can fuel the fire within students to continue pushing toward their goals. 
"At one point, I remember looking around at all of the attendees and feeling as if the world was smaller, the problems easier to tackle, and that together we were making a meaningful difference," Brown said. 
Involvement with the Chellgren Center helped make this opportunity possible. The Chellgren Student Fellows Program is designed to provide experiences for outstanding undergraduates that go beyond classroom instruction in order to help them cultivate extraordinary academic achievement.
"The Chellgren Center helped open doors to opportunities that I thought I would never explore. They have taught me the importance of networking and stepping outside of my comfort zone," Koutone said. "The Chellgren Center has made my undergrad experience more meaningful by providing me the skills and support I needed to explore my dreams." 
Both Brown and Koutone plan to continue to work on implementing their projects and after graduation hope to go on to work in the nonprofit sector. 
To contribute to Kendall Brown's project, "'Hope for Literacy, a venture of Hope for Tomorrow Children's Home," click here. To learn More about the Chellgren Center and the Chellgren Fellows, click here.