May 2019 Graduates: Apply to be Commencement Speaker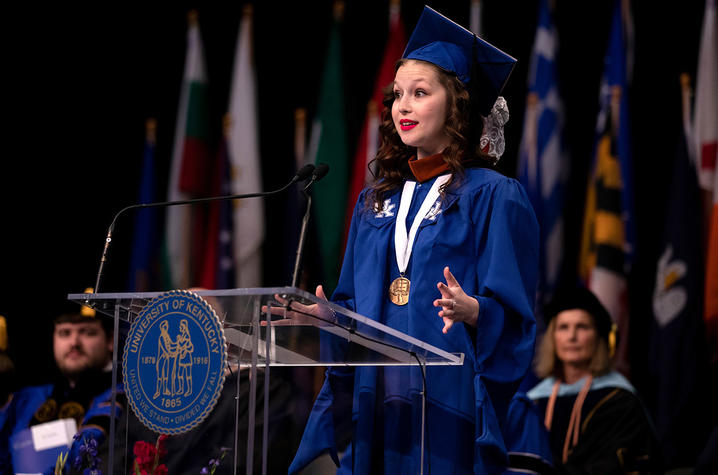 LEXINGTON, Ky. (March 11, 2019) — In line with university tradition, four outstanding students will have the opportunity to deliver a three-to-five minute commencement address at one of the University of Kentucky Commencement ceremonies this May.
Applications for student speaker will be accepted through March 26. The selection committee will review applications from students with all degree types, not just undergraduate students as has been done in the past.
Students interested in applying must be receiving a degree from UK at one of the May Commencement ceremonies. Applicants must have contributed to the university through campus and community activities or through their chosen field of study and demonstrate public speaking ability. Applicants must be willing to present their address to the Commencement Speaker Selection Committee and be available for a possible short interview and speech demonstration.
Application materials include a resume with detailed activities, work experience and accomplishments achieved during applicant's study at UK. In addition, a summary of no more than three typed, double-spaced pages of the applicant's proposed speech and a completed online application are required. Incomplete applications are unable to be considered by the selection committee.
Documents are required to be submitted in PDF format with the applicant's first and last name. Applications are available online at www.uky.edu/commencement/speaker. 
To better accommodate UK graduates and their families and friends, UK now holds four ceremonies for May graduates. The ceremonies will be held at Rupp Arena.
Friday, May 3:
10 a.m.: College of Agriculture, Food and Environment; College of Communication and Information; Martin School of Public Policy and Administration; Patterson School of Diplomacy and International Commerce; College of Public Health
2 p.m.: Gatton College of Business and Economics; College of Fine Arts; College of Health Sciences; College of Nursing; College of Pharmacy
Sunday, May 5:
10 a.m.: College of Arts and Sciences; College of Design; College of Social Work
2 p.m.: College of Education; College of Engineering; College of Medicine
For questions or more information about the student speaker application process, contact commencement@uky.edu.