Photography Exhibit Celebrates History of Latino Students at University of Kentucky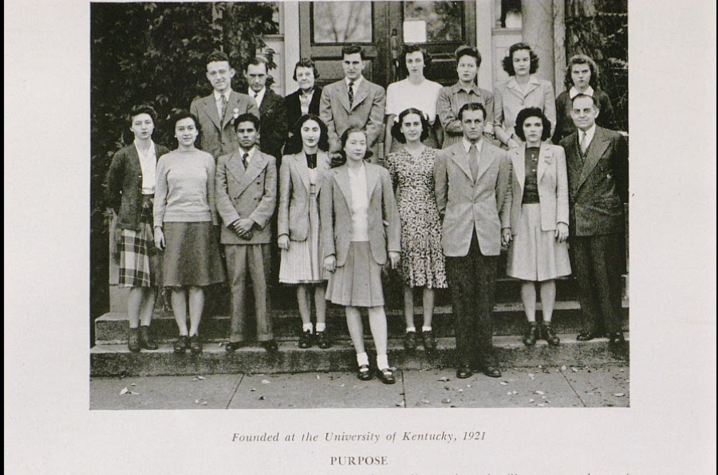 LEXINGTON, Ky. (Sept. 17, 2019) — As National Hispanic Heritage Month 2019 begins, University of Kentucky presents a photography exhibit titled "A Visual History of Latino Students at the University of Kentucky, 1865-2019." The free public exhibition will be on display at William T. Young Library this fall.
Curated by UK international studies undergraduate and Gaines Fellow Daniela Gamez Salgado, this collection of archival and contemporary photography presents visual evidence of important firsts in the history of Latino students at the university. The photos chosen for this exhibit focus on individual student experiences and collective student action, while also celebrating the diversity of experiences and identities encompassed by students of Latin American descent at the university. Commenting on the exhibit, Gamez said, "As the first official collection of the history of Latino students at the University of Kentucky, this exhibit helps us better understand and analyze the changing needs of this historically underserved community and encourages us all to rethink what it means to be a Wildcat."
The exhibit will be located in the Rose Street entrance to the Young Library and can be viewed during regular library hours through Nov. 1. An online image gallery from the exhibition can be viewed at https://uknowledge.uky.edu/latino_student_history/.
In honor of the exhibit, UK alumnus and former director of the UK Martin Luther King Center, Ricardo Nazario y Colón, will give a lecture titled "Beyond the Cosmic Race: Latinequis in the United States." The free public lecture, with reception to follow, will be held 4-5:30 p.m. Oct. 10, in Gatton Student Center Room 331.
The exhibit, lecture and reception are sponsored by UK Libraries, Department of Hispanic Studies, College of Arts and Sciences Year of Equity Program, Martin Luther King Center and the Latino Student Union.
If you would like more information about this exhibit or corresponding lecture, please contact the curator, Daniela Gamez Salgado at dyga222@g.uky.edu or Ruth Brown, lecturer of Spanish in the Department of Hispanic Studies, at ruth.brown@uky.edu or 859-420-7884.