Registration Now Open for Showcase of Undergraduate Scholars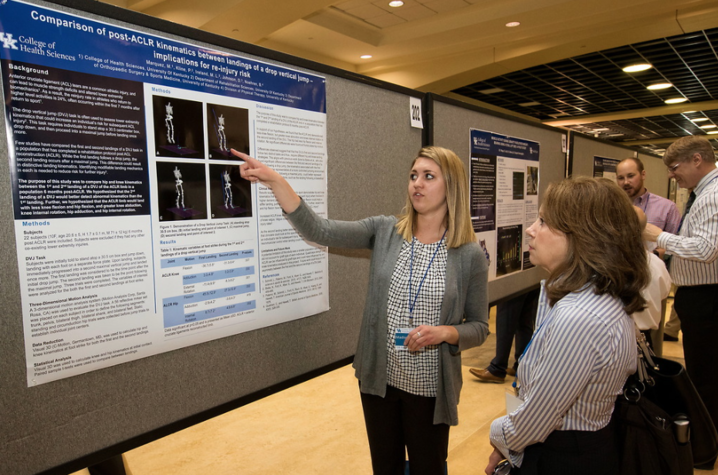 LEXINGTON, Ky. (March 25, 2019) — At the University of Kentucky, undergraduate research is central to creating a well-rounded student experience. To encourage and support undergraduate exploration, the Office of Undergraduate Research is hosting its 13th annual Showcase of Undergraduate Scholars from 3 to 6 p.m. Wednesday, April 24, in the Ballroom of the Gatton Student Center. 
Registration for the showcase is currently open and will close April 1. All undergraduates are welcome to present, perform or demonstrate their faculty-mentored scholarly work from across all disciplines. 
"The Showcase of Undergraduate Scholars provides a fabulous opportunity for our undergraduate researchers and faculty, staff and students alike to learn about the tremendous breadth, depth and value of undergraduate scholars' contributions to knowledge production," said Janice Fernheimer, Zantker Professor and director of Jewish Studies and associate professor of writing, rhetoric, and digital studies. "It gives students a welcome and public opportunity to share what they've learned about their specific projects and their own research processes, while also allowing others to see the impact of undergraduate research on the students themselves, the UK campus community and the broader fields to which the projects contribute." 
With more than 500 students expected to present at this year's showcase, the event is not only a great opportunity for students who present, but also for attendees. Staff and faculty are encouraged to attend the showcase, giving them an opportunity to engage with students across a wide variety of backgrounds and learn about the faculty mentors who made their research possible. 
"Research has shown that faculty mentorship plays a key role in the recruitment and retention of high achieving students," said Evie Russell, assistant director of the Office of Undergraduate Research. "Working side by side with student proteges, students learn firsthand the nature of the discipline. Undergraduate research is an example of an apprenticeship where our faculty mentors teach through example and coaching, while students learn by doing."
The hardworking students conducting research on campus help to solve some of the world's most pressing issues, but if not for the faculty providing them with the opportunities, hands-on experience would not always be possible. Faculty mentorship opportunities shape the lives of undergraduate students, but also create lasting impacts on the faculty mentor.
"As a mentor, few things delight me more than being able to work with engaged undergraduates to help them achieve their goals," Fernheimer said. "Such mentoring relationships create opportunities for reciprocal synergy, because working with self-motivated students not only helps the students learn about interdisciplinary approaches to research, but also brings new interdisciplinary insights to the research itself."
While at the showcase, students are encouraged to nominate a faculty mentor for Faculty Mentor of the Year. For a full list of past winners of the Outstanding Faculty Mentor Award, click here. 
Students may submit an abstract of their work and request a poster print at www.uky.edu/academy/showcase. The deadline for poster printing is April 15.