UK Biology Grad Dives Into World of Marine Conservation With REEF Internship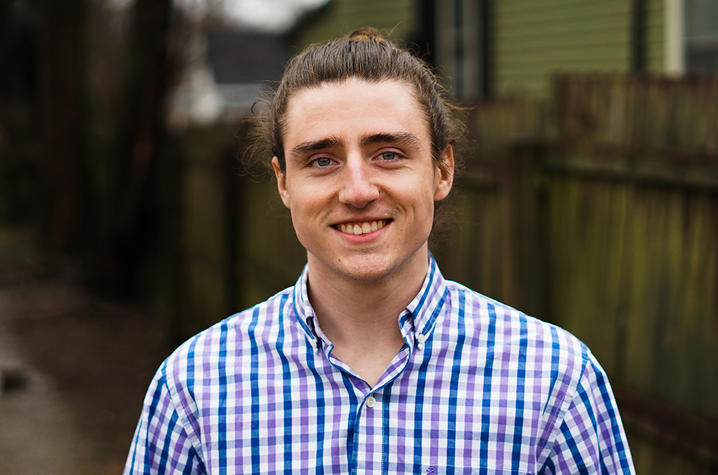 LEXINGTON, Ky. (May 3, 2019) — Ben Farmer, a graduating University of Kentucky biology senior and member of Lewis Honors College, has been awarded the Reef Environmental Education Foundation (REEF) Dr. Jamie L. King Marine Conservation Internship from Our World-Underwater Scholarship Society. Following graduation, Farmer will travel to Key Largo, Florida, for the summer program.
REEF conserves marine environments worldwide. Their mission is to protect biodiversity and ocean life by actively engaging and inspiring the public through citizen science, education and partnerships with the scientific community.
The Dr. Jamie L. King Marine Conservation Internship provides undergraduates and recent graduates the opportunity to experience working at a nonprofit marine conservation organization. Interns give group presentations; work with local marine conservation entities; and conduct marine life surveys during local dives. They also get the chance to assist with lionfish research, outreach and control programs in Florida, and help with the recording and reporting of exotic species reports and the development of outreach materials, among other duties.
The son of Sara Farmer of Lexington, Ben Farmer found his passion for the underwater world at a young age. From days vacationing with family in South Carolina and New Hampshire, he has long found the wetlands and intertidal communities fascinating. At home in Kentucky, Farmer explored everything from lakes to small creeks and cave systems. And in 2017, he obtained his open water dive certification.
But it was the ocean that continued to call Farmer's name, and during his junior year he pursued a semester of education abroad on the island of Bonaire in the Caribbean Dutch Antilles with the CIEE Research Station.
"The program offered me intensive experience in research, marine field research methods, tropical marine conservation biology, coral reef ecology and scientific diving. This, coupled with direction by UK faculty and advisors, provided me with the inspiration and ability to pursue a career in marine science."
At UK, Farmer interned with the International Center as an Education Abroad Peer Ambassador and strengthened his research skills on projects related to marine protected area effectiveness in the Indo-Pacific, biology of karst water systems, and parental behavior of sparrows. Through these research opportunities and his studies, Farmer gleaned valuable advice from mentors Claire O'Quin, lecturer and director of the Biology Learning Center, and biology Professors Jim Krupa and David Westneat in the College of Arts and Sciences.
With that foundation, Farmer is now ready to dive into his next adventure with REEF. "It is an exhilarating next step that will give me the chance to become a better communicator and ambassador for the underwater world."
Upon completion of his internship, Farmer plans to pursue a master's degree in marine biology/science, with a focus in coral reef ecology.