UK Physical Therapy Program Successfully Adapts its High-Touch Curriculum Amidst COVID-19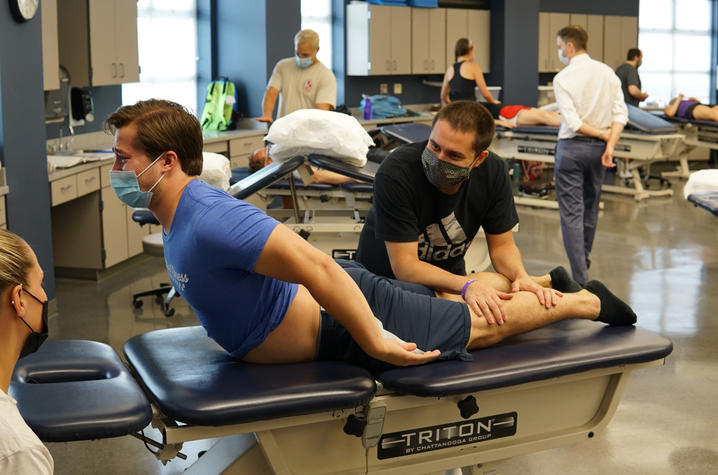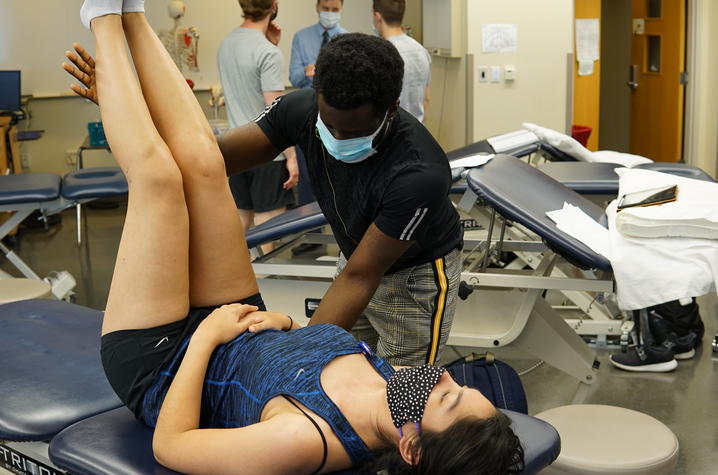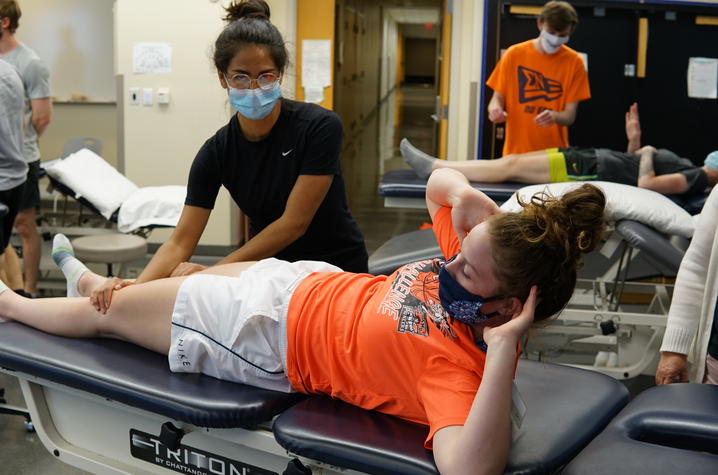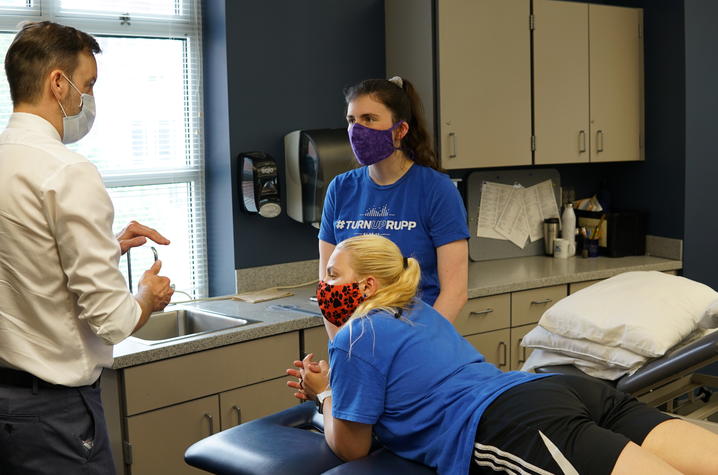 LEXINGTON, Ky. (Sept. 10, 2020) —  As a result of the COVID-19 pandemic, universities across the nation have adopted regular usage of video-sharing platforms such as Zoom. However, this presents challenges for hands-on health care professional programs.
The University of Kentucky College of Health Sciences Department of Physical Therapy overcame a tremendous hurdle during its summer session amidst COVID-19 by re-opening its labs for students to receive socially distanced, in-person classes.
"Since this is such a high-touch profession, we knew that if we did not have in-person lab classes through the summer, it would have delayed graduation for the students," said Professor and Department Chair Tony English. "We did not want that for them, and we knew they would not want that either. But we had to make sure it would be safe."
After several levels of review with legal teams, faculty and administration, the department developed a method that was hands-on, practical and safe for everyone.
The hybrid course structure allowed for students to participate in all lectures from home and attend socially distanced labs at half-capacity when the material presented a need for hands-on learning for topics such as proper massaging techniques or measuring the range of motion of joints and testing muscle strength.
"As a face-to-face learner, I was very glad to be back in class with 23 other peers," said second-year student Karina Angel. "The program is doing everything they can for us especially during this stressful and difficult time, so I really appreciate them for that."
Due to the capacity of the labs only being at 50%, professors taught each three-hour session twice. For in-person labs, attendees were given temperature screenings and masks were required. These precautions allowed the students to learn the hands-on, manual techniques from the physical therapy faculty.
Despite the learning environment being altered to follow safety precautions, lecturer Catherine Gohrband compliments her students on their receptiveness, sensitivity to others and ability to quickly adapt to the new rules while in the lab.
"I was pleasantly surprised at how quickly it became a community. You never had to remind anyone to wear a mask," she said. "Nobody was ever negligent or gave you the impression they didn't feel it was important."
Although this year's circumstances were unprecedented, Nathan Johnson, associate professor, highlights that this has been a growing experience for everyone.
"Growing pains can be difficult, but I am looking at this as an opportunity for us to continue to grow and I think that is exactly what we'll do," he said. "With this program being the first on campus to do this method of teaching, we had an opportunity to model some of the core values from our governing body, the American Physical Therapy Association. So by donning a mask, we were modeling social responsibility, compassion and caring, and altruism – and those are three core values we always try to instill in our students."
As the physical therapy field continues to adapt, whether that be through telehealth, following extreme precautions when working with vulnerable populations or continuing education in a hybrid-like setting, Assistant Professor Mona Carper says the field can go nowhere but up from here.
"Our profession will springboard from this and serve as an opportunity to move forward, enhance our role on the medical team and help those who initially didn't recognize that mobility is one of the keys to quality of life," she said.