Undergrad Team Helping Seales Unlock Ancient Secrets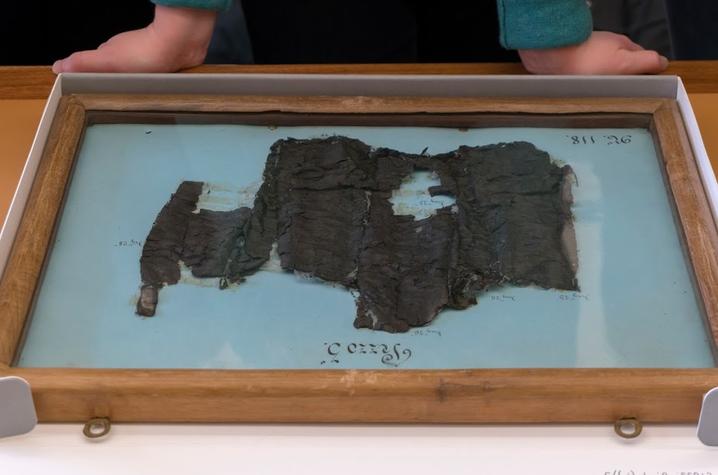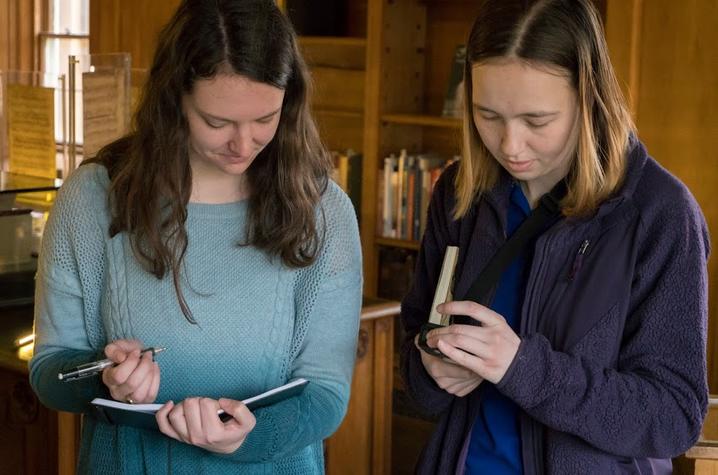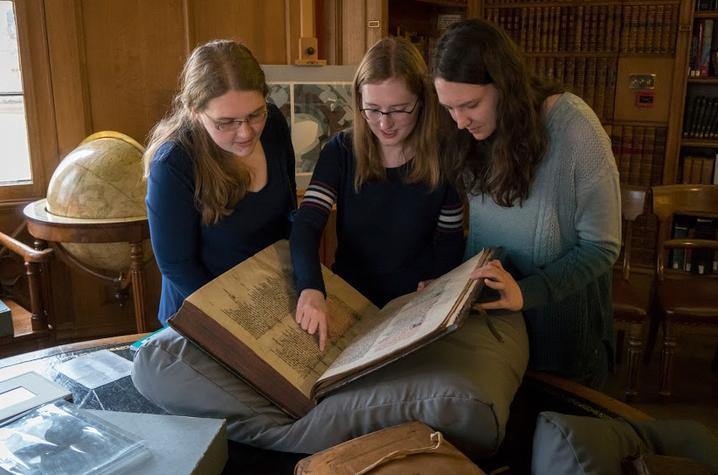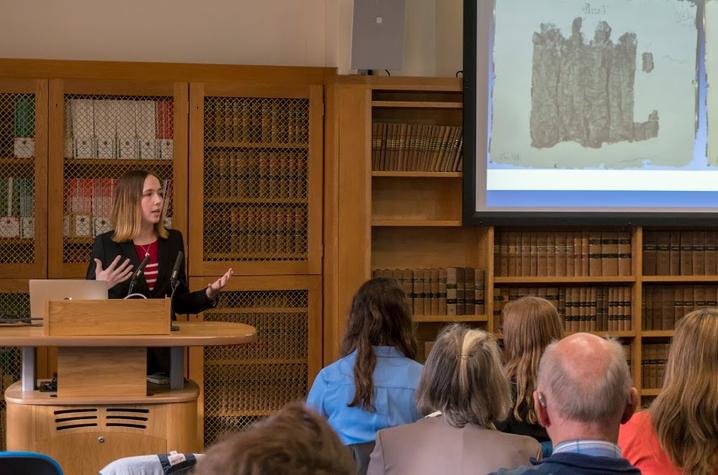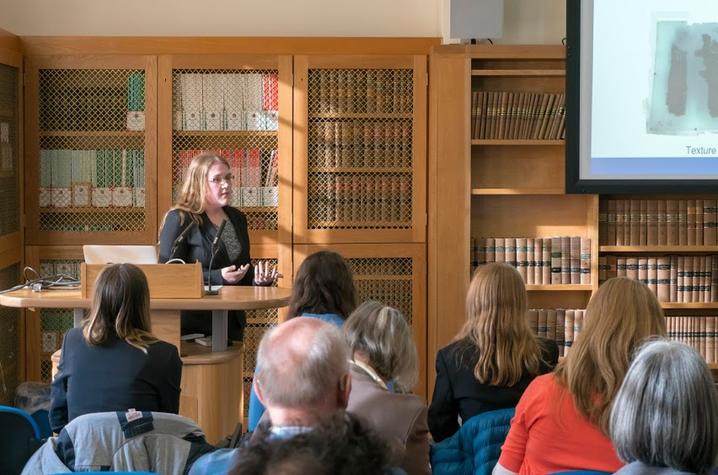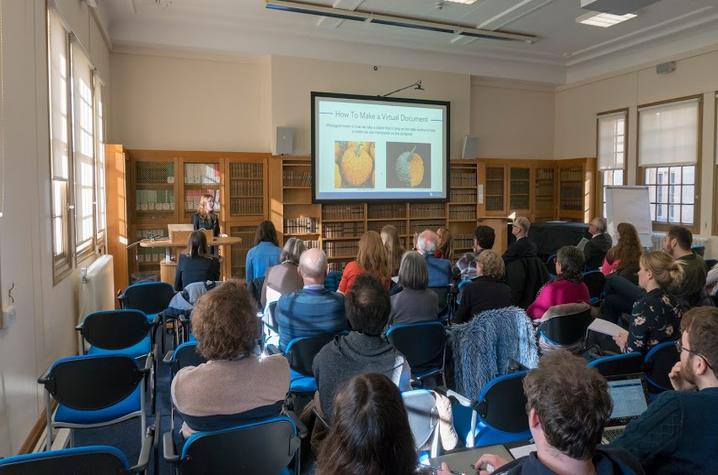 LEXINGTON, Ky. (April 26, 2018) — More than two decades ago, University of Kentucky Professor Brent Seales embarked on a journey to make what was deemed impossible, possible. To this day, his quest to uncover ancient western wisdom is ever-evolving with the help of his team of student researchers.
In A.D. 79, the catastrophic volcanic eruption of Mount Vesuvius buried Pompeii and the nearby Roman town of Herculaneum. Centuries later, archeologists uncovered the sites, which included a library of 1,800 papyrus scrolls. There was only one problem: preserved by layers of cement-like rock, they were too fragile to unroll. The ancient artifacts had been unearthed but were unreadable.
Seales, chair of the College of Engineering's Department of Computer Science, has been working diligently to digitally unroll the scrolls that were once considered beyond repair. He believes the books, written on plant fiber, could hold a wealth of knowledge, including valuable insight into the ancient world.
Seales' unprecedented work, to reveal the sealed secrets, has been highly publicized in recent years, garnering international attention from BBC News, The New York Times, The Washington Post, Wall Street Journal, Associated Press, Fox News, The Guardian, The Economist and more. Most recently, on April 1, he was featured on an episode of the long-running CBS show "60 Minutes."
"The history of the unwrapping of the Herculaneum Scrolls is littered with failures," Seales told Correspondent Bill Whitaker. "Everyone that had tried to open the scrolls left behind a hideous trail of fragmentary result."
Seales detailed his continued efforts to digitally unroll the charred scrolls using CT scans. In 2016, he developed the "Volume Cartographer," a computer program for locating and mapping 2D surfaces within a 3D object. The software is made to be user-friendly for scholars, not only computer scientists. 
"My research has the potential for high payoff if we can use technology to recover manuscripts that were thought to be lost. But it is also highly collaborative, and sometimes working together can be a real challenge. Although, the segment highlighted some of those challenges, which are very real, I also have many collaborators," Seales said.
He isn't doing this complex and tedious work by himself. A research team of talented undergraduates at UK has also been desperately trying to solve the 2,000-year-old mystery of the Herculaneum scrolls. They helped pioneer the virtual unrolling technique on a scroll found in 1970 at the ancient Ein Gedi synagogue on the western shore of the Dead Sea.
"I work to virtually scan and unwrap ancient documents that are too fragile or damaged to be read with the naked eye. Using a variety of imaging techniques and our specially developed software pipeline, we are able to take a manuscript that exists in the physical world and represent it in a 3D virtual environment where users can rotate, zoom and even edit the virtual document without any harm to physical copy," sophomore Kyra Seevers explained. "This allows scholars and conservationists to not only read new text but provides the general populous access to such rare and fragile documents."
During Spring Break (March 10-18), the team traveled to prestigious Oxford University, in the South East region of England, to present their findings.
"I think it is an incredible opportunity for undergraduates, and this experience has certainly meant a lot to me. It's been neat to experience a true example of technology crossing over into the humanities. This is a fascinating project, and having the research experience during undergrad is invaluable," senior Kristina Gessel said.
During a symposium at Oxford's University College, Seales and four UK students guided well-known members of the Oxford classics community through their step-by-step process of digitally unwrapping ancient scrolls.
"Through the generous support of the Women & Philanthropy and the Chellgren Center for Undergraduate Excellence here at UK, we were able to showcase the work our students completed this year. Oxford was the perfect place because our partners there hold many of the materials that are so fragile and unique," Seales said. "One retired Oxford professor told me after the symposium that our students were incredibly well prepared and easily held their own compared with the best Oxford students. I've never been more proud of our incredible students and the work they do."
The group also toured London, visited the United Kingdom's National Synchrotron (particle accelerator) facility, attended workshops and more. They also explored the Bodleian Libraries where, for the first time, they laid their eyes on the physical Herculaneum fragment they had a hand in digitally restoring.
"This project is going to unlock a vault of knowledge that's been hidden away for years. It's going to make a difference and change the world. I wanted to be a part of that. This project is a place for me to learn, while gaining experience working in the field, not just in a classroom," senior Hannah Hatch said.
After years of trial and error, the team believes unlocking the stories inside the scrolls is finally within reach, but opportunities and challenges remain.
"Herculaneum for me is enigmatic and sometimes feels more like Brigadoon: a tantalizing vision appearing in the mist and then retreating before I can find its mooring. I need three things to line up in order to crack this project open:  the technical approach, access to material and funding. Students are always there, for which I'm enormously grateful. It is their constant contribution that gives me the most hope that the other things will align – once and for all – and the invisible library will be made visible at last," Seales said.
As he continues to explore the connection between ancient history and modern technology, Seales is also excited to be creating memorable opportunities for deserving students.
"I believe one of my most important and fundamental roles is to educate students and give them extraordinary opportunities. I feel certain that at the end of the day my most valued contribution will be the investment I have made in the lives of the students who come to this great university."
You can help support the research team by donating online.