Whitney Barber Honored as Student Employee of the Year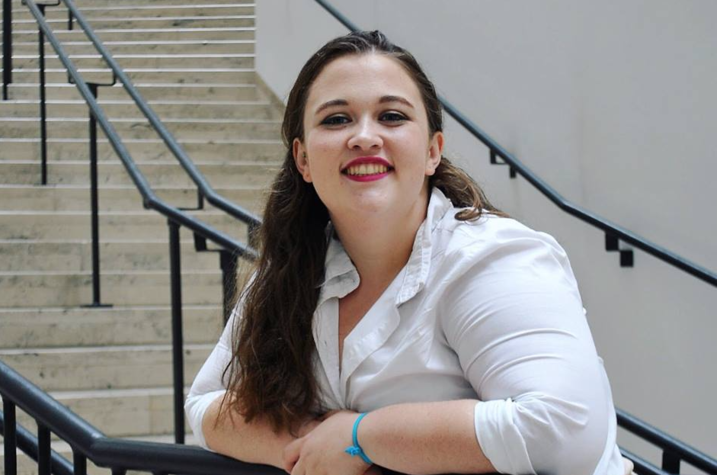 LEXINGTON, Ky. (May 8, 2019) — Whitney Barber, a student employee with the University of Kentucky's College of Arts and Sciences and Education Abroad, recently received the 2019 Student Employee of the Year award. 
Barber was one of 10 finalists chosen from more than 50 nominations submitted by supervisors of student employees at UK. Each finalist, along with their supervisor and family members, were recognized at a banquet at the Hilary J. Boone Center to honor their accomplishments and contributions to the university. 
"In her role, (Barber) has routinely been called upon to train the professional staff because she has become so knowledgeable about the office and how our processes work," wrote Katherine McKinney, Barber's supervisor at the International Center. "Ms. Barber has become such an indispensable part of the team that we often have to remind ourselves that she's still a student." 
Brooke Hendricks, Barber's nominator from the College of Arts and Sciences, praised her passion and creativity. 
"She is not afraid to challenge predisposed authority, but does so with grace and maturity beyond her years," Hendricks wrote. 
The award is presented by UK Human Resources Student Employment each year. 
This year's 10 finalists included: 
Whitney Barber, College of Arts and Sciences, and Education Abroad; 
Ryan Belcher, UK HealthCare Retail Pharmacy;
Adam Blevins, Parent and Family Association; 
Candace Bone, Residence Life; 
Caroline Leggett, College of Pharmacy; 
Hannah Rice, Transformative Learning; 
Jared Rigdon, Information Technology Services; 
Adrian Sanchez, Residence Life; 
Beeson (Bee) Shin, International Student and Scholar Services; and
Maggie Tuckey, Campus Recreation and Wellness.