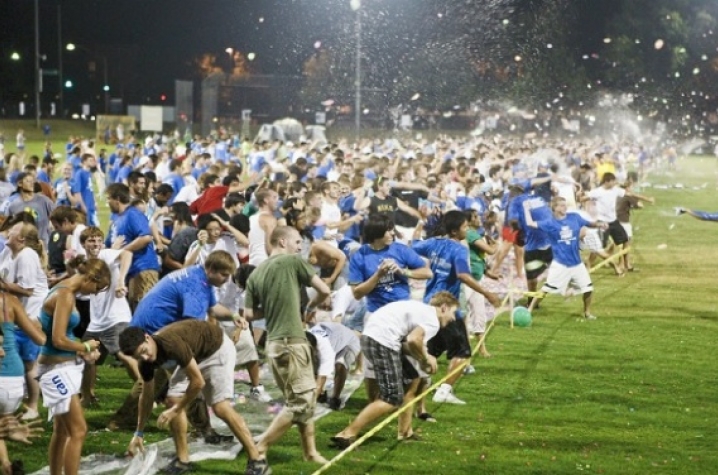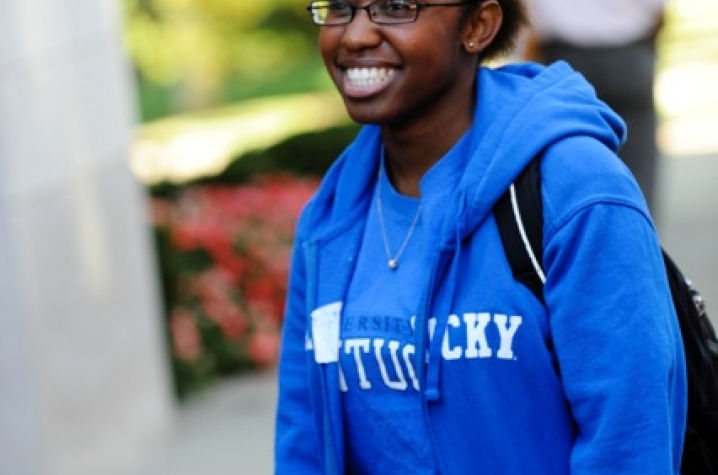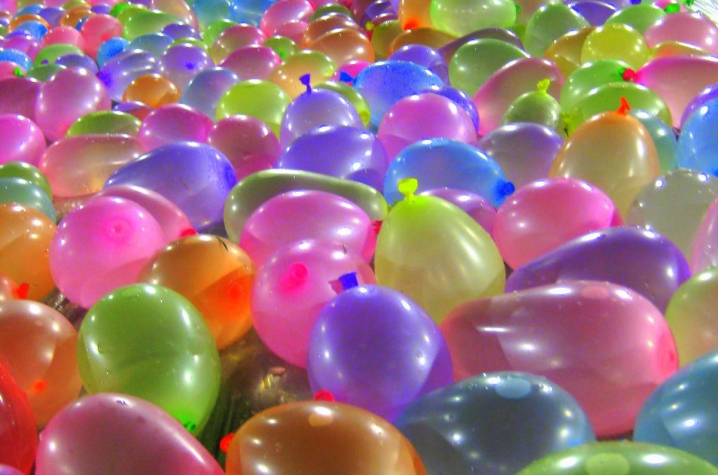 LEXINGTON, Ky. (Aug. 27, 2010) – As the first week of classes winds down for UK students, the first weekend of the semester is on the horizon and the fun of K Week continues!
[IMAGE2]
Today, the entire campus community is encouraged to wear blue to create a "sea of blue" on campus.
"Wearing blue has such a sense of spirit and excitement around it," Justin Linne, a 2010 graduate of UK, said. "Seeing everyone in their Kentucky blue just reminds us all of the pride and tradition behind it."
Should you have missed out on the numerous opportunities for some new UK swag during K Week, there's one more chance for you to pick up some blue gear. Today, purge your closet of either old high school T-shirts or shirts from other universities and swap them in for some blue and white at the "Why aren't you wearing blue? T-shirt swap" from 11 a.m. – 2 p.m. on the walkway between Rose Street and the Young Library. (Don't worry – swapped shirts will be donated to charity.)
This afternoon, students are encouraged to wear their blue and white to the UK soccer complex to cheer on the men's soccer team as they open the season against Marquette at 1 p.m. Admission is free with your student ID.
[IMAGE3]
Need to cool off after a long day on campus? UK's Christian Student Fellowship has the perfect way to blow off a little steam and help UK regain its Guinness Book World Record for the world's largest water balloon fight. At 11:55 p.m., more than 4,000 people and 120,000 water balloons will be on the Johnson Center Fields to bring the world record back to UK!
After the water balloon fight, TallyCats will be on hand to hand out prizes to students who attended the most events and "swiped and got their swag on."
On Saturday, students can win some fabulous prizes at "Minute to Win It" at 7 p.m. at Worsham Theater or catch the midnight showing of Get Him to the Greek at the Kentucky Theatre.
"During K Week you will have this moment," Falon Thacker, a 2010 graduate, said. "This is a moment where you will take a step back and say to yourself, 'Wow, I am a Kentucky Wildcat.' It's one of the best moments I have ever experienced and it is a moment that I continue to have each year as a Wildcat."
All of these moments, from laughing with new friends in the residence halls to cheering with 70,000 fans at Commonwealth Stadium to getting an "A" on that first big exam, make up the UK experience and all that it means to be a Wildcat. Welcome to the family, Class of 2014.
Below are K Week events for Friday, Aug. 27, and Saturday, Aug. 28. For a complete schedule, click here.
Friday, Aug. 27
The Peer Resource Team Friday Freeze
11 a.m. – 2 p.m.
Walkway from Rose Street to Young Library
Classes have started, but it's still blistering hot outside; come chill out with the Peer Resource Team Friday Freeze! Enjoy a snow cone (with your own flavor combination) and check out our penguin pond for a chance to win a free t-shirt!
Hail Mary Water Balloon Filling Party
Noon – 5 p.m.
CSF Building, corner of Woodland and Columbia at stoplight by W.T. Young Library
The Water Balloon Fight is almost here!! To ensure we smash last year's record, come help us fill up the last few thousand balloons before UK CSF's World's Largest Water Balloon Fight. For more information, visit www.ukcsf.org.
Salsa Dancing Lessons
3 – 5 p.m.
Martin Luther King, Jr. Cultural Center, 133 Student Center
Whether you are a novice or a pro, stop by the King Cultural Center and pick up a few salsa dancing tips.
Mic Check… 1… 2
6 – 10 p.m.
Cats Den, 1st floor Student Center
Alpha Kappa Alpha Sorority, Inc. and Alpha Phi Alpha Fraternity, Inc. will bring their Skee-Phi Week to a close with this highly anticipated event. Come out and share your talents in comedy, poetry, singing, rapping and dance. Or just sit back and enjoy the entertainment. This is a free event open to everyone! It's guaranteed to be a great show!
Block Party
9 p.m. – 11:45 p.m.
South Campus Courtyard
Wondering what fun things await you at college? Now that you survived the first week of classes, it's time to take a break and make some new friends on the block! Grab your neighbors and check out free food and great music at the South Campus Courtyard! Enjoy cornhole, popcorn, cotton candy, snow cones and of course free stuff!
Saturday, Aug. 28
Rooftop Rave
9 p.m. – 2 a.m.
Top floor of the parking garage by K-Lair
Best roof party you've ever been to at UK. Party under the stars on top of the parking garage next to K Lair. If the rains come, the party goes on anyway on the floor below. End K Week right. For more information, visit www.ukcsf.org.
Midnight at the Kentucky: Get Him to the Greek
Midnight
Kentucky Theatre, downtown Lexington
The Kentucky Theatre has been a landmark in downtown Lexington since the 1920s. To welcome new students to UK, the Kentucky is hosting a free midnight movie. Students interested in making the short walk to the theatre together should meet on Stoll Field outside the Student Center at 11:30 p.m.