'Cats, Cornell Team Up for Habitat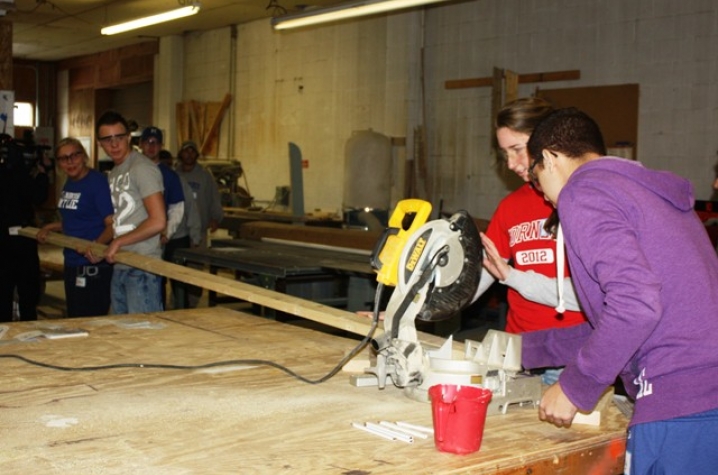 LEXINGTON, Ky. (March 25, 2010) - On the day their teams take to the hardwood, students from the University of Kentucky Robinson Scholars Program and Cornell University put their rivalry aside to help Lexington's Habitat for Humanity.
Students from Cornell have been in town all week during their spring break as part of the Habitat for Humanity Collegiate Challenge Program. Collegiate Challenge is a year-round alternative break program that offers groups of five or more students, 16 years of age and older, the opportunity to visit one of the 250 host affiliates throughout the United States. Students spend one week working in partnership with the local affiliate, the local community and partner families to help eliminate poverty housing in the area.
UK's Robinson Scholars, a scholarship and support service program that works with first-generation college students from 29 Eastern Kentucky counties, volunteer throughout the Lexington community each semester and also signed up to work with Habitat for Humanity this week.
"What a coincidence, one that we could have never predicted, that students from Cornell would be in Lexington on the day that UK and Cornell meet in the Sweet Sixteen," Rachel Childress, executive director of Lexington Habitat for Humanity, said. "We are so happy to have collegiate students involved in Habitat."
UK and Cornell students worked side by side measuring and cutting boards that will be used in framing a new house tomorrow. While a few "C-A-T-S cats, cats, cats" and "Let's Go Red" cheers broke out among the groups, the friendly rivalry was much more about helping people than dunking or three-point shooting percentages.
For more information or to volunteer with Habitat for Humanity, visit www.lexhabitat.org or UK students can check out the collegiate chapter at www.uky.edu/StudentOrgs/Habitat.
Click here for a video about today's Habitat build.