Engineering Student Shows Hard Work Equals Success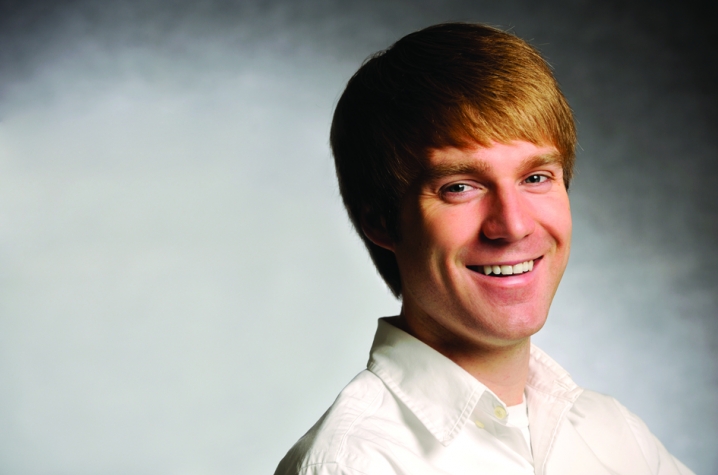 LEXINGTON, Ky. (June 17, 2011) — If you were introduced to one of NASA's aerospace engineers, what assumptions might you make? Near-genius who romped through advanced calculus? Someone who daydreams about physics? A rare individual who designs complex structures with the ease of a child building a sand castle?
If so, you haven't met Austin Lovan.
"I'm different than a lot of the students in the College of Engineering here," says Lovan. "I got B's in high school, got a low score on my ACT and barely got into UK. I'm not super smart; I just became a hard worker and committed a lot of time."
Honoring the time commitment required for succeeding in UK's mechanical engineering program enabled Lovan to handle challenging courses.
"The first two years are mostly calculus, physics and chemistry and, for me, those classes were actually the hardest part of acquiring my degree," he says. "You have to be committed; otherwise you're not going to get the grades you want."
However, once Lovan had the foundations in place and began taking mechanical engineering classes, he came across an opportunity that radically influenced his future career path: UK's Cooperative Education Program.
"The co-op experience is the best thing that has ever happened to me—literally—in my whole life. It set me up for everything," Lovan says.
Participation in the co-op program, which allows students to gain valuable industry experience at some of the nation's leading companies in manufacturing, aerospace, computer engineering and aviation (among others), landed Lovan at NASA's Johnson Space Center in Houston, Texas, where he would have the benefit of three separate rotations. During his final rotation, he got involved in robotics, collaborating on a new humanoid robot called Robonaut 2. Lovan describes it as "a dexterous humanoid robot that has an upper body with arms, hands, fingers and a head—just like a human. It's meant to assist an astronaut on the space station and, perhaps down the road, on another planet."
Lovan will likely be a part of Robonaut 2's future because he will soon be heading back to Houston a fourth time—now as a full-time aerospace engineer. None of it would have been possible, he says, without the co-op program. "I tell every university freshman or senior in high school that they need to get in the co-op program. It is the best way to get a job and gain invaluable engineering experience."
As he looks back on his amazing journey through the mechanical engineering program, Lovan reflects on the change he underwent from average high school student to NASA aerospace engineer. "You don't have to necessarily master advanced calculus in high school to be successful in the College of Engineering," he insists. "I ended up with a 3.6 GPA here at UK, was involved on campus and got a job at NASA. It's all about how hard you want to work."
MEDIA CONTACT: Jenny Wells, (859) 257-5343; Jenny.Wells@uky.edu; or Kelly Hahn, (859) 257-3409; khahn@engr.uky.edu