Learning Without Borders Part 2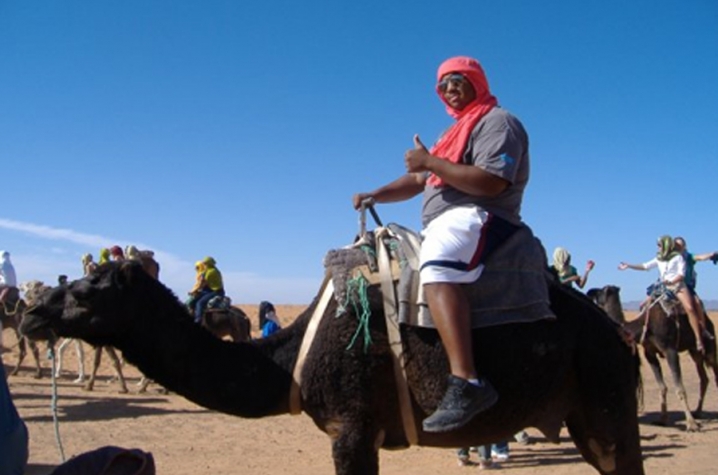 LEXINGTON, Ky. (July 15, 2010) – Studying abroad is often described as a life-changing experience for college students. For Owensboro native Bryan Kennedy, a recent graduate from the College of Communications, his semester abroad changed his life. 
 
This is the second in a three-part series which explores his experiences on another continent through multimedia. In fact, in this video blog, Bryan takes us from one continent to another!
We sat down with Bryan to garner some real answers to some basic questions about education abroad.  His candid responses and video blog from his trip to Morocco offer an authentic taste of the true education abroad experience. 
-Where did you live during your education abroad experience?
"I was based out of Seville, Spain. It's not a large city, but it's not small. To me it was the perfect education abroad destination. The city was easy to navigate, and after a while it felt like another home. Just like in the states you have an everyday routine; I created an everyday routine there, too. The city was great. It's a very old city with loads of history. The city was perfect for helping to advance my Spanish skills, too.  Although Seville is a tourist destination, the majority of people in the city speak little to no English. This was, of course, difficult at first, but after I finally climbed out of my box, I had a great time hanging out with locals and improving my Spanish language skills."
 
-Where else did you visit?
"Aside from Seville, I visited numerous cities in Spain. We traveled to Madrid, Granada, Cordoba, Toledo, and camped in the mountains of El Churro. Aside from those cities, I also was able to visit countries outside of Spain, too.  My travel led to Portugal, France, and Morocco."
 
Tell me about one of your favorite memories about your time abroad.
"A favorite memory would have to be all the times spent with the friends I made there. It's crazy to think you can get so close with people you've just met, but you'd be surprised how much you can depend on another person when all of you are picked out of your everyday lives and dropped in a foreign country. Whether it was going out on the town, traveling together, or just talking by the river, some of the best times I had in Spain were with the new friends I made. There are some friends back in the states I've known for my whole life, but they will never be able to recreate or equal the bond I made with these people while abroad. Every day I think about how much I want to return to Seville and spend more time there, but it just wouldn't be the same without that group of friends. In life I believe all you do is made better or worse by the people around you. Whether its school, work, or sports, all experiences hinge on the people you create memories with. I believe going back to Seville would be great, but it just wouldn't be the same if I were spending it with totally different people."
 
-What is the most important lesson you learned?
"I would say the most important lesson I learned would be to never be scared to try new things and that there is a whole different world out there. Don't become complacent with staying where you are. Many of the experiences I had while abroad were enhanced by not being afraid to try new things. Before this trip I had never truly camped outside in a tent in the mountains. But when I decided to go on a camping/hiking trip in the mountains, I was no doubt going outside of my comfort zone. The experience I had with the people I went with is unforgettable. I would also say it's important to look at the world in the big picture and not just from where you currently are. Now I have a worldview of everything and as a result I don't let the little things stress me out anymore. Studying abroad lets you be able to look at the big picture."
 
-What were the classes like?
"The classes were great. They were very influential in helping me understand the language the culture of Spain. I think anyone who studies abroad would agree that the true learning goes on outside of the classroom. I learned a lot about grammar and the history of Spain in class, but I truly learned and understood the culture and the language when I stepped outside of the classroom."
 
-You created video blogs about Spain, as well as two of these weekend trips you just mentioned. This week, the UK Now audience will be able to watch your blog from Morocco. What was your favorite part about this country?"
"Morocco was without a doubt the best part of the entire trip. Specifically, one of the things I was able to do was ride a camel through the Sahara desert. Talk about crazy. There are a lot of things I thought I would do in my life, but riding a camel through the Sahara Desert was not one of them. I stayed in Morocco for nearly a week and camped in the Sahara for 2 nights. That experience was truly amazing. I feel like you haven't truly seen the night sky until you've seen it in the desert. It's unbelievable to be able to look in every direction and see nothing but sand and the sky."
Watch the video below to learn more about Bryan's trip to Morocco or visit UK's You Tube site, or click on this link to view. 
 
Stay tuned for Part 3 of this series, when Bryan will share advice for his fellow Wildcats who plan to study abroad in the future and a video blog from Spain!
 
For more information about education abroad opportunities, visit: http://abroad.ad.uky.edu/ .