Letters Today, Leaders Tomorrow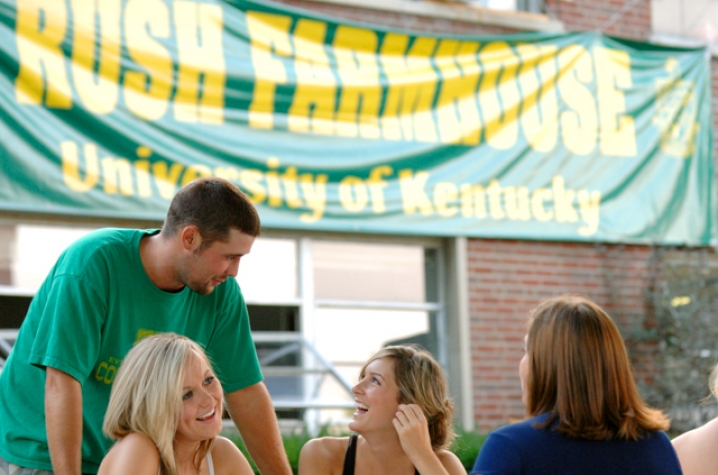 University of Kentucky fraternity recruitment is a chance for all men to discover what fraternity life at UK is all about. Governed by the Interfraternity Council (IFC), all incoming and returning men are invited to participate in the fall 2009 Fraternity Recruitment Week.
IFC represents the 21 different fraternities here on UK's campus. Recruitment open house events are scheduled from 7 p.m. – 11 p.m., Monday, Aug. 24 through Friday, Aug. 28 at locations across campus. Rush week gives all men a chance to participate in recruitment and learn a little more about our different chapters. With 21 chapters, there is a fraternity for all personalities and interests.
"The goal of the University of Kentucky's fraternal organizations is to facilitate the development of relationships that will help an individual connect with those of similar interests and develop his personal skill set so that he leaves this institution a more well-rounded man with the tools necessary to succeed," Ben Duncan, IFC president, said. "From social events to raising money for cancer research; we have something for everyone. Fraternity life will help to fulfill a rewarding collegiate experience, but it will also continue to benefit you throughout your lifetime."
More than 3,700 students, making up more than 20 percent of the campus, participate in Greek life at UK. These students also account for active members in more than 200 different student organizations. This fall more than 1,000 men will participate in recruitment. The UK fraternity system has provided many men with the values and leadership skills necessary for success in their professional lives. Seven Kentucky governors are UK fraternity men, including our current governor, Steve Beshear. Others have gone on to successful careers in business, and Joe B. Hall led the Wildcats to a national championship in 1978. No matter your goals, the UK fraternity system will provide you with the tools to make the most of your potential.
Men are encouraged to meet with multiple chapters and try to find a group that matches their values and beliefs. Members of the Executive Board will be seen around campus handing out brochures and booklets and will gladly answer any questions about recruitment. Visit our Web site, www.kentuckyifc.com, com for more information on recruitment and for recruitment registration.