More than $1 Million Reasons to Dance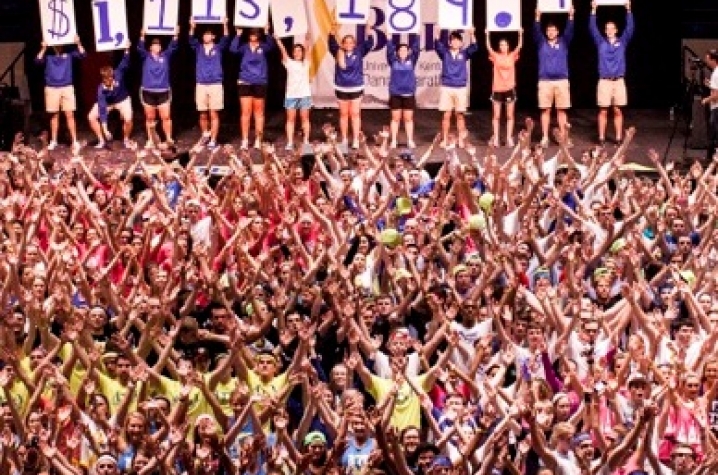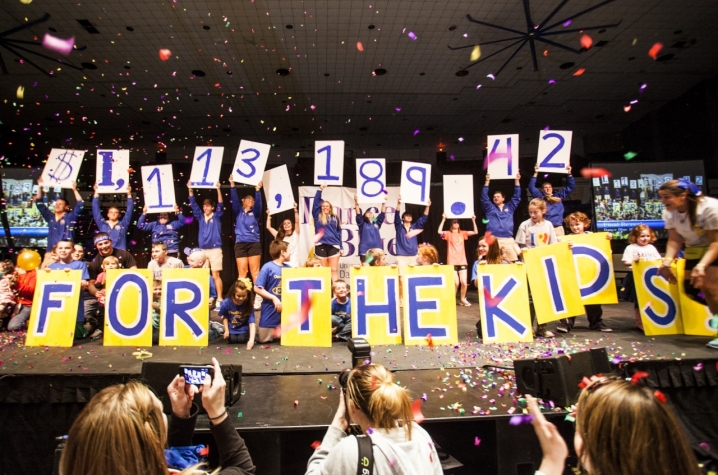 LEXINGTON, Ky. (Feb. 23, 2013) – With sore feet, worn-out bodies and emotions running high, committee members revealed a grand fundraising total of $1,113,189.42 at the eighth annual DanceBlue dance marathon tonight at Memorial Coliseum to a crowd of several thousand people.
[IMAGE2]
During tonight's reveal, an extra card was raised high in the air as the total was announced – marking the first time the year-long fundraising effort topped the $1 million mark in a single year. The more than 800 student dancers erupted in cheers and tears as the total was revealed – for the kids.
Whether participating as a dancer, volunteer, committee member or even just a supporter, DanceBlue is something no one ever forgets, especially the last few hours. With a family talent show featuring children from the clinic and a celebration of life hour to remember those who have lost their battle with cancer, the reveal tonight was a much anticipated moment for so many people at UK.
Last year Joy Wills was in the stands, watching as students danced for the children at DanceBlue Kentucky Children's Hospital Pediatric Oncology Hematology Clinic – a disease she had battled three times. Tonight her estate surprised the dancers and the audience with a little bit of joy – a $500,000 endowment for DanceBlue.
A Roomful of Joy
"I met Joy Wills three years ago when her husband passed away," Whitney Dunlap, Wills's attorney, said in remarks to the crowd after the reveal. "After we had gotten to know each other better Wills confided in me that she did not have a will, that she did not know what to do with the money she had saved her whole life. I asked her to name me the things she held important to her. Aside from her husband and her faith, that there were three things important to her: children, cancer and the University of Kentucky."
Wills grew up in Eastern Kentucky, in the small community of Egypt in Jackson County. She graduated from Tyner High School in the 1930's and went on to earn both her bachelor's degree and master's degree in education from UK. For 42 years, Wills served as an educator in the poorest areas of Louisville, most of that time as school principal. She served at the same school for nearly her whole career guiding her students through segregation, desegregation, forced busing and federal courts, always working to ensure bright futures for her students.
In the 1980's her battles with cancer began – she fought and beat cancer three times. "Cancer is cruel and we must find a way to beat it," Wills once said. "It is especially cruel on children because they don't understand what is happening."
Wills was connected with Barbara Waldmann-Ward, a nurse at the clinic. She also told her about DanceBlue. Wills's last lesson to teach us all – you never know who is watching you and what their observations may mean in your life. Wills was amazed at the energy, enthusiasm and effectiveness of DanceBlue – it energized her and led her to create the Joy R. Wills DanceBlue Endowment Fund – a gift of more than $500,000.
Her gift, combined with this year's fundraising total and the previous seven marathons brings to total money raised by DanceBlue to more than $5.1 million.
DanceBlue is UK's 24 hour no-sitting, no-sleeping dance marathon that benefits the Golden Matrix Fund and the DanceBlue Kentucky Children's Hospital Pediatric Oncology Clinic. DanceBlue supports pediatric cancer research at the Markey Cancer Center and children with cancer.
DanceBlue is a program housed in the Center for Community Outreach. The CCO seeks to serve, connect and unite the University of Kentucky with the surrounding community in collaborative efforts to promote life-long community service. For more information about the CCO, visit getinvolved.uky.edu/cco. Connect with the CCO on Facebook here and on Twitter at twitter.com/ukcco.
Give to DanceBlue here and connect with DanceBlue on Facebook at www.facebook.com/danceblue and on Twitter at twitter.com/UKDanceBlue.
MEDIA CONTACT: Katy Bennett, katy.bennett@uky.edu, (859) 523-4639