UK Students Explore Opportunities at National Public Health Conference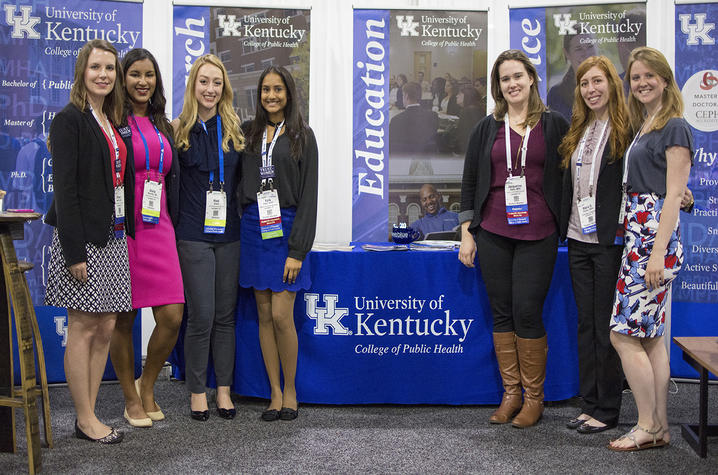 LEXINGTON, Ky. (Nov. 8, 2017) – Students, faculty and staff from the University of Kentucky College of Public Health (UKCPH) explored opportunities, networked and presented research at the American Public Health Association (APHA) annual meeting in Atlanta from Nov. 4 to 8.
Students attended the meeting to present research, learn about graduate and doctoral programs, explore career opportunities, hear from experts in their areas of interest and share their experience at UK with prospective students.
Allison Merritt, a master of public health student in the health, behavior and society concentration, and president of the UK Student Public Health Association, had the opportunity to get more experience presenting research during poster sessions. Merritt, presented research she worked on with Dr. Christina Studts, an assistant professor in the Department of Health, Behavior and Society, on the need for pediatric primary care screening tools to assess behavioral issues in preschool-aged children. While this wasn't her first experience presenting research, this was the largest audience she's had the opportunity to present to. "The different perspectives of regional and national audiences meant I was asked different types of questions which gave me the chance to step back and see that this research is applicable to people anywhere and that good research can impact people nationally," said Merritt.
Attending the meeting also provided an opportunity for prospective UK students to learn about undergraduate, graduate and doctoral programs available at UKCPH. Current students, Honour McDaniel, Kyra Patel, Maria Politis and several others volunteered to share their experiences in the BPH, MPH and DrPH programs.
The opportunity to learn more about graduate and professional programs motivated Madison Shore to attend APHA. Shore, an undergraduate double majoring in public health and animal science, looked for programs that incorporate her passions for health policy and veterinary medicine. "The opportunity to travel to the APHA conference allowed me to speak to representatives from graduate programs who could be my future classmates, advisors and professors," Shore said. "Speaking with schools from across the country showed me which programs would be the best fit in a simple conversation, rather than through emails and phone calls. I feel confident after leaving the conference that university representatives will know my name and recognize me if I'm fortunate enough to walk onto their campuses as a grad student next year."
Experiences like these are valuable for new public health professionals, which is why Donna Arnett, Dean of the College of Public Health, works to ensure they're available to students. "One of the most important things can we do as a College is to connect students with the experiences that will empower them to be health champions in Kentucky and beyond. From attending leadership trainings, to presenting their own research, to networking with alumni and other attendees, the American Public Health Association Annual Meeting is a valuable opportunity for our students to connect with the public health community as scholars, practitioners and future professionals. Attending APHA with our students is also one of the highlights of the year for our faculty and staff, and for me as Dean."