UK Students Provide Branding Help to South African Charities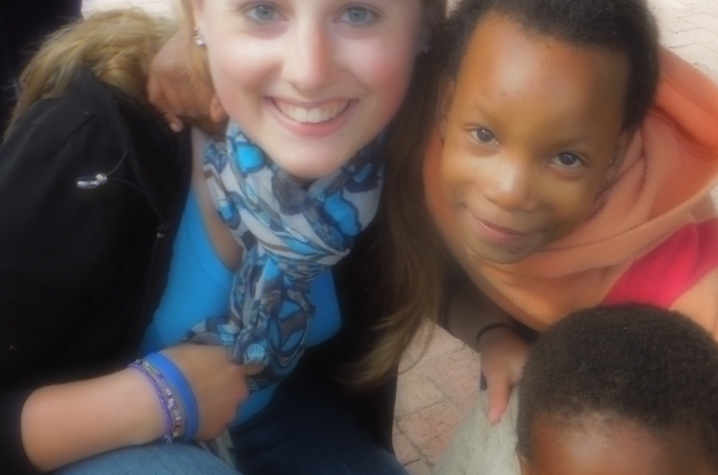 LEXINGTON, Ky. (July 18, 2012) — This summer, seven University of Kentucky students traveled to Cape Town, South Africa, for a three-week course on integrated strategic communication. 
These students professionally designed and pitched branding campaigns for two separate child welfare organizations in the Cape Town community, both of which are currently being implemented.The course offered students the opportunity to apply their classroom knowledge in a global professional context while exploring the challenges of diversity. 
Students Samantha Brown, Alex Gorrell, Ellen Jacobs, Bryan O'Loughlin, Sarah Peterson, Ashley Scoby and Ali Wallace toured various places of interest, such as Robben Island, and experienced overnight homestays in the township of Gugulethu. They spoke with numerous people about their experiences, how South African culture has shifted after the end of apartheid, and their struggles in communicating within such a diverse population.
"This experience reminded me that there are bigger things out there — bigger things than myself. Bigger problems than America's problems, and bigger-hearted people than I will ever be," said Ashley Scoby, a rising sophomore journalism major. "Expanding my worldview and being part of something larger and more impactful than I ever could have been a part of in the U.S. is what I will mostly take away from my time in South Africa."
The class shadowed several advertising, media, and public relations agencies in Cape Town, including Saatchi and Saatchi, 140 BBDO, Bayer Best Slinger, Magna Carta, and Media 24.  The agencies shared their challenges with how to handle targeting and audience segmentation in a setting where there are distinct differences and subpopulations — an invaluable lesson for communication scholars and practitioners alike.
But beyond the typical study abroad experience, students learned to apply their integrated strategic communication knowledge by working with two South African child welfare organizations: Rainbow of Hope, which works with at-risk children, and Eluthandweni, an orphanage for children who have lost one or both parents to HIV and AIDS. The students developed a comprehensive branding plan, including logos, informational brochures, Facebook pages, human-interest news stories, fliers and recommendations on media placement.
Not only did the students gain useful experience in developing and presenting their campaigns to viable clients, they also produced pieces for their academic portfolio. And what could be better than presenting a campaign? Having the client buy in to your pitch.  Currently, both organizations are working to implement the two persuasive communication campaigns in order to generate cash donations and volunteers.
Beth E. Barnes, director of the School of Journalism and Telecommunications and associate dean for undergraduate and international programs in the College of Communication and Information, led the trip. 
"I had high expectations for the students' experience in Cape Town, based on a previous visit to the city, but the welcome we received everywhere we went blew me away," Barnes said.  "The highlight was seeing how the students were able to apply what they'd learned within a very short time to develop truly workable campaigns for the two organizations. They did really great work, and that showed in the clients' reactions to the recommendations.  Our ISC majors are required to have a portfolio of work in order to graduate; these students' portfolios will really stand out."
The course was offered through Education Abroad at UK in conjunction with Arcadia University, which runs multiple programs in Cape Town.  The college plans to offer this course again in the summer of 2013, in addition to several other study abroad courses. For more information, please visit cis.uky.edu or the UK Education Abroad website at www.uky.edu/educationabroad.