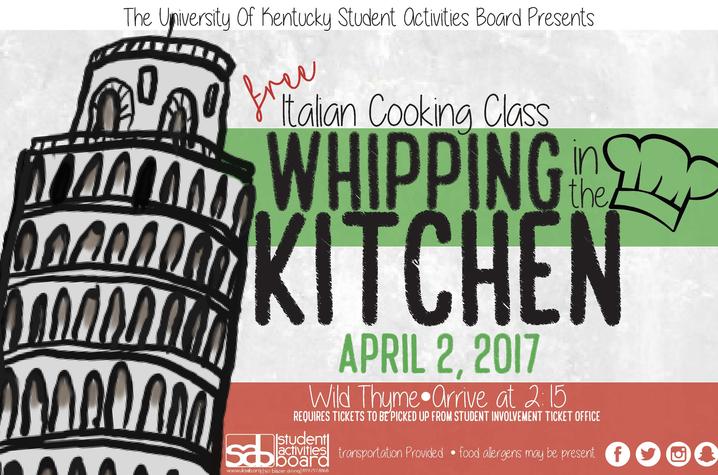 LEXINGTON, Ky. (March 23, 2017) — It's time to put on your chef hat. Come join Student Activities Board as they take a trip to Wild Thyme to take part in a cooking class. On April 2, students will be able to add Italian cuisine to their recipe book. This will be a ticketed event; limited spots are available. Tickets are available at the Student Involvement Ticket Center in Bowman's Den, open Monday-Friday, 9 a.m. to 4 p.m.
Wild Thyme will supply the ingredients and the instruction — students just need to bring their appetites and a few friends. If students consider themselves foodies, they will not want to miss this event as they will learn something new. The "Whipping in the Kitchen" class will provide an interactive environment for students to broaden their culinary horizons.
"This event is more than an opportunity for a free meal; it is also a chance to be enriched with Italian culture," said Rockia Harris, director of Multicultural Affairs. "People who may not know how to cook will leave informed, as well as people who do know how to cook will have a better understanding of what they are whipping in the kitchen."
SAB will provide transportation to Wild Thyme. Those with tickets will need to be at the Wildcat Statue at Wildcat Alumni Plaza by 2:15 p.m. The class will be from 3-5:30 p.m. 
SAB brings more than 60 entertaining, educational and enriching programs that are reflective of contemporary issues and trends to the University of Kentucky annually. These programs are designed to enhance the college experience for students, faculty, staff, and the greater Lexington community. Connect with SAB at http://www.uksab.org, follow them on Twitter at http://twitter.com/UKSAB, or like them on Facebook at http://www.facebook.com/UKSAB/. For more information about SAB and events, email publicrelations@uksab.org.