UK's Iranian Student Association participates in global campus rally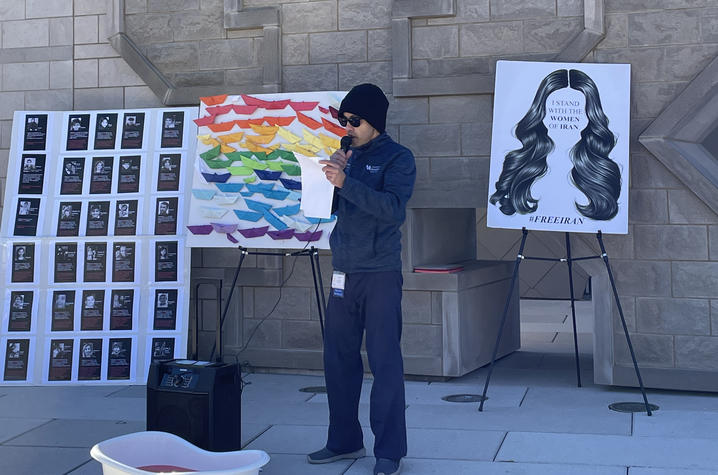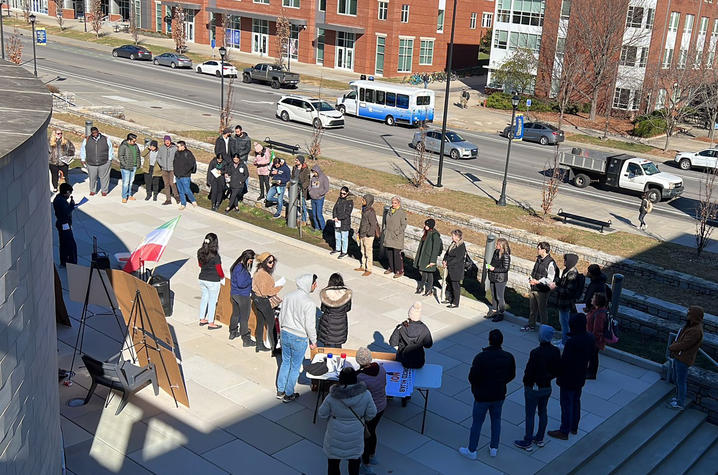 LEXINGTON, KY (Dec. 12, 2022) — Members of the Iranian Student Association at the University of Kentucky (ISAUK) participated Nov. 30, 2022, in a global campus rally for Iran.
Similar rallies for Iran were held at over 100 universities in North America, South America, Canada, Europe and Australia to bring attention to the social uprising in Iran.
Protests in Iran started with the killing of 22-year-old Mahsa Amini by the morality police for not adhering entirely to the forced strict dress code. Protesters are fighting for freedom of speech, religion and basic human rights.
In Iran, some young protesters have been brutally imprisoned, tortured and even sexually assaulted. UNICEF has reported more than 50 children have died in the Iranian's regime violence.
At the UK rally, attendees stood in front of a posters of victims and started by reading the rally's statement and petition. The students and attendees then sang heart-touching songs that have become known as the protestor's anthems, including the viral song, "Baraye."  
Guest speakers included Roshan Nikou and Karen Slaymaker, UK associate  director of International Student and Scholar Services.
Rallygoers remembered the lives of children lost, including Kian, a 10-year-old boy. One of Kian's last videos that went viral was him experimenting with his small paddle boat made from ice cream sticks. Kian was a bright student remembered by his videos carrying out different science experiments and mentioning "the god who created rainbows."
UK students reenacted his experiments and made boats with rainbow colors in remembrance. Attendees also heard about Khoda Noor's story, a young man from the Baluchistan region of Iran, where the social injustices of the Iranian regime had painted him a life of discrimination. Students reenacted his last days where he was tied up to a street pole, thirsty for over two days with a glass of water out of his reach, in front of him. Later, Noor's death was announced on his birthday, Oct. 1, from an untreated shot and kidney failure.
The UK rally allowed for Iranian students at UK to process the pain of their motherland together and inform others of the tragedy happening in Iran.
If you want to help people in Iran, sign the statement written by Iranian students from more than 200 universities across the world at this link:
https://www.iranianscholarsforliberty.com/how-we-can-help/statement.