UK, City Officials Outline Plans for Transportation and Safety during Oct. 15 Football Game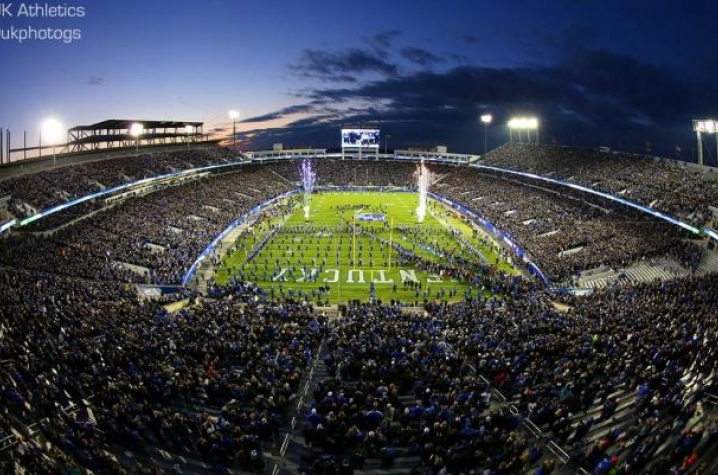 LEXINGTON, Ky. (Oct. 5, 2015) — Next Thursday, Oct. 15, the University of Kentucky football team will host the Auburn University Tigers at the new Commonwealth Stadium. This matchup will mark UK's first Thursday night football game since 1939.
As ESPN's spotlight event, this game is an exciting opportunity to nationally showcase UK and the local community.
"Hosting a Thursday night game provides a distinctive opportunity to showcase, in the national spotlight, our transforming campus, our deep connection with the city of Lexington, and our great university community," said UK President Eli Capilouto. "We thank the UK family in advance for their patience and cooperation on that day."
"The entire city feels the energy of UK game day, no matter what day of the week," Mayor Jim Gray said. "We want fans to have a good time cheering on the Wildcats, while being respectful of surrounding neighborhoods. That includes parking only in authorized areas."
Along with excitement of the game, the day will present challenges regarding parking and transportation.
In an effort to accommodate the influx of fans and visitors, and to ensure campus continues to operate smoothly on game day, UK and UK HealthCare leaders assembled planning teams to address opportunities and challenges associated with the Thursday night game. The parking and transportation plan will require some faculty, staff, students and UK HealthCare workers to revise their regular parking and commuting routine for one day.
For detailed information regarding parking and transportation, all students, main campus and UK healthCare employees should visit uky.edu/thursdayfootball.
This website explains where to park on game day; it also provides an interactive map for each specific group including UK HealthCare employees, VA Hospital and Bluegrass Community and Technical College employees, College of Agriculture, Food and Environment and south campus employees, main campus employees, residential students, commuter students and visitors to campus.
As with all other home football game days, student and employee parking will be restricted in the following areas, beginning at 7 a.m. Thursday, Oct. 15:
Commonwealth Stadium Red Lot
Commonwealth Stadium Blue Lot
Commonwealth Stadium Green Lot
Orange Lot (corner of University & Alumni)
Greg Page Overflow Lot
Soccer/Softball Complex Lots
University Drive Garage (PS #1)
Sports Center Garage (PS #7)
Sports Center Lots
University Drive
Ag North and Ag Greenhouse Area
All vehicles without the appropriate football parking credentials must be removed no later than 7 a.m. Thursday, Oct. 15.
Additionally, three lots on campus will close earlier. The Commonwealth Stadium Green Lot (adjacent to the Oswald Building) will close at 10 p.m. Wednesday, Oct. 14, and the Gluck Equine Lot and expansion section of the Orange Lot will close at 8 p.m. Wednesday, Oct. 14. The Rose Street Garage (PS2) and the Press Avenue Garage (PS6) will be available for employee parking; however, employees are encouraged to remove vehicles from these facilities before 5 p.m. Thursday, Oct. 15, to accommodate additional football visitor parking.
Those students and employees who park in areas restricted for credentialed game day parking will be accommodated in a variety of community partner off-campus parking facilities. These parking areas are assigned by group in order to ensure adequate parking is available and to streamline the shuttle service. The university is partnering with a leading transportation management firm, Go Ground, to transport members of the UK community to and from the assigned remote, off-campus parking lots. All Go Ground buses are accessible for disabled individuals.
All students, main campus employees and UK HealthCare employees should anticipate longer commute times on game day and plan accordingly. UK HealthCare leadership has worked hard to ensure that the university's hospitals and clinics remain available to meet the needs of patients.
"HealthCare is committed to our mission of serving the needs of our patients. A Thursday night football game does present some challenges, yet it provides great benefits for the university and Lexington as well," Ann Smith, chief administrative officer for UK HealthCare, said. "Our resourceful and talented team has succeeded in maintaining operations during Saturday night games, and we expect to uphold the same standards of quality and excellence during this game."
An information line will be available at noon Wednesday, Oct. 14, until 8 p.m. Thursday, Oct. 15, for the community to call with issues or concerns regarding parking and transportation. The number to call is 1-855-682-4115.
"With our team developing quickly and a beautiful new stadium, we can't wait to show America what UK football is all about with this Thursday night game," UK Athletics Director Mitch Barnhart said. "I want to thank campus and city officials and my staff for the work they have done to prepare. We also ask for patience from the UK community and hope everyone enjoys the game."
For more information about the game and pre-game activities, visit ukathleticsgameday.com/thursday.
MEDIA CONTACT: Blair Hoover, (859) 257-6398; blair.hoover@uky.edu