Journalism Grads to Share Insights at Symposium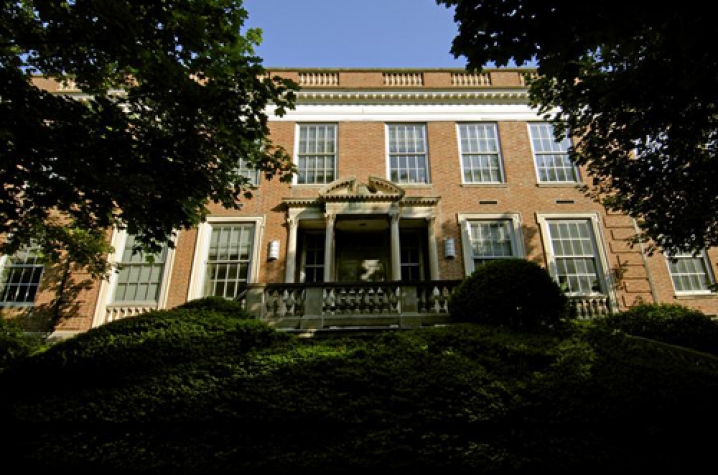 LEXINGTON, Ky. (Oct. 16, 2012) — Six graduates of the University of Kentucky School of Journalism and Telecommunications will share their experiences and insights on covering local news at the 11th annual Richard Wilson Journalism Alumni Symposium on Wednesday.
"The symposium series is a wonderful opportunity for current students to learn from alumni," said Beth Barnes, director of the school. "We're grateful that this outstanding group of graduates has agreed to return to campus to share their experiences."
Community journalism continues to serve readers in cities around the state, and UK graduates are filling many of those jobs. The school is home to the Institute for Rural Journalism and Community Issues led by former Courier-Journal reporter Al Cross.
Jay Blanton, a 1989 journalism graduate who has served as communications director for Gov. Steve Beshear, director of marketing and communications at Keeneland Race Course, and is now executive director of public relations and marketing for UK, will serve as moderator. He was the 2010 alumnus of the year for the College of Communication and Information.
The program begins at 5 p.m. in the William T. Young Library auditorium.
The panelists:
Derek Aaron is the managing editor of the Times Journal Inc. in Russell Springs, near Lake Cumberland, which includes both the Thursday Times Journal and the Saturday Russell County News-Register, both 5,000-circulation weekly newspapers, as well as the 11,000 circulation Register Plus, also a Saturday publication. He has served in this capacity since September 2010.
Aaron, 27, was the sports editor of the Times Journal from June 2007 until taking over as managing editor in 2010. In January 2011, the Times Journal acquired The Russell Register in neighboring Jamestown to make the bi-weekly venture.
Aaron  continues to cover Russell County High School athletics along with various other non-sports related tasks, including reporting and writing feature stories, local governmental meetings and other special events.
He is also responsible for copy layout, photography and the newspapers' website at www.russellcountynewspapers.com. 

He has also worked as a stringer for the Associated Press, providing election coverage and results in Russell County since 2008.
A native of Russell Springs, Aaron graduated from the University of Kentucky in May 2007 with a degree in journalism while minoring in Community Communication and Leadership Development. He has been married to the former Jerica Williams since May 2009.
Shannon Mason Brock, a native of Pineville, is a 2007 graduate of UK's journalism program. While a student, she worked as an editor of the Kentucky Kernel. Brock served internships at The Times-Tribune in Corbin, The Anderson News in Lawrenceburg and The State Journal in Frankfort.
Her first full-time reporting position was with The Anderson News, where she worked from 2008-2011 as a staff writer and news editor. She has been the editor of The Spencer Magnet in Taylorsville since March 2011, where the news staff of one and a half works to cover one of the state's fastest growing counties.
Brock and her husband, Josh, live in Lawrenceburg with their bouncing yellow lab, Lily.
Jerrika Insco from Mayfield graduated in 2011 with a degree in broadcast journalism and communications. While at UK, she was heavily involved in UK Student News Network.
She landed her first reporting job in June 2011 at WYMT-TV in the mountains of Eastern Kentucky. While reporting at WYMT, she was awarded "Best Spot News" by the Kentucky Associated Press for her coverage of a major apartment complex fire that left several families homeless days before Christmas.
She also received an honorable mention for "Best Continuing Coverage" of her stories on a controversy at an Eastern Kentucky church that went national.
Insco works at WKYT 27 Newsfirst here in Lexington where she is a general assignment reporter. She started there in July.
Christopher Robbins is a 2008 graduate in political science and a 2011 graduate in journalism. After school, he landed in Ogdensburg, N.Y., to cover city hall for the Watertown Daily Times.
He has been promoted to a position in the newspaper's Canton, N.Y. bureau. Robbins also spends one day a week paginating the Advance News, a weekly paper covering St. Lawrence County, N.Y. He serves as a social media team member for Aslan Media, a non-profit Middle East news aggregation and commentary website.
He was born in New Jersey but spent most of his life in Lexington. While at UK, he was a contributing reporter and columnist for the Kentucky Kernel and accompanied other journalism students on a 2010 trip to Beirut, Lebanon.
Dariush Shafa is a 2007 graduate from UK, earning degrees in journalism and English. He worked as a reporter, photographer and editor for the Kentucky Kernel, including serving as news editor in 2006, the year the newspaper won an Associated Collegiate Press' Pacemaker Award, the Pulitzer of college journalism.
Originally from Detroit, Shafa interned in 2004 at the Winchester Sun, in 2005 at the Herald-Leader as a Dow Jones Newspaper Fund business reporting intern, in 2006 at the Messenger-Inquirer in Owensboro, and once more in 2007 at the Herald-Leader.
After graduation, Shafa was hired as the health reporter at the Messenger-Inquirer and during the next four years he also worked on the crime and education beats. In 2011, he was named the editor of the McLean County News, a county daily in Western Kentucky with a circulation of about 2,000.
During his career as a journalist, Shafa has been tear-gassed, sprayed with Chemical Mace, shot at, jumped into a lake in February (twice), been threatened with arrest by local police (twice) and placed on a Homeland Security watch list by the Secret Service and nearly thrown out of a Civil War re-enactment.
Casey Wheeless, from Perrysburg, Ohio, outside of Toledo, graduated from the University of Kentucky in May of 2011.
She started her journalism career writing for the Kentucky Kernel at the University of Kentucky. After choosing to pursue a career in broadcasting she started reporting, anchoring, and producing for the UK Student News Network in Lexington.
Wheeless was also a part of ESPNU's Campus Connection, where she shot, edited and produced sports stories for the ESPNU network. She interned at Texas Monthly Magazine, in Austin, Texas, at WTOL-TV in Toledo and for CoachCal.com in Lexington.
After graduation, she joined WBKO in June of 2011 as a general assignment reporter. Six months later, she was assigned to the crime beat and named a fill-in anchor. She now co-anchors the 10 p.m. news Monday through Friday.
The annual journalism symposium is named in honor of Richard G. Wilson, longtime education and political reporter for the Courier-Journal who was inducted into the Kentucky Journalism Hall of Fame in 1999. He served as interim director of the School of Journalism and Telecommunications in 2002-03 and initiated the symposium during that year. During a long and distinguished career, he was recognized as one of the best reporters in the state.
MEDIA CONTACT: Keith Hautala, (859) 323-2396; keith.hautala@uky.edu