DanceBlue hosts the Color Me Blue 5K on Nov. 5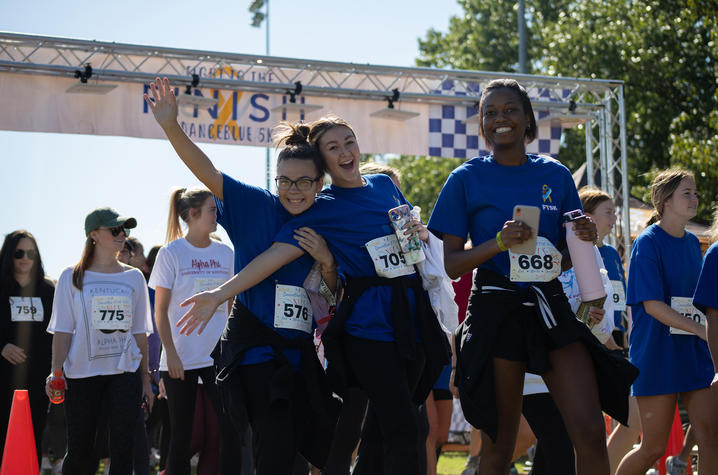 LEXINGTON, Ky. (Oct. 21, 2022) — The 2022 DanceBlue 5K race is Nov. 5, and the registration deadline is right around the corner. Supporters have until Oct. 24 to register for the first-ever DanceBlue powdered color run, Color Me Blue.
DanceBlue is a philanthropic student organization at the University of Kentucky. Each year in the spring, UK students gather in Memorial Coliseum to stand for 24 hours to support the patients in the DanceBlue Kentucky Children's Hospital Hematology/Oncology Clinic. Leading up to the dance marathon, students fundraise all year long for their chance to dance.
On Nov. 5, participants can join DanceBlue committee members at the 5K starting line at the South Lawn by The 90. For those who cannot join in-person, DanceBlue is also offering a virtual DB5K.
For more information regarding picking up participant packets or to register for the DanceBlue DB5K, visit the 5K page. All participants registered by Oct. 21 (today) are guaranteed a DB5K T-shirt.
Please contact Grace Evans, operations chair, at operations@danceblue.org with any further questions.
DanceBlue is a registered student organization at the University of Kentucky that works tirelessly all year, every year, to raise money for the kids! The money raised through Danceblue fundraising efforts is donated to the Golden Matrix Fund, established to support the kids of the DanceBlue Kentucky Children's Hospital Hematology/Oncology Clinic both today and well into the future through an endowment. DanceBlue funds also support the yearlong fundraising engine and operations that underpin the mission, as well as providing funds to support research at the UK Markey Cancer Center.
Fundraising efforts are taken on by both the student organization itself, in the form of mini marathons, restaurant nights and events like the 5K run/walk, as well as the UK students who are hopeful participants in our grand finale event each year — the DanceBlue Marathon. The DanceBlue Marathon is a 24-hour, no sitting, no sleeping, dance marathon in which students can participate by raising money on their own for the kids.
For more information about DanceBlue, registration information or to support its efforts, please visit www.danceblue.org and connect with DanceBlue on Instagram, FaceBook, and Twitter.
At the University of Kentucky, students are at the center of all that we do. From the moment you become a Wildcat through graduation and beyond, the Office for Student Success is committed to supporting you. Comprised of five areas and 25 units, together, they have one vision — to help students live a life of meaning. Student Success works through an equitable, holistic and inclusive lens to design and deliver unparalleled services and support a diverse community of learners in achieving their wildest ambitions. In the Office for Student Success this is what we do — this is who we are. You can explore resources available to you here. If you have additional questions, you can reach a Student Success team member by calling the helpline 859-218-YouK (9685).