Disability Resource Center Partners With Anthem Blue Cross and Blue Shield Medicaid to Host Disability Mentoring Day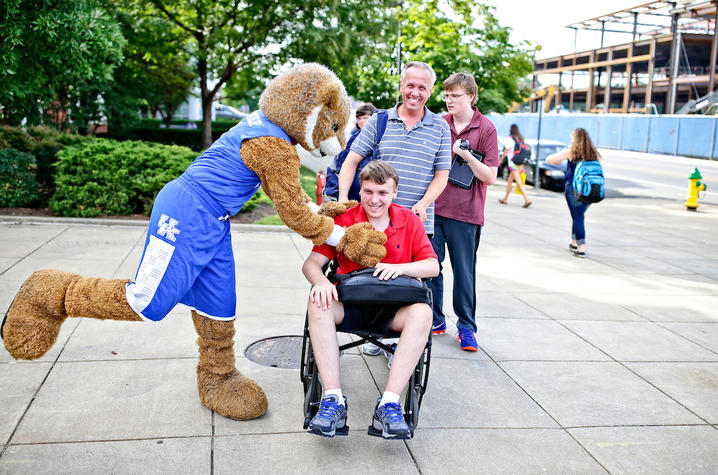 LEXINGTON, Ky. (Oct. 25, 2018) — The University of Kentucky Disability Resource Center (DRC) and Anthem Blue Cross and Blue Shield will host a Disability Mentoring Day to offer employment resources to students and job seekers with disabilities. The event will be held from 1 to 4 p.m. Thursday, Nov. 1, in Room 330 of the Gatton Student Center. 
Disability Mentoring Day provides career development for individuals with disabilities through a day of career exploration. Through the expo, attendees will be connected to leading organizations offering employment resources.
"The goal of the event is to educate students with disabilities, campus partners and local disability service providers concerning important information regarding the assistance of job seekers with disabilities," said David Beach, director of the DRC. "Specifically, we are focusing on fostering a better understanding of the Americans with Disabilities Act requirements regarding job accommodations, examples of successful job accommodations, and how applicants can better communicate their accommodation needs and still be successful in the job search."
The DRC serves students with a wide variety of disabilities and provides services to the university community so that students with disabilities have an equal opportunity to fully participate in all aspects of university life.
"I was very interested in hosting an event that would allow our students, our campus community and local disability service providers to connect with employers and hear directly from them how job seekers can increase their likelihood for success," Beach said. 
The collaboration of the DRC and Anthem has created positive career paths for individuals with disabilities and has also diversified Kentucky's workforce. 
"We are thrilled this partnership will help to enhance employment opportunities for students with disabilities," said Shaun Collins, senior human resource partner with Anthem. "In 2017, we entered into a new relationship with the University of Kentucky's Disability Resource Center to serve the thousands of students that are registered with a disability on campus to serve as a springboard for hiring and networking opportunities with multiple employers throughout the region."
Collins said Anthem is committed to the employment of people with disabilities and partners closely with external organizations, like the University of Kentucky, to nurture a culture and a physical environment that are inclusive of individuals with disabilities.
"We know people with disabilities make outstanding contributions to the workplace, and our efforts to hire and retain people with disabilities is an important part of our diversity and inclusion work," he said. 
Organizations attending Disability Mentoring Day include Social Security Administration, Lowe's, Anthem Inc., Kroger, Goodwill Industries of Kentucky, BB&T, OWL, Centerstone, LG&E, UK Human Resources, Aramark Inc. and KYOne Health Saint Joseph Hospital. Along with these organizations attending the expo, Anne Hirsh, director of the Job Accommodation Network, and Zach Ballinger, author of "How to meet the Challenge of a New Era in Job Interviewing," will speak at the event.
For questions or more information, contact the Disability Resource Center at 859-257-2754.