Journalism School to Preview ABC's 'Missing' Starring Ashley Judd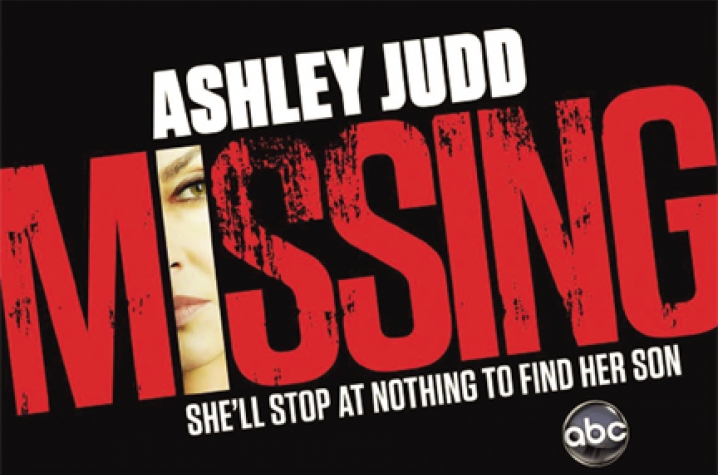 LEXINGTON, Ky. (Feb. 24, 2012) — The University of Kentucky's own Ashley Judd stars in "Missing," a new drama from ABC. UK's School of Journalism and Telecommunications will present a free sneak preview of the program at 5:30 p.m. Tuesday, Feb. 28, in the Worsham Theater in the UK Student Center.
"How far would you go to save the only thing you have left in the world?" asks the network teaser. From ABC's descritption of the show: "After CIA Agent Paul Winstone (Sean Bean, 'Game of Thrones') was murdered, his wife, Becca (Judd), and their son, Michael, struggled to rebuild their lives. Now, 10 years later, Michael goes missing under suspicious circumstances, and Becca will do anything it takes to find him."
Filmed on location in Europe, "Missing" promises "exotic locations and thrilling twists." The first season premieres Thursday, March 15, at 8 p.m. Eastern/7 p.m. Central.  The preview at UK features the series' first episode.  ABC-TV chose UK as a preview site because of Judd's close and continuing ties to the university. 
"We were delighted when ABC-TV contacted us about the opportunity to host a preview showing of 'Missing,'" said Beth Barnes, director of the School of Journalism and Telecommunications.  "Many of the students in our Media Arts and Studies major have aspirations to write and produce for Hollywood, so this chance to get a bit of a behind-the-scenes look is very exciting."
In addition to providing "Missing" for the screening, ABC has sent the school a custom premium to be given to all those in the audience. 
"Missing" was developed by writer Gregory Poirier ("National Treasure: Book of Secrets") and executive producers Gina Matthews and Grant Scharbo ("The Gates"); additional executive producers are Steve Shill ("Dexter") and James Parriott ("Sons of Anarchy"). Shill, an Emmy winner for directing "Dexter," will direct many of the episodes for "Missing."  "Missing" stars Ashley Judd as Becca Winstone, Sean Bean as Paul Winstone, Nick Eversman ("Cinema Verite") as Michael Winstone, Cliff Curtis ("Trauma") as Dax, Adriano Giannini ("Oceans Twelve") as Giancarlo and Tereza Voriskova ("Borgia") as Oksana.
The Feb. 28 screening is free and open to the public. For more information, please contact Beth Barnes at bbarnes@email.uky.edu or (859) 257-4275. Media inquiries may be directed to Jonathan Hogan, of ABC Television Network Media Relations, at jonathan.hogan@email.disney.com or (818) 460-7016.