Tickets Now Available for 4th Annual Feast on Equality Benefit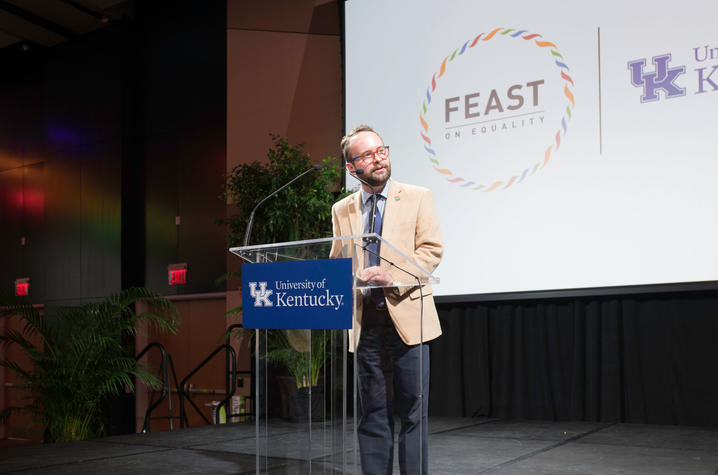 LEXINGTON, Ky. (Oct. 4, 2019) — The Office of LGBTQ* Resources, in partnership with Feast On Equality, is hosting the fourth annual Feast on Equality dinner benefiting the University of Kentucky Office of LGBTQ* Resources. 
Feast on Equality is a nonprofit organization that's sole purpose is to raise funds for UK's Office of LGBTQ* Resources, supporting campus efforts that increase the health, safety and belonging for LGBTQ* Wildcats. 
This year's event will begin 6 p.m. Friday, Dec. 6, 2019, in the Gatton Student Center Ballroom. 
"It is hard to believe that we are getting ready to host our fourth annual UK Feast," said Lance Poston, executive director of Inclusive Health and Campus Partnerships and LGBTQ* Resources in the Office of the Vice President for Institutional Diversity. "This event started as just an idea four years ago, and I remember clearly our anxious planning in that first year as we wondered how a gala of this sort would be received by our friends and supporters. It didn't take long for us to realize the tremendous support we had all around us in continuing to make this university a place where every LGBTQ* person wants to belong." 
The event gives the community an opportunity to take part in improving the lives of LGBTQ* students while recognizing the efforts of those who have worked tirelessly to make a difference in the LGBTQ* community. 
"UK's Feast is an important event each year for two main reasons," Poston said. "First, it provides our campus and broader communities in the Commonwealth a time to come together to financially support the work of LGBTQ* Resources for the following year. Funds raised at this event fuel our outreach in the areas of education, community building and advocacy. While the fundraising aspects of this event are crucial to our work, Feast is also the signature moment that we take as a community each year to revisit the progressive strides we have made in the past 12 months and celebrate our victories of belonging together." 
Proceeds from the event help the Office of LGBTQ* Resources expand scholarships and allow the center to strengthen programming in key ways to support an inclusive campus environment. 
The partnership between the university and Feast has played a crucial role in the center's success. Through education, advocacy and community support, the resource center is able to cultivate a welcoming campus for a full spectrum of identities. 
To purchase tickets, visit the event page. For additional information or questions, contact UK Feast committee chairperson Tim Burcham at tim@burchamsolutionsgroup.com. For more information about the UK Office of LGBTQ* Resources and its programming, visit its website.