UK Equine Expo is Scheduled for June 7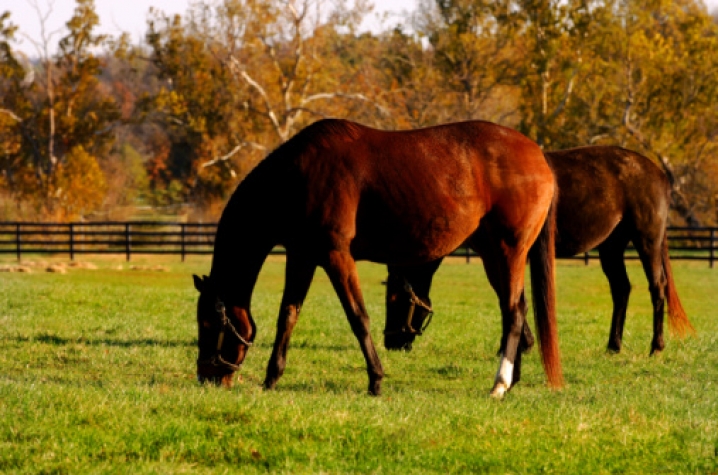 LEXINGTON, Ky. (June 3, 2011) − The University of Kentucky Equine Initiative will host an Equine Farm and Facilities Expo from 3:30 p.m. to 8 p.m. EDT Tuesday, June 7, at Shawhan Place in Paris, Ky. The expo will highlight displays featuring equine equipment and supplies from businesses in the area. Admission is free and a meal will be provided.
"The expo will allow horse owners and horse farm managers to see the range of equipment and supplies that are currently available for horse farms of all sizes," said Ray Smith, professor and forage extension specialist for the UK College of Agriculture. "UK specialists will provide hands-on instruction techniques for designing facilities, conducting strategic deworming and spraying, seeding and mowing pastures."
Glenn Mackie, Bourbon County Extension agent for agriculture and natural resources, said host farm Shawhan Place is an ideal venue to demonstrate the practical aspects of management and machinery for equine operations.
"Shawhan Place is a working medium-sized equine operation that has been developed from raw farm land," said Mackie.
Shawhan Place is a premier Thoroughbred farm offering foaling, breeding, sales prep and consignment, breaking, lay-ups and pre-training services. It is owned and operated by Theodore Kuster, Charles Koch, and Matthew Koch.
Reservations for the Equine Farm and Facilities Expo are appreciated but not required. Contact the UK Equine Initiative office at (859) 257-2226 or email equineinitiative@uky.edu to reserve a spot.
For more information about this and other UK Equine Initiative events, visit www.ca.uky.edu/equine or email equineinitiative@uky.edu. For more information about pasture management events, visit www.uky.edu/Ag/Forage.
MEDIA CONTACT:   Carl Nathe or Whitney Logan, (859) 257-1754, ext. 238; Holly Wiemers, (859) 257-2226