UK Family Center Hosts 3rd Annual 'Relationship Checkup'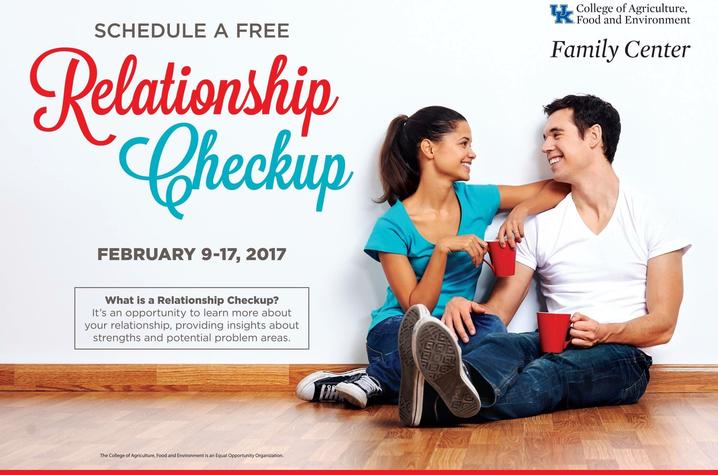 LEXINGTON, Ky. (Jan. 30, 2017) — Proper maintenance is essential to protect the things you invest in. Your car requires regular oil changes and tuneups. Your home becomes revitalized with yearly spring cleaning. If you want to improve your chances of living a long life, you know that you need to eat well and exercise. Most of us are aware that these all are things which deserve our attention in order to avoid expensive repair bills, or worse yet, serious medical issues. Even so, one of the most important aspects of many individuals' lives is often overlooked — relationships.
As Valentine's Day approaches, the University of Kentucky Family Center will offer its annual Relationship Checkups to the greater Lexington community. These checkups are available for married couples, couples who are dating, engaged and/or living together, as well as gay and lesbian couples.
The UK Family Center, which first opened its doors in 1988, is a part of the Department of Family Sciences within the College of Agriculture, Food and Environment.
The checkups, which are free of charge, will be offered daily beginning on Feb. 9 and continuing through Feb. 17, with the exception of Sunday, Feb. 12. Appointments can be scheduled by calling the center at 859-257-7755, by visiting their website at http://familycenter.uky.edu, or via email at UKFamilyCenter@uky.edu. The center is located on the second floor of Scovell Hall on UK's Campus. Free parking is available in the Kentucky Clinic Garage with a validated ticket stub from the Family Center.
Tracey Werner-Wilson, director of the UK Family Center, suggests that everyone in a relationship should take advantage of these services. "Just like everyone needs a six-month checkup at the dentist to help keep their teeth healthy, so too everyone in a romantic relationship benefits from a relationship checkup," Werner-Wilson said.
"The checkups seek to strengthen the relationship by finding out what you are doing right and helping the couple become even stronger by building on that," Werner-Wilson said. "It can also help get a conversation started about areas that may not be as satisfying in the relationship."
Appointments generally last one hour. Couples fill out a questionnaire, which is reviewed by an intern therapist. The answers, in conjunction with conversation with the couple, allow the intern to coach the couple on what they are doing well and help them figure out areas of disagreement.
Intern therapists are master's students who are working to become licensed marriage and family therapists through UK's fully accredited Couple and Family Therapy program. Within 16 months, these interns must log 500 hours of client contact. Interns are supervised and instructed three-four hours a week by a licensed marriage and family therapist.
To meet this demand for clients, the Family Center offers low-cost services to UK faculty and staff, as well as residents of Lexington and surrounding communities. Utilizing a sliding scale fee, the Family Center works with clients to make therapy affordable for those who need it.
"Not only does it help our students attain the practice hours they need, but we see it as the service arm of UK's mission statement. We are helping all Kentuckians create a better life for themselves. We are improving the lives of Kentuckians, which creates an attractive place for people to live," Werner-Wilson said.
The UK Family Center serves families, couples and individuals alike. In addition to relationship issues, common needs addressed by the center include stress, parent-child conflict, behavioral issues in children, anxiety and depression. Additionally, play therapy is offered to families with young children.
The focus of family science is to help understand and improve the lives of individuals, working with the roles that family and interpersonal relationships form in shaping one's experiences.
"We believe that lasting change happens within relationships. As humans, we do not live in a vacuum. We are constantly in a relationship with someone, not always a romantic relationship. Sometimes these relationships try to sabotage us when we try to change. If we include those relationships within the therapy sessions, they can be a support for change instead of fighting change," Werner-Wilson said.
This Valentine's Day, couples can do more than buy flowers and candy for their sweetheart — they can check up on their relationship and help make it last for many, many years to come.
UK is the University for Kentucky. At UK, we are educating more students, treating more patients with complex illnesses and conducting more research and service than at any time in our 150-year history. To read more about the UK story and how you can support continued investment in your university and the Commonwealth, go to: uky.edu/uk4ky. #uk4ky #seeblue