UK Hosting Free Virtual Town Hall on the Consequences of the War on Drugs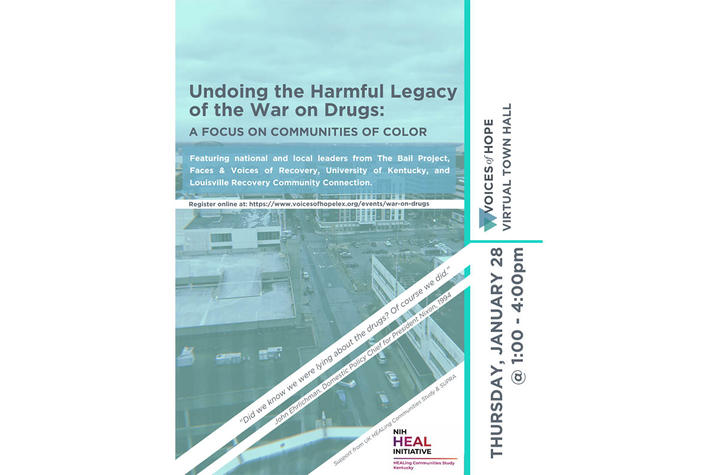 LEXINGTON, Ky. (Jan. 14, 2021) — The University of Kentucky is sponsoring a free virtual town hall, "Undoing the Harmful Legacy of the War on Drugs: A Focus on Communities of Color," on Thursday, Jan. 28, 1-4 p.m.
The town hall, hosted in partnership with Voices of Hope, will identify the harmful consequences of the War on Drugs, describe the barriers to treatment and recovery faced by BIPOC (Black, Indigenous and People of Color) that have been exacerbated by the War on Drugs, and discuss the intersection between recovery advocacy and anti-racism activism.
The UK College of Agriculture, Food and Environment's Alex Elswick, co-founder of Voices of Hope, will moderate the discussion; UK College of Medicine Associate Professor and medical historian Claire Clark will be a featured speaker. Other speakers include Shelton McElroy with the Hazelden Betty Ford Foundation,  Shameka Parrish-Wright with The Bail Project, Phillip Rutherford, chief operating officer at Faces & Voices of Recovery, and Jeremy Byard, co-founder and director of the Louisville Recovery Community Connection.
Registration is free and open to the public. To register, visit voicesofhopelex.org/events/war-on-drugs.