UK Partners With Living Arts and Science Center on International Children's Art Exhibit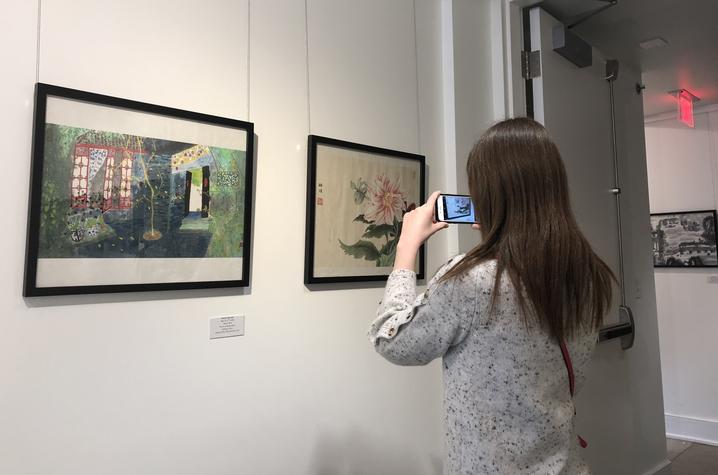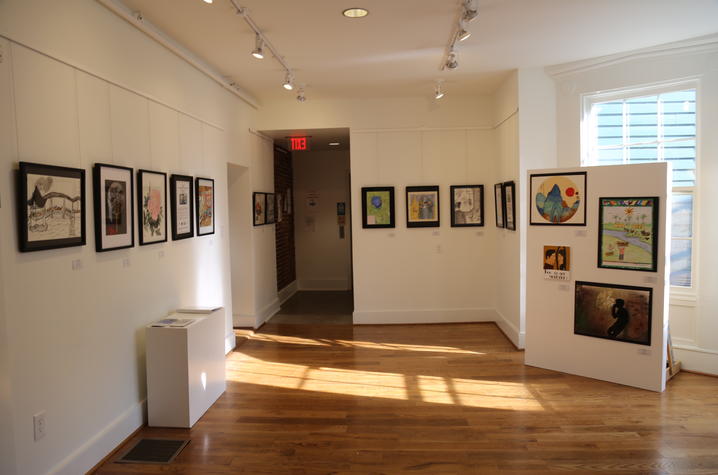 LEXINGTON, KY. (April 5, 2018) — On Friday, March 16, the Living Arts and Science Center opened an art exhibition of young artists from all over the world. Artworks from China, the United Kingdom, Ireland, Cuba, Honduras and India were received, selected and displayed for the admiration of visitors.
The art exhibition's theme was "In My View," a perfect fit for showcasing a diversity of art styles and cultures. Eligible artists were between the ages of 8 and 14. The featured works will remain on display until May 26. The art exhibition's opening event attracted around 300 visitors. This turnout is a promising start and hopefully indicates the impact the international child artists' work will have on Lexington from now until the end of May.
The Living Arts and Science Center (LASC) invited the University of Kentucky Confucius Institute to participate in the process of spreading the word about the art exhibition and collecting artwork submissions. One of the Confucius Institute's missions is to serve the Kentucky community and support primary schools. With this goal in mind, the institute works hard to enhance students' international education. Its partnership with LASC was able to achieve just that. Not only did this display give Lexington children an opportunity to appreciate Chinese art and gain new understanding about Chinese children's perspectives, but also brought diversity to Lexington with a large variety of different cultures and art styles.
The UK Confucius Institute facilitated the inclusion of Chinese art in the exhibition by contacting a number of Chinese schools and art programs in Shanghai and Beijing. Many submitted children's works for the exhibition, such as the Affiliated Middle School of Peking University, Shanghai Affiliated Elementary School, Beijing Elite Art Club, and Shanghai Artspire, among others. A total of 95 artworks were mailed from China to the UK Confucius Institute and 24 of these pieces were selected to be displayed in the LASC exhibition.
From this collaboration with LASC, the Confucius Institute helped bring Chinese children's art to the Lexington community for the first time, allowing Kentuckians to see an authentic image of China as portrayed through the young artists' imaginations and representations.
"There may be a way for us to exchange artwork between students from different countries," said LASC Executive Director Heather Lyons. "This seemed like the perfect time to do just that, since this year is our building's 50th anniversary."
UK Confucius Institute Executive Director Huajing Maske was delighted the institute could play a role in making this art display possible.
"Art knows no national boundaries," Maske said. "Through the medium of visual art, this exhibition opened many doors to cultural conversations and also allowed children of many different nations to use art as a language to express their own interpretations of community and culture."
Ever since its founding in 2010, the UK Confucius Institute has hosted two to three art exhibitions per year for the community's learning and enjoyment. Joining forces with so many different organizations for this event — UK Arts in Healthcare, Lexington Arts Council, Lexington Sister Cities Commission, Shuling Studio and Global Lex — the institute has uncovered a new means through which it can bring China's art and culture to the community.
UK is the University for Kentucky. At UK, we are educating more students, treating more patients with complex illnesses and conducting more research and service than at any time in our 150-year history. To read more about the UK story and how you can support continued investment in your university and the Commonwealth, go to: uky.edu/uk4ky. #uk4ky #seeblue