UK Professional MBA Open House on April 17 Features Strong Group of Speakers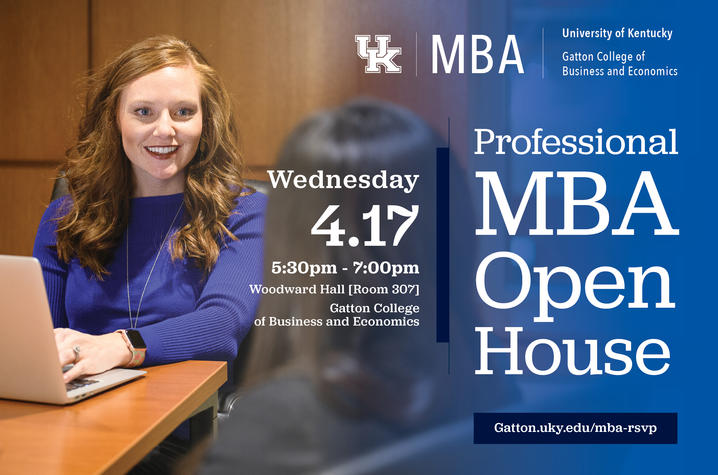 LEXINGTON, Ky. (April 10, 2019) — Executives and University of Kentucky MBA alumni and students from Toyota Motor Manufacturing Kentucky (TMMK), Lexmark, UK HealthCare and 3M lead a stellar panel of speakers at 5:30 p.m. Wednesday, April 17, at Woodward Hall in UK's Gatton College of Business and Economics.
This professional panel will include David Bugg, assistant general manager of Internal Logistics at TMMK; Tari Young, engineering manager, Software and Firmware Development at Lexmark; Dr. Phillip Chang, chief medical officer at UK HealthCare; and Joe Laco, team advisor at 3M.
These business leaders will discuss their graduate school experiences in the MBA program at UK's Gatton College, as well as their own experiences navigating today's business climate. Their talk is hosted by the Gatton College Professional MBA program, as part of its Open House. This event is open to all working professionals, executives and human resource managers in Central Kentucky. The event has limited seating and registration is required at http://gatton.uky.edu/about-us/stay-connected/events/2019-04-17/professional-mba-open-house.
Bugg has been a leader at TMMK for over 22 years across multiple functional areas of the business. Shortly after graduating with his bachelor's degree in logistics and transportation from the University of Tennessee, Knoxville, he enrolled in the Professional MBA program at the University of Kentucky. 
"If you want to make yourself more marketable in today's competitive job market, or if you are seeking advancement into different leadership and managerial positions, then earning your UK MBA may be an attractive option for you," Bugg said.
Young has held several managerial and leadership positions at Lexmark over the past 17 years. She graduated from Transylvania University with a degree in computer science before earning her Gatton MBA. 
"As an engineer at Lexmark, I wanted to understand our business environment, how I played a role in our bottom line and why/how we mattered to the company," Young said. "The MBA program has provided me a foundation in business practices and management. One of the most valuable lessons I've learned is as I'm navigating through all of the corporate metrics, financial statements and business initiatives, I should always remember to lead from the heart and connect with my people."
Chang was one of Gatton's first graduates of the Professional MBA tailored to current health care professionals such as physicians, residents, nurses, pharmacists and professional administrators facing today's health care management challenges. While learning from experienced professors in health care specific class sections, candidates also take core business classes and electives with other working professionals from various industries, education and professional backgrounds.
"I wanted to make sure I had the tools necessary to be the best physician leader," Chang said. "The Gatton MBA program met my goals through stimulating course work, engaging professors and like-minded peers. The program helped me better understand the nonclinical side of health care, and it helped me develop additional management and leadership skills." 
Laco is a technical and production group supervisor at 3M Cynthiana. In this role, he supervises process engineers and production supervisors in the Post-it® Focus Factory. Laco has more than 15 years of service at 3M and is a current student in Gatton's Professional MBA program. 
"3M has a great culture of innovation, teamwork and personal development. I decided to return to school and pursue an MBA as an opportunity to broaden my understanding of how the business works," Laco said. "I found the experience to be very valuable, and I have a greater appreciation for how decisions are made that impact the entire business."
Gatton's Professional MBA Open House event will provide the opportunity for community members to find out more about Gatton's Professional MBA, Professional MBA (For Leaders in Healthcare) and applicable dual degree programs.
The Professional MBA is a part-time, evening program that brings together a diverse network of working professionals from various work experiences, companies and industries such as engineering, law, health care, agriculture, transportation, manufacturing, technology, banking/finance, government and military from all over Kentucky and beyond.