VIP Center Connects Lexington Community for Domestic Violence Awareness Month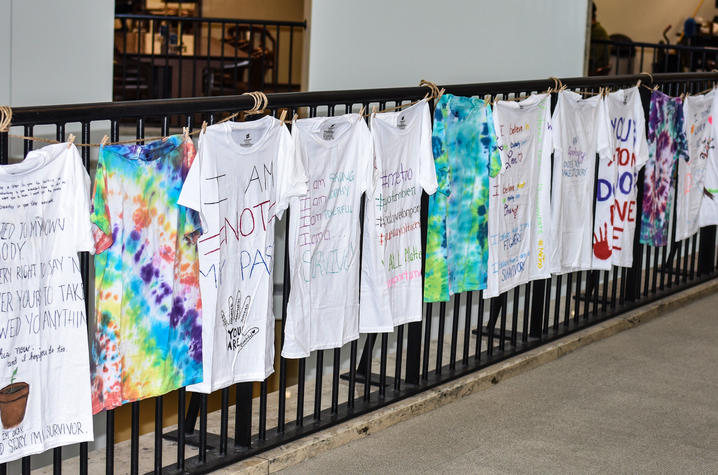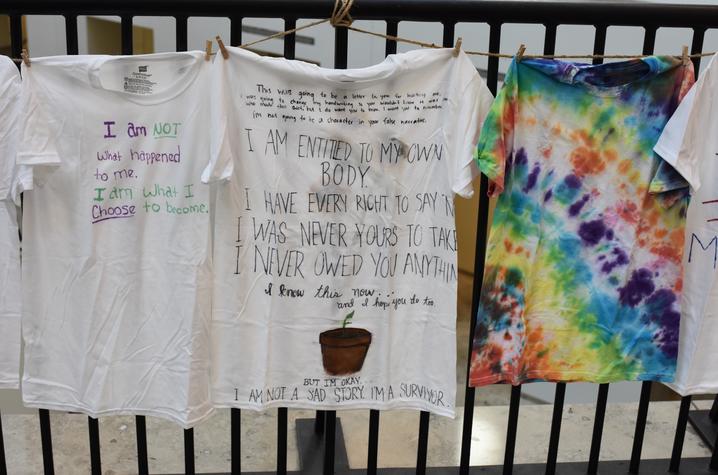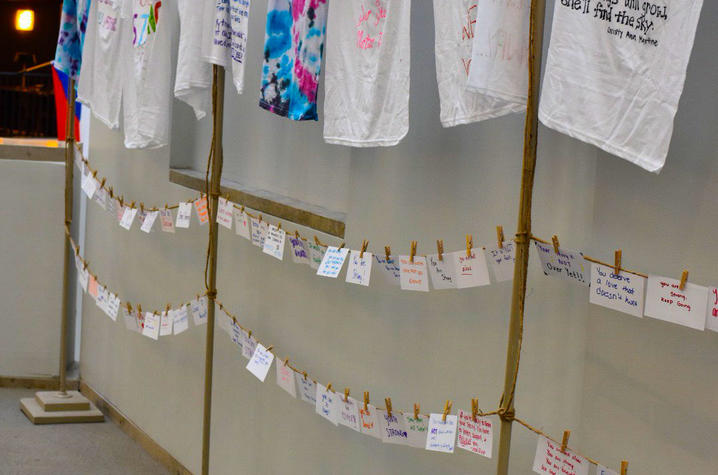 LEXINGTON, Ky. (Oct. 10, 2018) — October is Domestic Violence Awareness Month (DVAM), a time to honor those who have been impacted by domestic violence and intimate partner violence, celebrate survivors, raise awareness and confirm our commitment to preventing domestic violence. During the month of October, the University of Kentucky's Violence Intervention and Prevention (VIP) Center is collaborating with organizations at UK and in Lexington to shed a purple light on the topic. 
Domestic violence spans gender, sexual orientation, age and religion, affecting millions of people of all socioeconomic backgrounds every year. According to the Centers for Disease Control and Prevention, one in four women and one in seven men will experience intimate partner violence during their lifetime. Statistics like these help drive the passion behind the VIP Center. 
"The university and the VIP Center are committed to shaping a violence-free campus. Through creating spaces and programs that are welcoming to all, our goal is to connect with the comprehensive campus community in a meaningful way," said Chelsey Reid, prevention education specialist at the VIP Center. "We want our community to know that everyone has the power to shape the type of campus we have at UK. By participating in DVAM events across campus throughout October, we have an opportunity to let survivors know we support them and we believe them."
This year the VIP Center is putting a large emphasis on getting involved with the Lexington community, creating a more comprehensive DVAM, led mostly by VIP Center interns and Green Team peer educators.
"By blending on-campus and off-campus programs together, we are seeking to create collaborative, expanded programs that allow students to more broadly understand the community network of support that exists here in Lexington," Reid said. "One particularly special feature of this includes taking Green Team members and center interns to GreenHouse17, our regional residential domestic violence shelter. Connecting with community is imperative for understanding that we cannot end interpersonal violence, which includes domestic violence, alone."
The VIP Center kicks off DVAM by supporting the Clotheslines Project, an event that helps promote visibility, education and action around the issues of interpersonal violence on campuses. The VIP Center is partnering with Emily Bonistall Postel's Family Violence class, event host, and the UK Police Department (UKPD) for this weeklong campaign, Oct. 8-12, providing a platform for the voices of survivors and an opportunity for allies to provide support. Survivors are creating T-shirts about their story, while allies can craft messages of support on notecards, culminating together as a unified piece. 
"The great thing about this particular project is that the students really run it. This year we will be doing the Clothesline Project in the Young Library and leaving the installation up for a week," said Lindsey Blumenstein, director of the VIP Center. 
This is the second time that Bonistall Postel's class and the VIP Center have joined forces for this great cause. While the installation is up at the library, Kentucky Attorney General Andy Beshear will come to campus to show his support for the installation and will speak to Bonistall Postel's class about the work coming out of his office. 
"This fall, it seemed like a perfect fit for my SOC 338 Family Violence class to again host the event due to the close connection with our course material," said Postel, a postdoctoral scholar with the Department of Sociology and the Center for Research on Violence Against Women. "It's important to me as a teacher to create opportunities for my students that show them how our course material moves beyond our classroom walls, and this event is a terrific way to do that while simultaneously engaging the campus community at large."
Along with her class' involvement in the Clothesline Project, the class also collaborated with Bloom Planners to create coloring pages and words of affirmation for survivors of domestic violence for DVAM.
Following the Clothesline Project, the VIP Center will have a large presence at the Homecoming tailgate, Oct. 20. Advocating for DVAM, the VIP Center will promote resources, give away free swag and connect with students, staff and faculty. 
One of the many problems of domestic violence is that not enough people are informed on the issue, and the signs. There are many myths about domestic violence that make it hard for victims to leave their situations and seek help. By creating a presence at events like Homecoming, the VIP Center hopes to change the perception and stigma associated with domestic abuse.
"We want members of our campus community impacted by domestic violence to know that we are here to provide confidential support and connections to resources. Anytime someone visits the center for any reason, whether they are interested in services or want to learn more about programming and involvement, visitors can expect to be welcomed, heard and supported," Reid said. 
To wrap up DVAM, the VIP Center will be participating in the It's On Us Week of Action, Oct. 20-26, hosting several events on campus.
Launched in September 2014, It's On Us is a national movement to end sexual assault. The It's On Us Week of Action is designed to raise awareness around domestic violence issues as well as university services and programs. During It's On Us Week, the VIP Center will host several tabling events on campus and encourage everyone to take the It's On Us Pledge. It's On Us asks everyone — students, community leaders, parents, organizations and companies — to step up and realize that the conversation changes with us.
During It's On Us Week, on Oct. 23 and 24, the university will change the special lighting of Johnson Hall, Donovan Hall, William T. Young Library, Jacobs Science Building, Haggin Hall, Jewel Hall, The 90, Lewis Hall, Memorial Hall, Woodland Glen Hall, Chellgren Hall, Main Building, Holmes Hall, Gatton College Building, Blazer Hall, University Flats and Gatton Student Center to purple to show their solidarity and support for DVAM. The vivid purple lights help call attention to resources and support available for victims of domestic violence. In conjunction with this, the VIP Center will be planting purple pinwheels outside of the center in Frazee Hall and painting pumpkins purple.
As public attention intensifies around campus, organizers hope to have the opportunity to create a safer environment for students.
"Unfortunately, college campuses are impacted by high rates of domestic violence and sexual assault. By recognizing DVAM, we can create an opportunity for everyone on campus to get involved in events that can open lines of communication and help educate our population on these issues," Blumenstien said.
All of the VIP Center efforts reflect the center's ongoing expansion of programs and involvement opportunities. The VIP Center encourages students, staff and faculty to get involved during this year's DVAM. A full calendar of events is available on their website. You can also connect with the VIP Center on their Facebook, Instagram and Twitter.