BLOG: Treat Every Day as if is Nurses Day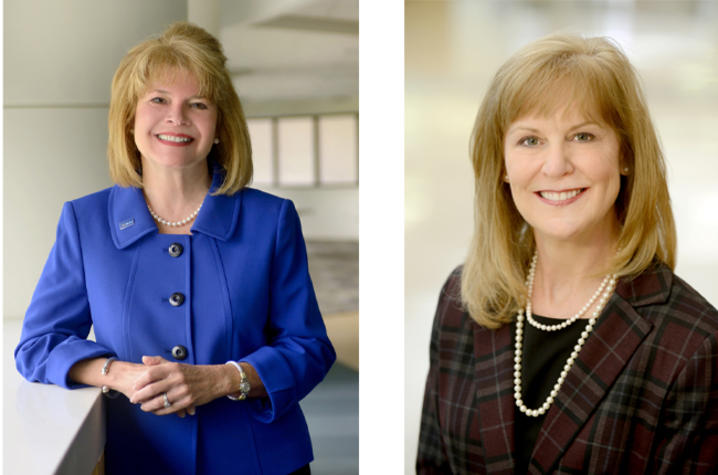 Janie Heath is Dean of the University of Kentucky College of Nursing, and Gwen Moreland is Chief Nurse Executive at UK HealthCare.
LEXINGTON, Ky. (May 10, 2012) — What a difference a year makes. 
In May 2020, University of Kentucky College of Nursing students, staff and faculty were all working from home. UK HealthCare had constructed a 400-bed field hospital to prepare for a potential surge in COVID-19 patients.  And nurses and health care workers across the world were on the frontlines battling a pandemic the likes of which most of us had never seen.
Today, in May 2021, UK is preparing for a safe return to more normal on-campus operations in the fall.  The University's weekly average of new COVID-19 cases among students is two and UK HealthCare's daily average for COVID-19 inpatients is down to about 25.  And together, UK and UK HealthCare have administered nearly 250,000 COVID-19 vaccine doses at the Kroger Field Vaccine Clinic and mobile pop-clinics in underserved communities across Lexington.
We are not here to take a victory lap.  But we are here to take a pause— a moment to appreciate how far we've come and to celebrate those who've made an invaluable impact along the way – our nurses.
This year, to honor nurses' significant contributions during the pandemic and to highlight needed support in the profession, the American Nurses Association has extended the traditional National Nurses Week to a month-long recognition throughout May.
Kentucky is home to 90,000 nurses—making nursing the largest segment of our state's health care workforce. The presence of nurses over the past year impacted the lives of every Kentuckian.  Whether it was in critical frontline care, community testing, research, public health education and policy or vaccine administration — nurses made a difference. 
Now is the time we can help make a difference in nurses' lives.
Some of the biggest challenges in nursing today can be attributed to overall nurse health. 
Nurses' health and self-care – 68% of nurses report putting the health, safety and wellness of their patients before their own. As a result, nurses are less healthy than the average American and more likely to be overweight, have higher levels of stress and get less sleep. We know that promoting self-care, meaningful recognition, mental and physical wellness and a positive work-life balance are central to the success of our College of Nursing and UK HealthCare students and employees.
Nurse suicide – Suicide rates among nurses are higher than the general population, especially among females who make up 85% of the nursing workforce. Female nurses are twice as likely to commit suicide than females in the general population and 70% more likely than their female physician counterparts. To address this crisis, the UK College of Nursing and UK HealthCare, along with the Kentucky Nurses Association and Kentucky Nurses Action Coalition, are raising public awareness and increasing prevention efforts by providing free, expanded resources and training for nurses to identify warning signs and learn how to access help.
Nursing workforce shortage – America is facing a nursing workforce shortage that is predicted to keep growing due to a range of factors such as increased care need for our aging population, a significant segment of the current workforce nearing retirement age and nurses' stress and wellness levels driving turnover. Through our long-standing clinical partnership and focus on nurses' health and wellness, the UK College of Nursing and UK HealthCare are uniquely positioned to recruit, educate and employ the next generation of nurses and help address the predicted shortage.
This past year proved the vital role nurses play in all our lives. We witnessed that whether it is a national health emergency or routine daily care, nurses are always there. Let us now step up and take care of our nurses by giving them the recognition they deserve and the support they need to prioritize their own health and wellness. 
Treat every day as if it is Nurses Day and thank our Kentucky nurses for making a difference. 
Learn more about the UK College of Nursing and UK HealthCare's nursing programs, employment, wellness and support efforts at uky.edu/nursing and ukhealthcare.uky.edu/nursing.
*If you or someone you know have thoughts of suicide or self-harm, call the National Suicide Prevention Lifeline anytime 24/7 at 1 800-273-TALK.