College of Dentistry Offers Free Saturday Morning Clinic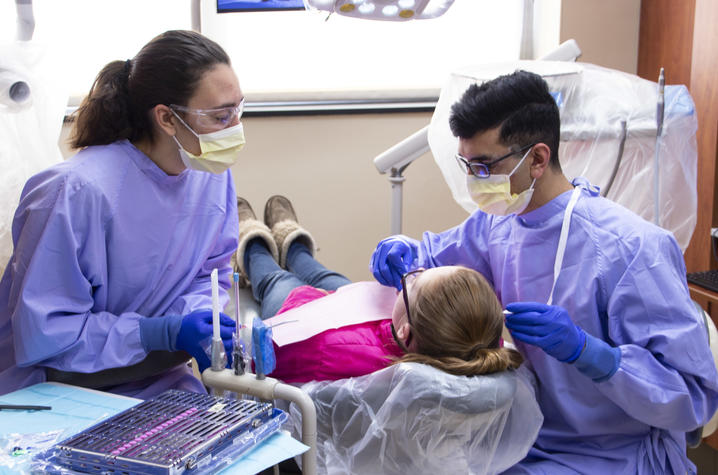 LEXINGTON, Ky. (Sept. 18, 2019) — On Saturday mornings throughout the year, when others may be taking time to recharge and sleep-in, you can find University of Kentucky College of Dentistry dental students in their scrubs as they prepare to see patients at Saturday Morning Clinic. UKCD's Saturday Morning Clinic offers no-cost treatment to underserved, underinsured children ages 4 to 12, aiding families who may face barriers in obtaining necessary dental care for their children.
Dental students work to both instill good oral hygiene habits, helping to prevent decay or aid in curbing the progression of decay, as well as provide treatments such as cleanings, fluoride treatments, sealants, extractions, and restorative procedures. Students also take time to educate caregivers on ways to better address oral health, benefiting children and others in the household.
Oral health is an important part of overall health. Unfortunately, tooth decay, or cavities, is the most common chronic disease of childhood in the United States. Beyond impacting a child's ability to speak, smile, and eat, oral health issues can also affect self-esteem, school performance and attendance. The Centers for Disease Control and Prevention share that, on average, over 34 million school hours are lost each year due to unplanned emergency dental care.
In addition to benefiting local children and families, Saturday Morning Clinic allows UKCD's dental students to give back to the community, work on leadership skills and serve as role models for their young patients. Undergraduate and high school students considering a career in dentistry are also able to observe patient care.
UKCD student Allison Stump is serving as a clinic care coordinator this year and will be one of several coordinators responsible for pairing dental students with patients. "I love volunteering at Saturday Morning Clinics, because you know you are doing something good to help others," she said. "When you talk to the parents and they are so thankful for this great service UK provides, it just keeps drawing me back every month."
The next Saturday Morning Clinic will be held from 9 a.m. to noon on Sept. 21 at the Dental Science Building located at 800 Rose Street, Lexington. No appointment is necessary. Treatment is available on a first come, first served basis. More information is available at https://dentistry.uky.edu/patient-care/pediatric-dentistry-clinics or by calling 859-323-DENT (3368) and asking about "Saturday Morning Clinic."