College of Dentistry's Saturday Morning Clinics Benefit Students, Community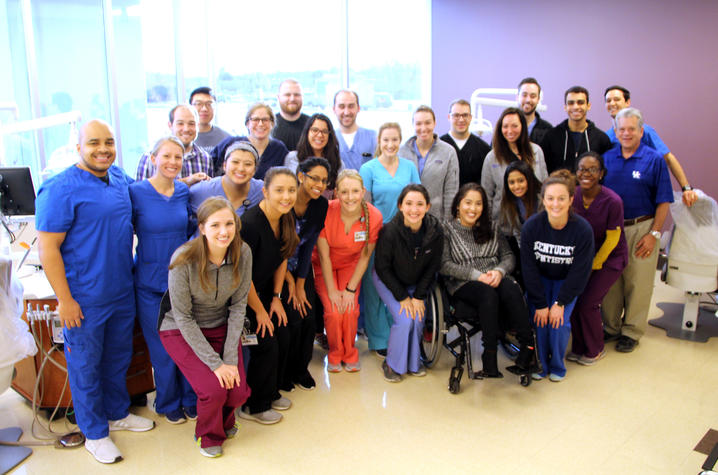 LEXINGTON, Ky. (Feb. 8, 2018) — Protecting the oral health of children is an investment that pays lifelong dividends. Unfortunately, many families in Central Kentucky face barriers that prevent children from receiving the treatment they need. To improve access, students, faculty and staff from the University of Kentucky College of Dentistry (UKCD) gather once a month to provide free dental care to underserved children in the Lexington community via the Saturday Morning Clinic (SMC) program.
The UKCD's SMC program was created by student dentists over four decades ago as an opportunity to promote oral health and awareness while giving back to the community. Currently, the program provides care to children ages four to 12 and operates on a first-come, first-serve basis. Services span the gamut from risk assessment to prevention: cleanings, fluoride treatments, sealants and restorative procedures are all available.
Despite Kentucky's statewide initiatives to improve oral health, particular populations remain at greater risk for poor outcomes. These include children from lower socioeconomic groups. Saturday Morning Clinics not only provide vital treatment for children, but education on how families can do more to protect the oral health of generations to come.
Erica Ribenboim, a second-year DMD student and member of UKCD's pediatric dentistry club, described the impact that safety net programs like Saturday Morning Clinics have on the communities they serve:
"Many people don't have access to proper dental care or simply haven't been educated about the best ways to care for their oral health. What a lot of people don't realize is tooth decay — an active infection in the mouth — is easily preventable, and in some cases reversible. If left untreated, [tooth decay] can lead to more serious problems. With regular checkups, early detection and proper education, we can change these negative statistics and help prevent the next generation from facing a future of health problems and tooth loss."
Children aren't the only ones who benefit from the SMC program. An observational component gives pre-dental students across the region the opportunity to visit UKCD for a firsthand look at clinic operations. Student dentists volunteering at the clinics find that the experience greatly enhances their overall view of dentistry.
Fourth-year DMD student Morgan Murrell explained, "Children pose unique challenges when providing dental treatment. However, the reward of restoring a tiny smile or getting a child out of pain so they were able to return to school made me realize my passion for pediatrics."
Murrell, who is also one of the student coordinators for the SMC program, plans to pursue a pediatric residency upon graduation. She credits her passion for working with children to volunteering at SMC during her first year of dental school.
The next Saturday Morning Clinic will be held 9 a.m. to noon on Feb. 17 at UK Dentistry's Turfland location. For more information, visit https://dentistry.uky.edu/patient-care/dental-student-clinics or call 859-323-DENT (3368) and reference "Saturday Morning Clinics."