Expanding Precision Medicine Options, Markey Launches Molecular Tumor Board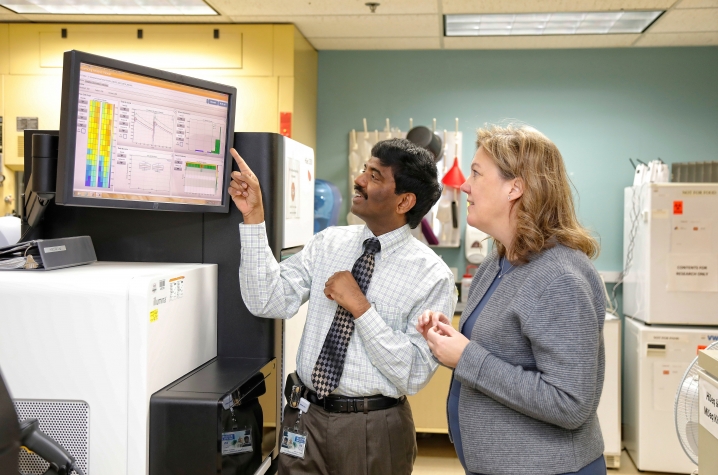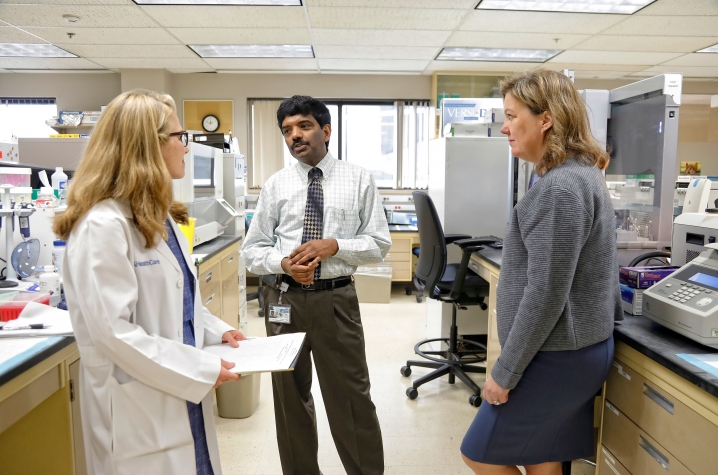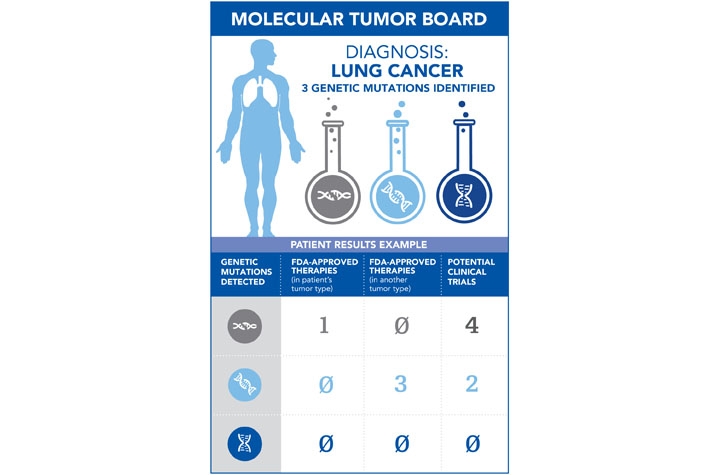 LEXINGTON, Ky. (Nov. 15, 2016) – The University of Kentucky Markey Cancer Center recently launched its own Molecular Tumor Board, an approach to cancer care that uses genetic analysis to help oncologists choose cancer therapies tailored to each patient's individual needs. The Molecular Tumor Board is the latest precision medicine initiative to come online at Markey.
"Oncology is now more genetic-based, whereas before it was based upon tumor types," said Dr. Mark Evers, director of the UK Markey Cancer Center. "Through understanding the genetic makeup of our patients and their tumors, we can then help to direct their therapy."
The Molecular Tumor Board is co-directed by clinical pharmacologist Jill Kolesar, Pharm.D., who recently joined Markey and the UK College of Pharmacy after starting a similar initiative at the University of Wisconsin-Madison, and Markey gynecologic oncologist Dr. Rachel Miller.
Currently, clinical trials often target tumors with certain molecular or genetic characteristics, then search for patients with tumors that matched those criteria — like looking for a needle in a haystack. The information gleaned by the Molecular Tumor Board will instead allow researchers to develop clinical trials targeted to the needs of the patients Markey treats; in other words, it means starting with the needle, rather than the haystack.
Here's how the Tumor Board process will work at Markey: when a patient undergoes a biopsy, the physician may choose to request a Molecular Tumor Board review of that case. The patient's tissue will then be sent to UK's in-house pathology lab for genetic type testing. Using technology known as Next Generation Sequencing, pathologists will run tests to compare the patient's genes against a panel of 198 gene mutations that are associated with all types of cancer – 94 are for blood cancers and an additional 104 are added for solid tumors..
Once the sequencing is complete, the final report ­– containing the findings of any possible gene mutations – is sent to Molecular Tumor Board members. The report will be evaluated for three types of potential care: FDA-approved therapies for that patient's cancer type, FDA-approved therapies in another tumor type (colloquially known as "off-label use"), and potential clinical trials.
The Tumor Board itself comprises a vast array of experts across both the UK medical and academic campuses, including oncologists, hematologists, surgeons, pharmacists, pathologists, biostaticians, basic scientists and epidemiologists who meet on a regular basis to discuss each individual case together in person. Each brings their own expertise to discuss the available options and ultimately make a recommendation for the best course of care for that patient. 
"It's the essence of precision medicine," Miller said. "The Molecular Tumor Board provides not only an opportunity for our patients, but also an opportunity for a physician to gain a better understanding of these molecular characteristics, while providing the latest in optimal care for our patients."
For example: a lung cancer patient who undergoes genetic type testing may receive pathology results showing they have three gene mutations of the 198-gene panel that are associated with cancer. It is possible that any one of these mutations may have caused the cancer and there may be either FDA approved drugs or clinical trials targeting each of these mutations.
It's the job of the Molecular Tumor Board itself to evaluate all of these potential therapies to ultimately determine which of the therapies will yield the best possible outcome for the patient. 
By analyzing the molecular characteristics of cancer tumors on a case-by-case basis, the Molecular Tumor Board will also create a cache of information to direct the development of new therapies that target the types of cancers found at Markey and throughout Kentucky.
"The Molecular Tumor Board will bring a fuller understanding of the cancers faced by Kentuckians," Kolesar said. "Going forward, this will guide us in developing clinical trials and novel therapies best matched to our patients in the Commonwealth."
Across the country, only a few medical centers currently have a Molecular Tumor Board to help direct cancer care. This type of precision medicine was one of the key opportunities highlighted earlier in the year with the Cancer Moonshot initiative. Established by President Barack Obama during the 2016 State of the Union address and led by Vice President Joe Biden, the goal of the Cancer Moonshot is to double the rate of progress in cancer prevention, diagnosis, treatment and care over the next five years and to ultimately end cancer. 
"As the state that leads the nation in cancer incidence and mortality, nowhere in the country is it more important for patients to have access to this type of personalized medicine," Evers said. "This is an opportunity for us to make a direct impact on the dire cancer statistics here in Kentucky."