First Sports Physical Therapy Resident Begins New Program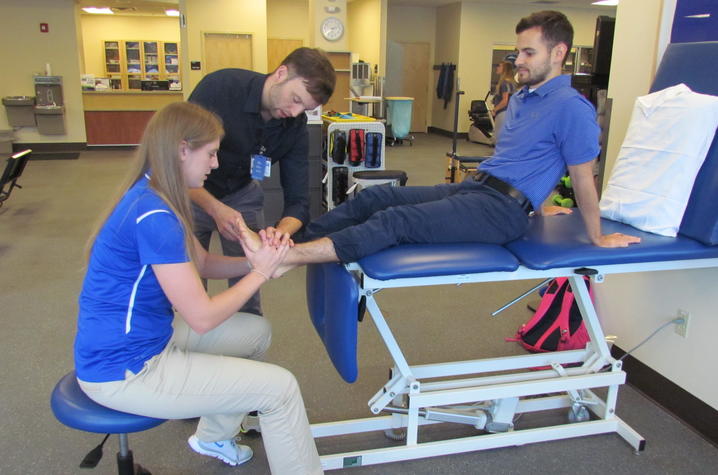 LEXINGTON, Ky. (Oct. 17, 2017) – When Morgan Lester tore her ACL in high school, she knew she wanted a career working with athletes. When she began her undergraduate education she chose to study biology, knowing it would give her the educational background needed to pursue that dream.
In 2016, Lester completed her doctor of physical therapy (DPT) at the University of Kentucky College of Health Sciences.
When Lester completed her studies, the sports physical therapy residency program was still being developed at the University of Kentucky, so she began working full-time as a physical therapist. She kept watching for the application to open so she could be considered for the spot. On Sept. 1, Lester became the first resident in the program.
Completing a residency program after earning a DPT is uncommon. While there are thousands of physical therapy graduates each year, there are still fewer than 250 accredited programs in the nation that offer that kind of specialized education. The sports physical therapy program at UK wants to change that, aiming to become the first accredited program of its kind at UK HealthCare.
In order to become an accredited program, a two-phase process must be completed. First, when developing the program, American Physical Therapy Association (APTA) guidelines regarding the number of hours to be completed and supervision requirements must be met. After six months of having an active resident observing and working, a team from the APTA will come and observe Lester and her mentors to see if they're complying with the standards set by the association. Before that stage could be reached, a team worked together to develop and implement the program.
Ryan McGuire and John Jurjans, staff physical therapists and directors of the sports physical therapy residency program, worked with members of UK HealthCare, UK Sports Medicine and the UK College of Health Sciences' physical therapy program to facilitate a collaborative effort in program development.
As part of her residency, Lester shadows and works with physicians, athletic trainers and physical therapists. She frequently works with Jenni Williams, an athletic trainer assigned to work with Lafayette High School athletics. This experience gives her the best opportunity to see an athlete's journey from the initial injury, to physician diagnosis, through physical therapy rehabilitation and hopefully their return to play, Williams said. Seeing every perspective of a patient experience will better prepare Lester to work with injured athletes in a way just working in the field might not, she said. 
"A team approach to rehabilitation is what works best for an athlete, and this is the best kind of program to demonstrate that," Jurjans said. 
After completing the one-year residency, Lester plans to return to her hometown of Louisa, Kentucky, with her husband who is a student in the UK College of Dentistry. "When I was in high school and had my injury I had to come all the way to Lexington to have functional testing and see the doctor and I'm hoping to be a resource to the area so people don't have to drive the 2 ½ hours to Lexington to get the care they need," she said.