Health Matters Airs 600th Show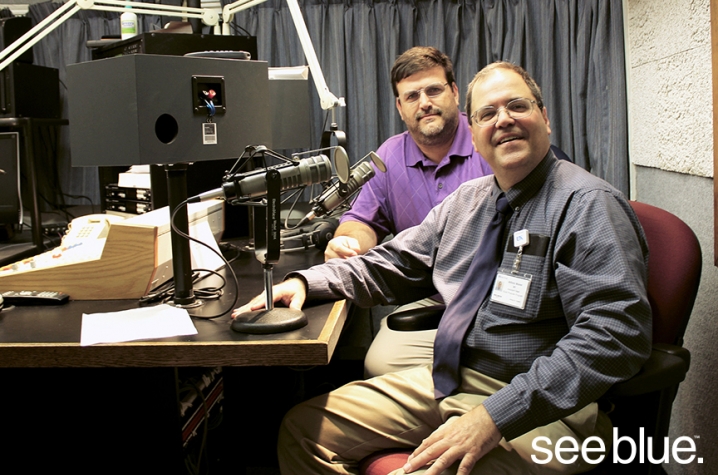 LEXINGTON, Ky. (Nov. 6, 2015) – Many physicians enjoy a round of golf as a relaxing retreat from the vigor's of a busy medical practice, but Dr. Anthony Weaver instead heads to the broadcast station of WMKY radio in Morehead where he and co-host Rick Phillips, manager of communications infrastructure at UK, co-host Health Matters, a medical news show that recently aired the 600th show since it first debuted in 2003.
"It's my golf," said Weaver, a general internist and associate dean of the Rural Physician Leadership Program at the University of Kentucky College of Medicine based at a satellite campus in Morehead. "I have a passion for teaching and felt like I had lost opportunities to teach in my practice. This and my love for medical research led to the radio show."
Weaver initiated a major restructuring of the show when he took over in 2003. He wanted to make the show more of a public health vehicle and try out some teaching techniques. At that time, most medical radio shows featured a doctor taking phone-in questions and dispensing general information or pushing certain products. Weaver and Phillips, a former biomedical engineer and self-avowed techno geek, wanted something much more.  Something that is educational, engaging and even entertaining way and that's where Weaver, the educator with the big radio voice, starts to take over.
 When asked if he has any background experience in broadcasting, Weaver laughingly says, "I'm about as far away as you can get from that. I've always been a teacher so I guess that's where my strong voice comes in."
When Weaver speaks, it's not just his 'teaching voice' that is noticeable, but also a genuine interest in the topics and presenting them in such a way that reaches out and engages the listener.
Interesting and educational content coupled with influential guests have earned the show a respectable following over the years. Guests have included Kentucky Gov. Ernie Fletcher, former UK President Lee Todd, Morehead State University President Wayne Andrews and "Kentucky Joe" from the reality show "Survivor." Also featured have been UK's vice president for health affairs and the deans of the University Louisville School of Medicine and the University of Pikeville's Kentucky College of Osteopathic Medicine.
Some of Weaver's favorite guests over the years have been researchers and students.
"I have more fun with scientific researchers who are excited and have an opinion. Administrators tend to be very cautious about what they say.  Dr. Thomas Whayne from the Gill Heart Institute was one of my recent guests to talk about his caffeine and heart disease research and cholesterol lowering drugs. He is just a fascinating person. In August, we interviewed Tim Tracy, UK's Provost and former dean of the UK College of Pharmacy."
"People often misunderstand what research is all about. Researchers don't have all the answers. They are looking for possible answers to help the general public. There has to be a better way to educate the general population to provide better pathways to health. It can be complicated."
One of Weaver's favorite shows, "A Musical Journey to Your Anus," won the 2013 National Media Award from the American Society of Colon and Rectal Surgeons for excellence in communicating a better understanding of colon and rectal disease. It featured such catchy tunes as "Oops the Colon's Fragile It gets Diverticulosis" and "Under the Cecum."
Most of Weaver's days are spent teaching and working as administrator for the UK Rural Physician Leadership Program in the Physician Assistant Program as well as seeing patients in two free clinics which meet on Tuesdays and Thursdays. He also recently began a new position with the St. Claire palliative care program in Morehead.
"Most of the material for the show is developed in my evening readings," Weaver said. "I occasionally do some work on the show during the day. I just edited the "Top 10 Fun Facts About Osteoporosis" for next week's show. Since the show is recorded at 5:30 p.m. most weeks, I'm never in the studio during daytime hours except at WUKY once a month."
"The show could not have reached our 600th milestone without the generous support of the Northeast Kentucky Area Health Education Center (AHEC) and the guidance of Morehead State Public Radio Station manager Paul Hitchcock and news and information director Chuck Mraz."
Health Matters was recently renewed for another year and airs on WMKY 90.3 FM Saturdays at 10 a.m. and Sundays at 6 a.m. You can also listen to the podcast anytime by visiting www.wmky.org/programs/health-matters.
Media Contact: Ann Blackford at 859-323-6442 or ann.blackford@uky.edu