How an Experimental Therapy Brought This Markey Patient Back From the Brink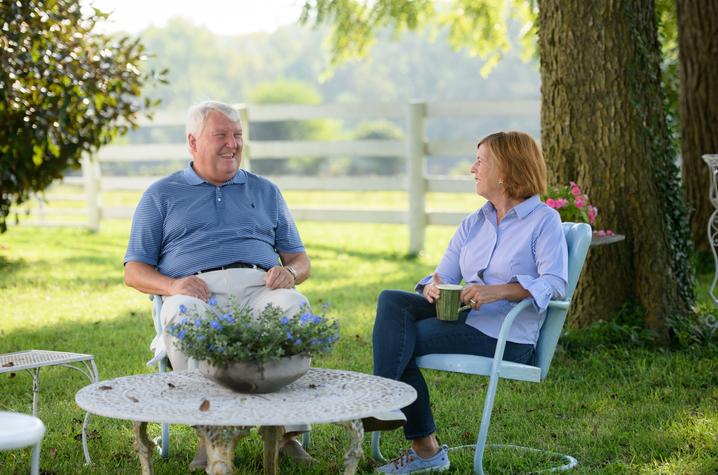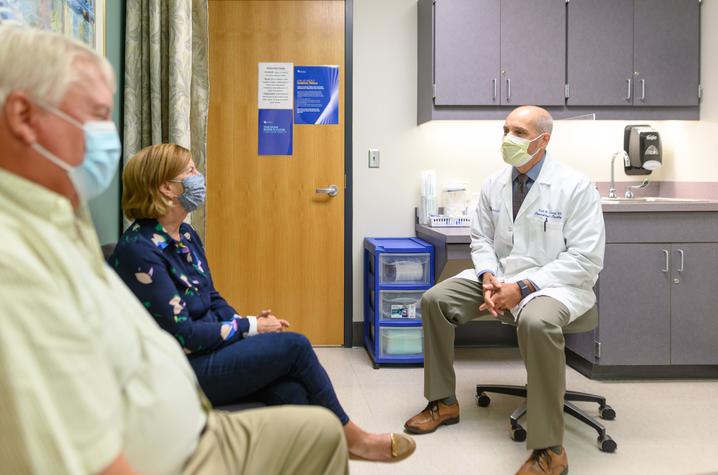 LEXINGTON, Ky. (Dec. 20, 2021) — For most who know her, Paris resident Elizabeth Barr goes by a simple nickname — "E." But Frederick Ueland, M.D., her oncologist at the University of Kentucky Markey Cancer Center, has another special nickname for her: Lazarus.
In the late spring of 2018, E was admitted to the UK Albert B. Chandler Hospital, battling a recurrence of a rare, aggressive form of ovarian cancer and complications after her initial treatments. She'd had multiple blood transfusions to bring her hemoglobin up to acceptable levels. Unable to eat, she was placed on a liquid diet, but her weight dipped down to 88 pounds. She was too weak for more surgery or chemotherapy.
"Dr. Ueland came in, and I said, 'All right, give me the score,'" said E's husband and high school sweetheart, Cary. "I'll never forget. It wasn't pretty. It was bleak."
At the time, radiation was E's only next option. She was determined to make it through the therapy, telling Ueland that she had a single goal in mind: to live at least two more months, long enough to see the birth of her first grandchild.
"(I told him) I just want to be here, whatever it takes," E said. "I just want to be here to see this baby."
*****
In March 2017, E began having pain in her abdomen. She underwent tests to rule out a possible UTI or other bladder issues, with normal results. A colonoscopy — a screening E had already been doing due to her family history of colon cancer — showed a little inflammation, but nothing too out of the ordinary. By process of elimination, she says, her physicians realized the problem had to be gynecological in nature.
The news wasn't completely shocking to her. In her 20s, she'd been diagnosed with a dermoid cyst on one of her ovaries — a growth that included the cells that make up hair, skin and teeth. She'd had that ovary removed soon after but knew that future cysts were always a possibility because they tend to occur in both ovaries.
A few years ago, she joined Markey's Ovarian Cancer Screening Program. They found something during her first visit.
"The first screening I did, they said, 'Oh, you need to go see one of the doctors," E said. "Sure enough, I had a cyst on my ovary."
Ueland became E's gynecologic oncologist. Because it had the appearance of another benign dermoid cyst on her only remaining ovary, surgery was not immediately recommended. Instead, he monitored the ovary, checking every few months for signs that it was changing or growing. For years, nothing changed — until the spring of 2017.
During an exam, E's primary care physician felt a mass on her ovary. She was quickly referred back to Ueland, who confirmed it: E's ovary had changed in size and appearance, and she needed immediate surgery.
"At that point, you say, what do we do?" Cary said. "That's the scary part of it, when you find out you have cancer. But we loved Dr. Ueland. We trusted him."
Ueland and his team removed E's remaining ovary and uterus, as well as a portion of her colon. Tissue from her tumor was sent off to pathology, and the news that came back wasn't good.
"I think initially Dr. Ueland was pretty positive, thinking this could be benign because I've had this dermoid cyst before," E said. "Then he got the pathology back, and it was worse than he thought."
E was diagnosed with a squamous cell carcinoma of the ovary, an extremely rare form of ovarian cancer that arises from a dermoid cyst and occurs in less than 1% of ovarian cancer cases. Markey treats just one to two patients with this specific cancer each year.
"They're aggressive and don't behave the same way as other ovarian cancers," Ueland said. "I've treated several patients with this exact cancer, even though it's not common, and I've seen how quickly it can progress in patients."
Over the next six months, E came in for chemotherapy every three weeks, usually staying in the infusion suite for 10 hours at a time. Her oldest son, who works at UK, would bring her lunch during her long sessions, and her daughter, a schoolteacher, came to visit during the summers. By the end of the year, E was preparing to switch to a maintenance form of chemotherapy and put it all behind her.
But in January, the pain in her abdomen returned. A PET scan confirmed their fears: E's cancer had recurred, this time spreading further into her colon.
More surgery followed: E met with UK colorectal surgeon Avinash Bhakta, M.D., who performed a minimally invasive laparoscopic right colon resection. The team felt confident they had removed all the recurrent tumors.
But by May, E was in pain again. The cancer was back, and her bloodwork showed another troubling issue — her hemoglobin was extremely low. This was particularly dangerous for E, who had been born with only one kidney. She had just arrived home after a visit with Ueland when she got a call from his nurse.
"She said, 'Dr. Ueland thinks you need to come to the emergency room and get a blood transfusion,'" E said. "Well, I can be pretty stubborn, and I said, 'Hell no, I'm not going back there, I just got home. Let's wait until tomorrow.'"
She hung up. Minutes later, the phone rang again. This time, it was Ueland himself.
"He said, 'If you don't do this, your kidney could shut down, and then it's over," E said. "Of course, that got my attention."
E came back to the hospital, where she was admitted to Markey's inpatient unit on the 11th floor of UK Chandler Hospital Pavilion A. With the odds stacked against her, she made that goal to survive until June 30 — her birthday and the due date of her first grandchild.
*****
Ueland describes watching E's health decline as "a grim moment." He had seen this aggressive cancer take other lives before, despite throwing every possible therapy at it. But he also knew that E was determined and absolutely refused to give up.
"I find her to be wonderfully calm in moments when most patients wouldn't be; wonderfully calm when physicians may not be, knowing what could happen," Ueland said. "She's the rock of Gibraltar."
E remained in the hospital while doing a course of 10 daily radiation treatments with Markey radiation oncologist Mark Bernard, M.D. In her condition, they weren't sure if she would be able to handle the full treatment.
"She was determined to take that radiation," Cary said.
"It's the only choice we had," E said.
The treatments helped, shrinking her tumors, including the large mass that had been blocking her colon, leaving her unable to eat solid foods. On July 1st, she got to meet her first grandson: William Palmer Dycus.
With one goal met, E quickly set another for Ueland.
"We said, 'OK, we've got a bigger date for you," E said. "We want to be here in October 2019 because that's when my youngest son's getting married.' He said, 'OK, I like goals.'"
"Everyone has different levels of emotional intelligence, and she's on top of that scale, I'd say," Ueland said. "But it helps to set little mini goals because then you can keep putting one foot in front of the other."
Next, Ueland ordered whole genome sequencing on Barr's cancer specimen to look for mutations or abnormal genes in the cancer tissue. The results were brought to Markey's Molecular Tumor Board, an approach to cancer care that uses genetic analysis to help oncologists choose cancer therapies tailored to each patient's individual needs. This team of physicians, surgeons, scientists, researchers and pharmacists specialize in interpreting genomic test results and translating them into personalized cancer treatments.
E's cancer was a squamous cell cancer of the ovary, and there were no drugs approved by the Food and Drug Administration that directly target this specific type of cancer at the time.
There is, however, a powerful, popular immunotherapy drug that is FDA-approved to treat other forms of squamous cell cancers: pembrolizumab, commonly known as Keytruda. Based on E's genetic sequencing, the Molecular Tumor Board recommended the immunotherapy as an off-label option for her — two years before it would become widely available for her type of cancer.
"In theory, it works," Ueland said. "But I was unaware of any patient who had a squamous cell cancer of the ovary who had been treated with pembrolizumab. There's cautious optimism, but I remember not being overly optimistic — because we didn't have a lot to be optimistic about then."
Despite undergoing another transfusion and still being severely underweight, E was ready for her next step.
"Dr. Ueland was shocked that I was ready for the next thing … he called me 'Lazarus,'" E said. "But it's like, OK, what are we going to do now? So he came back with the genetic sequencing and said, 'Looks like we're going to try Keytruda.'"
In July 2018, E began her infusions of pembrolizumab, given every three weeks. In a little over a month, her pain disappeared. After just three treatment cycles of the drug, she walked into Ueland's office and said, "You know what? I feel normal."
And the results of her next scan, six months after starting treatment, were nothing short of remarkable: no evidence of disease. E continued pembrolizumab for two years, finishing in the summer of 2020. Her scans continue to be clean.
"This is a stunning result," Ueland said. "She was dying of recurrent cancer. Sitting on her bed on the 11th floor when she was so sick is still a vivid memory for me. It was hard to imagine a scenario that would have us talking about this three years later, but that scenario did happen."
E's complicated case is an example of what Markey does best, Ueland says — having many experts and disciplines working together to treat each patient on a personalized, individual level.
"There are a lot of participants in her success story, and she's the real leader of the team," he said. "But cases like hers really bring together everything Markey does well: multidisciplinary talent and input."
E's next goal? To convince her work-loving husband to retire.
"I want to get him retired so we can travel," E said, laughing. "But I don't have as much control over that one."
As the state's flagship, land-grant institution, the University of Kentucky exists to advance the Commonwealth. We do that by preparing the next generation of leaders — placing students at the heart of everything we do — and transforming the lives of Kentuckians through education, research and creative work, service and health care. We pride ourselves on being a catalyst for breakthroughs and a force for healing, a place where ingenuity unfolds. It's all made possible by our people — visionaries, disruptors and pioneers — who make up 200 academic programs, a $476.5 million research and development enterprise and a world-class medical center, all on one campus.   
In 2022, UK was ranked by Forbes as one of the "Best Employers for New Grads" and named a "Diversity Champion" by INSIGHT into Diversity, a testament to our commitment to advance Kentucky and create a community of belonging for everyone. While our mission looks different in many ways than it did in 1865, the vision of service to our Commonwealth and the world remains the same. We are the University for Kentucky.