How UK Programs Use Telemedicine to Help Patients With Substance Use Disorders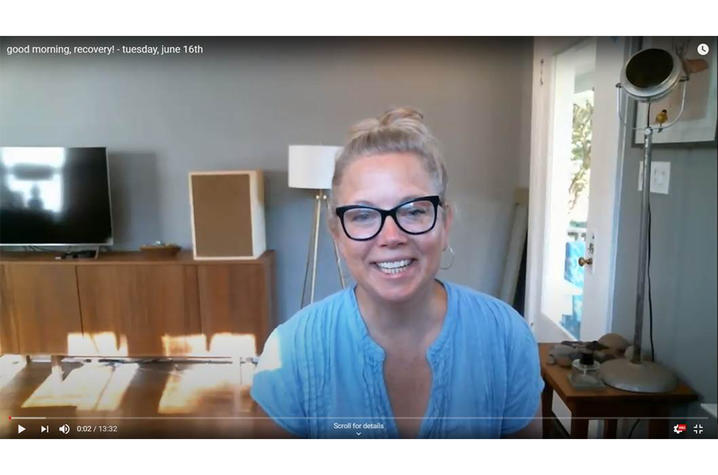 LEXINGTON, Ky. (June 23, 2020) – An outdoor patio. A car parked in a McDonald's lot. The cab of a Bobcat machine.
These are a few of the creative locations that have recently subbed as a doctor's office for patients receiving addiction treatment and working hard to attain remission and recovery as they seek a bit of privacy to complete their sessions. Across UK HealthCare, the clinics and programs that help patients with substance use disorders quickly pivoted to telemedicine in March as COVID-19 began to spread.
For some programs, it was a natural extension of services they had already begun to provide. UK HealthCare's Beyond Birth Clinic, which helps new mothers in recovery, serves women from 43 counties in central and eastern Kentucky. Many of these women live hours from Lexington, so to reduce the burden of traveling long distances, the clinic had already been pushing out video programming to patients six months prior to COVID-19's arrival in the state.
"We've always been faced with trying to provide therapeutic and educational content to supplement treatment without having the women travel here numerous times a week," said Holly Dye, director of the Beyond Birth Program. "But now, we are almost exclusively telehealth-driven – that's been the big change."
Every weekday throughout the pandemic, Beyond Birth recovery specialist Sarah Bell has recorded and distributed YouTube videos for their patients to provide updates and information in a clear way. She's covered topics like how to take precautions while shopping, how to pick up medications, how to keep children on a regular routine, and much more.
"It's very consistent. If information changes – as the whole COVID-19 response has changed almost daily – then everyone gets the same update the next day," Dye said. "It also helps us give patients a frame of reference for what we want them to work on."
UK HealthCare's Supportive Medication Assisted Recovery and Treatment Program (SMART) launched just one year ago, integrating services like individual therapy, group therapy and medication management in one location to better serve adults with substance use disorders. Because many of their patients were in a higher-risk category for developing complications from COVID-19, SMART Director of Operations Lindsey Jasinski says that telehealth has been the safest option for most patients to get the care they need.
"Much of our patient population is medically and psychiatrically compromised," Jasinski said. "They may have a lot of health issues such as hepatitis C, HIV and other medical issues that make it risky for them to come see us in person."
Telehealth for a person in treatment – someone  trying to enter into and sustain remission and also attain recovery – works differently than it does for someone during a typical doctor visit. People in substance use treatment are aiming for both remission (no longer having symptoms of the substance use disorder) and recovery (a process of change through which individuals improve their health and wellness, live a self-directed life, and strive to reach their full potential).  Recovery can take a long time. Patients may have regular individual visits with a doctor and a therapist, but also group therapy sessions, which can be scheduled multiple times a week depending on how much support they need and far along they are in their recovery.
In the early days of COVID-19 in Kentucky, Dye says they had initially put group sessions on pause, but quickly realized it was an integral part of their patients' journey.
"Initially, we weren't doing group therapy because we didn't think [the shutdown] would last very long," Dye said. "But they missed us, and they missed each other. So we quickly re-initiated our group therapy via telehealth."
Jasinski agrees, citing their patients' feedback on group sessions.
"Our patients really like the group treatment model; they like the content in the discussion," Jasinski said. "They really benefit from getting support from their peers and from the therapist. We were able to get patients set up with individual medication management sessions with the doctor, and then they do group therapy via telehealth, and the patients seem to be really benefitting."
While telehealth services have offered some new benefits to patients, those providing the treatment are seeing some unexpected positives as well. Addiction psychiatrist Dr. Michelle Lofwall treats patients through UK's First Bridge Clinic and says that telehealth has given her some new perspective on her patients and how their home environment might have an impact on their treatment response and recovery.
"I've gotten so much additional information doing telemedicine, just being able to see where my patients are living and who they're living with," Lofwall said. "You see the patients interacting with their children, you see their pets, you see how they relate to one another. And then there's the cases where you can see how people are struggling. It's been eye-opening."
Telehealth isn't always the best option for everyone – the providers agree that some patients require or are best served through an in-person visit, whether it's due to issues with technology or simply a real need to receive treatment or therapy in-person. But as society slowly returns to a new form of normal and more patients return to in-person visits, the providers hope that telehealth will continue to be an option for patients moving forward.
"Telemedicine is really a way to address health disparities, because you can use it wherever you or your doctors are located," Lofwall said. "I was a little wary of it at first, but I've actually loved it – and our patients really like it, because it's much more convenient. This is definitely a platform I want to be able to continue using in the future."
"Being able to offer both telehealth and in-person visits allows clinics to be nimble and adapt care to meet the patients' needs and preferences," Jasinski said. "Ultimately, we need to use data-driven approaches to help us understand who benefits from telehealth and who benefits from in-person visits, and move more toward precision care."
*****
For a person with substance use disorder, finding and staying in treatment and recovery can be difficult enough to manage even in the best of times. With COVID-19 continuing to affect nearly every aspect of daily life, people may still not have access to the same support and resources that were previously available, both on a personal and medical level.
UK HealthCare has a variety of clinics and services to treat people with substance use disorders. Follow the links below for more information, including how to contact each service to make an appointment.
Additionally, Kentuckians seeking treatment for substance use disorders can find immediate openings at addiction treatment facilities by visiting FindHelpNowKy.org, a real-time substance use disorder treatment availability locater and information center for the state. FindHelpNowKY.org was developed by the UK College of Public Health's Kentucky Injury Prevention and Research Center (KIPRC) working for the Kentucky Department of Public Health in partnership with the Kentucky Office of Drug Control Policy, the Kentucky Department for Behavioral Health, Developmental and Intellectual Disabilities, and Operation UNITE.