UK Pediatrician, Child Safety Advocate Named 2015 Public Health Hero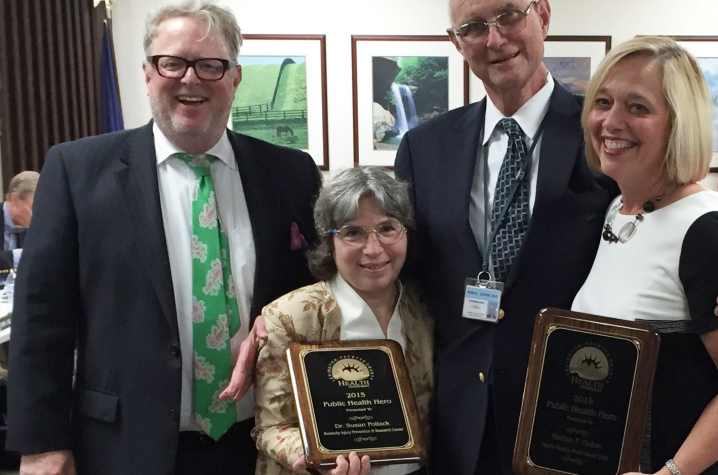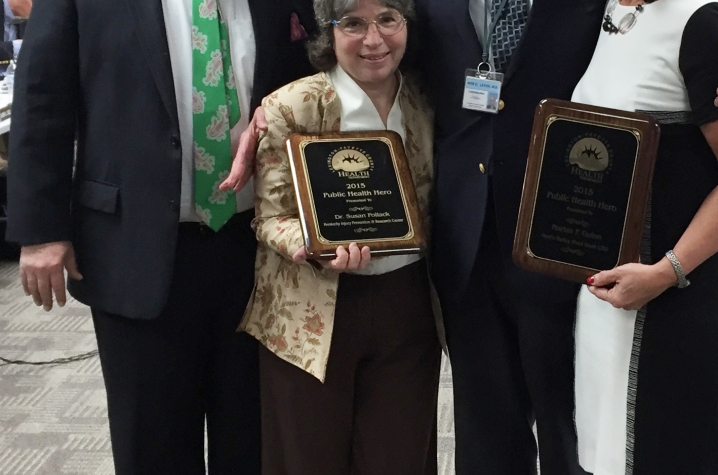 LEXINGTON, Ky. (April 15, 2015) — Kentucky Children's Hospital pediatrician and child safety researcher Dr. Susan Pollack was recently honored as one of the Lexington-Fayette County Health Department's 2015 Public Health Heroes. The award is given annually to individuals who have demonstrated their dedication to improving the health of Lexington residents.
Pollack has advocated for injury prevention and safety measures for children of all ages. Her areas of expertise include safe sleeping areas for infants, car seat safety, drowning and fire prevention, teen driving, and head protection for bicyclists, skateboarders and ATV riders.
She frequently assists with the Child Care Health Consultant Program, which promotes healthy child development in safe environments. Pollack is the coordinator of the Pediatric and Adolescent Injury Prevention Program at the Kentucky Injury and Prevention Research Center, and an assistant professor in the UK Department of Pediatrics and the UK Department of Preventive Medicine. She serves on the Child Fatality Review committee in Fayette County and on the state level through the Department for Public Health.
Pollack considers her advocacy of revisions to booster seat laws in Kentucky and work to improve child care programs among her most important contributions to child safety. She thanked the many collaborators in Fayette County and at the Kentucky Department for Public Health who joined her efforts to make environments safer for teens and children.
"It's an incredible honor," Pollack said of the award. "I'm really proud of how much working together has made things possible, even when resources were scarce. We couldn't have done it without each other."
Pollack was selected for the honor with Marian Guinn, the CEO of God's Pantry Food Bank. The two women were recognized during an April 13 meeting of the Lexington-Fayette County Board of Health.
Past winners of the award include the Rev. Willis Polk and baby Health Service (2014); Anita Courtney and Teens Against Tobacco Use (2013); Vickie Blevins and Jay McChord (2013); Jill Chenault-Wilson and Dr. Malkanthie McCormick (2011); Dr. Jay Perman (2010); the Lexington Lions Club (2009); Dr. David Stevens and the late Dr. Doane Fischer (2008); Dr. Ellen Hahn, Mary Alice Pratt and Therese Moseley (2007); Dr. Andrew Moore and Rosa Martin (2006); Jan Brucato and Dragana Zaimovic (2005); and Dr. John Michael Moore, Ellen Parks and Lexington-Fayette Urban County Government (2004). 
MEDIA CONTACT: Elizabeth Adams, elizabethadams@uky.edu