Baumann Recognized for Service to Kentucky's Children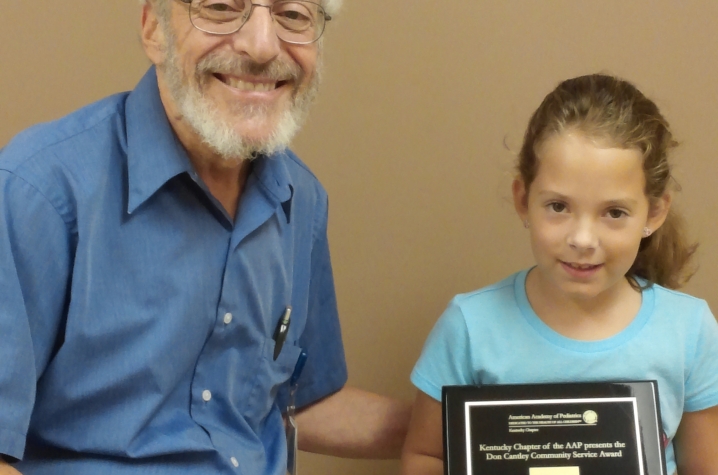 LEXINGTON, Ky. (Aug. 28, 2013) - Since his arrival at the University of Kentucky in 1972, Dr. Robert Baumann has been on a mission - a mission to reach as many Kentucky children as possible to provide neurological care they may not otherwise receive.
Last week, Baumann was recognized for his dedication to the health of children by being named the recipient of the Kentucky Chapter of the American Academy of Pediatrics' Don Cantley Community Service Award.
"It's really gratifying to be recognized," Baumann said. "But the most gratifying thing is that we have been able to help so many children and their parents."
The UK HealthCare Child Neurology Satellite Clinics were established to help patients in outlying parts of the state get the follow-up care they need. These patients - all under the age of 21 - suffer from neurologic disease, the most common being epilepsy. Other patients may suffer from migraines, cerebral palsy, muscle disease, brain tumors or hydrocephalus.
In Eastern Kentucky, Baumann said, epilepsy is more common than it is in any other part of Kentucky and in the United States as a whole. The clinics began when physicians saw a trend of patients not showing up for follow-up appointments.
"We found that a lot of patients could make it to Lexington once or twice, but they just couldn't keep coming in," Baumann said.
Through a partnership with the Division of Maternal and Child Health and local health departments, Baumann was able to establish the first two clinics in Pikeville and Manchester. Baumann and his staff would travel to the satellite locations the night before, then start clinics at 8 a.m. the following morning. After running the clinics for the entire day, the group would pack up and travel back to Lexington.
Initially, the clinics would average 15 kids per day. With two clinics a month, around 300 patients were seen each year.
After joining with the Commission for Children's Health Care Needs in the 1980s, Baumann has been able to make the clinics permanent locations and as a result, reach more patients.
"We now have local nurses, social workers, clerks, therapists and other staff members who are dedicated to each clinic," Baumann said. "From our point of view, that was enormously advantageous. It means the staff knows the local resources. They know the people. It is incredibly valuable. We bring out the physicians, medical students and residents to work with them, and because of the local resources, we are able to run a lot of our clinics for two days per month, which saves money in the long run."
In addition to Manchester and Pikeville, clinics are now held in Ashland, Prestonsburg, Barbourville, Hazard, Morehead and Somerset.
Utilizing medical students and residents for these clinics added a teaching benefit as well, Baumann said.
"We want to demonstrate that you can run a high-quality, sophisticated sub-specialty clinic in rural areas," Baumann said. "We feel that is an important lesson for our trainees."
Last year, the clinics had approximately 2,000 patient visits.
Still, for Baumann, that isn't enough. Now, the program is working to add 24 one-day telemedicine clinics (or two per month) to help reach even more patients.
"We are taking children who we already know, who we have seen in person," Baumann said. "We know their parents. If they are doing well, we can bring them back for a video visit. It gives them an additional visit option, and it allows us to see even more patients than before."
But even with this addition, Baumann won't let the clinics sit still.
"As long as I'm here, I want to continue finding ways to reach out to Kentucky children and their parents," Baumann said. "They deserve access to care just like any other children. My goal is to find a way to make that happen."
The Cantley Award is named after Dr. Don Cantley, a former president of the Kentucky Chapter of the American Academy of Pediatrics, who devoted his life to improving the physical and mental health of children in his community, Henderson. He established seven school-based clinics to provide care for children with inadequate health coverage of other barriers to care, and was a pioneer in his approach to caring for children with behavioral disorders. Never tiring, Cantley continued to work until a few days before his death at the age of 82. His commitment to the children and families in his Kentucky community and his passion for the practice of pediatrics, made him one of the most influential and important physicians to ever practice in the Commonwealth.