Main entrance at Good Samaritan Hospital temporarily relocating during construction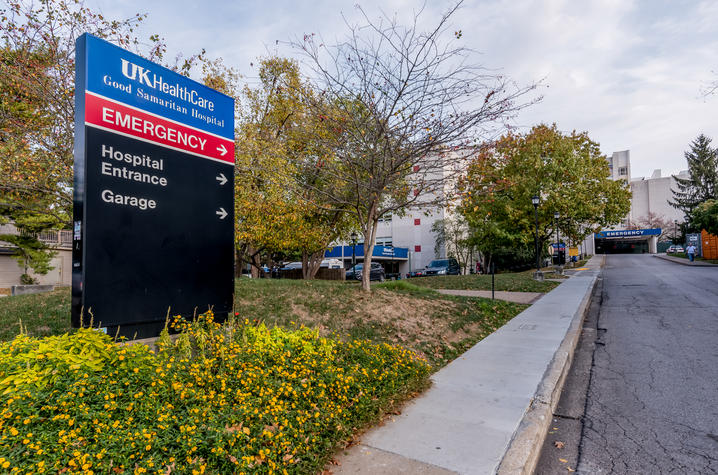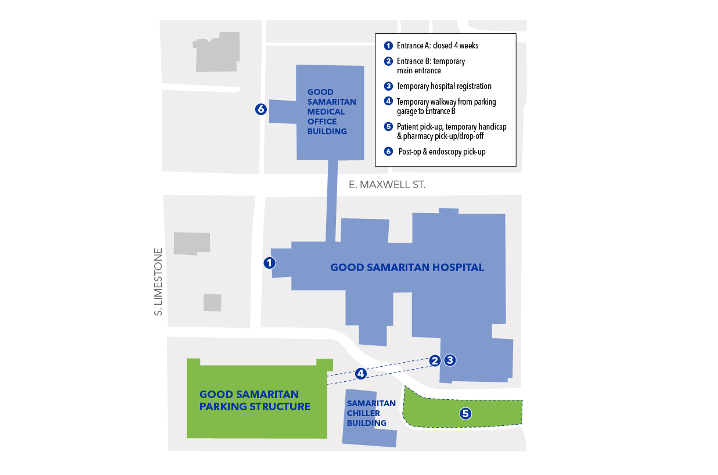 LEXINGTON, Ky. (March 23, 2023) — Beginning Monday, March 27, a portion of UK HealthCare's Good Samaritan Hospital (GSH) will undergo renovations. The main entrance of GSH that faces South Limestone, known as Entrance A, will be closed for approximately four weeks.
Crews will work to install a new entrance that will better serve hospital patients and visitors. The project will include an extended vestibule designed to better maintain the lobby temperature, a more ADA-friendly area for those entering and exiting the building, relocation of the front doors to the middle of the lobby, and moving the lobby seating to closer to the registration office. This will all lead to better patient and visitor flow into and out of the building.
With Entrance A closed during this time, a temporary main entrance will be set up at Entrance B, which is on the south side of the hospital adjacent to the emergency department entrance.
Hospital registration will also be moved from Entrance A and temporarily set up just inside Entrance B.
A designated temporary walkway between the Good Samaritan parking garage and Entrance B will help patients and visitors enter and exit the hospital. There will also be signs placed throughout the campus.
During this ongoing project, it is crucial to minimize congestion in front of Entrance B to prevent any impact to ambulance traffic. The parking lot south of the building will have temporary spaces for patient pick-up, as well as handicap and pharmacy pick-up/drop-off parking.
For post-op and endoscopy pick-up, patients will be taken from the hospital over the pedway to be picked up at the entrance of the Good Samaritan Medical Office Building.
Employee badge access entrances will not be impacted. Vendors are asked to continue using the parking areas along Martin Luther King Boulevard.
UK HealthCare is the hospitals and clinics of the University of Kentucky. But it is so much more. It is more than 10,000 dedicated health care professionals committed to providing advanced subspecialty care for the most critically injured and ill patients from the Commonwealth and beyond. It also is the home of the state's only National Cancer Institute (NCI)-designated cancer center, a Level IV Neonatal Intensive Care Unit that cares for the tiniest and sickest newborns, the region's only Level 1 trauma center and Kentucky's top hospital ranked by U.S. News & World Report.  
As an academic research institution, we are continuously pursuing the next generation of cures, treatments, protocols and policies. Our discoveries have the potential to change what's medically possible within our lifetimes. Our educators and thought leaders are transforming the health care landscape as our six health professions colleges teach the next generation of doctors, nurses, pharmacists and other health care professionals, spreading the highest standards of care. UK HealthCare is the power of advanced medicine committed to creating a healthier Kentucky, now and for generations to come.