Drink to Your Health: Smoothie Demos Promote Good Nutrition for Cancer Patients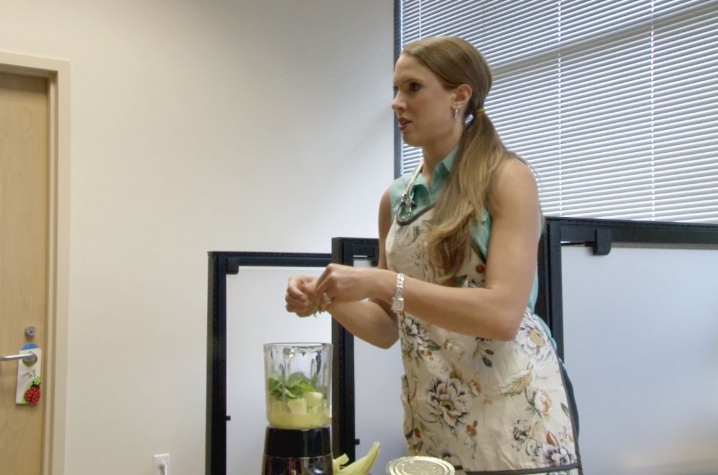 LEXINGTON, Ky. (July 23, 2014) — Good nutrition is critical during cancer treatment, but side effects of chemotherapy and radiation can often cause patients to lose their appetites at a time when they need sustenance the most.
As a registered dietitian at the University of Kentucky Markey Cancer Center, Rachel Miller does all she can to help patients get the nutrition and calories they need.
"A lot of patients have trouble with weight loss and decreased appetite while they're going through various treatments," Miller said. "One of the things that's hardest to do when you don't feel like eating is getting that nutrition you need."
Much of Miller's time at Markey involves one-on-one counseling. She sees patients throughout the process of their treatment, provides them with nutrition education, and in some cases, assists patients with setting up their tube feeding.
In addition to the individual consults, Miller also tries to provide a more tangible example of healthy eating during cancer treatment. On the fourth Wednesday of each month, she hosts a smoothie demonstration in the Whitney-Hendrickson Building. The demonstrations are open to everyone at Markey, including patients, families and medical providers.
Video Produced by UK Public Relations & Marketing. To view captions for this video, push play and click on the CC icon in the bottom right hand corner of the screen.  If using a mobile device, click on the "thought bubble" in the same area.
Smoothies are an ideal way to boost nutritional value in a small volume of food, Miller said. Adding in healthy fats (for example, coconut milk) serves to improve the taste of the drink as well as pack in much-needed extra calories.
"Sometimes it's difficult to eat a full meal," Miller said. "So trying to fortify what you're eating, although it's a small amount,  is one of the things I think is helpful to teach patients to do at home."
During the monthly demonstration, Miller tries to incorporate a variety of foods into the smoothies, testing out different tastes and textures. A common side effect of chemotherapy is a change in taste — many patients report a "metallic" taste in the mouth — so using strong flavors can be helpful in making the meal more appealing. As she prepares the drink, Miller talks her audience through the process, explaining the health and taste benefits of each ingredient.
Though she has regular medical staff who attend, her audience is often filled with families and friends of patients who are waiting for their loved one to complete an appointment or treatment. In addition to giving them information that will help them provide for their loved ones at home, Miller hopes the demonstrations also add a little levity to their day.
"I think the demonstrations have been very helpful," Miller said. "People have a lot of questions. It's easier to see and watch someone else do it, and then be able to implement that in your own home. I think it's also convenient, because a lot of patients have long days here so it can be a fun little break while you're waiting."
Smoothie demonstrations are offered on the fourth Wednesday of every month at 1 p.m. in the Psych-Oncology Services office, third floor, Whitney-Hendrickson Building. Miller also periodically partners with local chefs to host food demonstrations for patients and families.
For more information on good nutrition during cancer treatment, visit Miller's blog: the Markey Menu.
MEDIA CONTACT: Allison Perry, (859) 323-2399 or allison.perry@uky.edu